DePaul hosts first drag teach-in event showcasing Chicago's drag culture
April 30, 2023
When Ezra Constante first moved from Kentucky to Chicago to attend DePaul, he did not expect in four years to be a drag king. 
But on April 27, in a small room in the back of DePaul's Richardson library, Constante's drag name, Testostermoan hosted DePaul's first ever Drag Teach-in as his senior thesis, a year after his first drag performance. 
Testostermoan's event was presented by The DePaul University Library, and the College of Liberal Arts & Sciences. This highly student anticipated event includes performances by local drag entertainers, Whorechata, Lúc Ami, Yuiza Beach, Georgia Rising and Testostermoan himself. 
Room 103 was transformed to match an enchanted forest theme, decorated with twinkle lights, little disco mushrooms and flower garnishes. Testostermoan and his coworker Nana Ampofo created pins  of each of the drag artist's faces. 20 guests were given gift bags with fake eyelashes, a rhinestoning kit and a colorful makeup palette.
The Drag teach-in was divided into four sections. It began with an introduction to the history of drag, presented by DePaul alum and drag artist Whorechata. Whorechata shared his own academic research on drag's political past and recommendations of books and documentaries to further educate yourself. The next section was a Q&A session with the five performers. They discussed their own style, why they joined drag, and what they hope to see in the future of drag. After the Q&A, students got to walk around and talk to the performers one-on-one and see some of the decorations and costumes the drag artists displayed.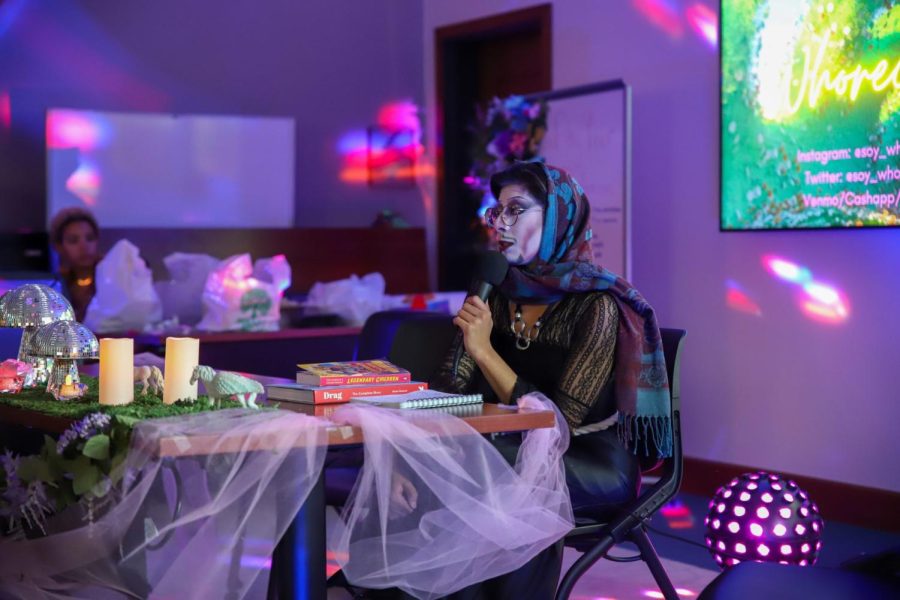 The night ended with a performance by each drag artist, which was met with cheers and celebration. The event was open to all, providing an opportunity for people to experience drag outside of a nightclub setting and reach a larger audience including those under 21.
"It was also really important to me to be able to have people see drag, because I have a lot of friends who want to do drag, but they're under 21 or like they're just kind of scared to do it," Testostermoan said. "So, I feel like a lot of it is just being exposed to it and seeing people who inspire you."
Costumes worn by the performing drag artists were displayed on tables around the room. Some were completely stitched by hand, while others were second-hand and bedazzled for a fresh look or borrowed in exchange for another within the community.
From alien sci-fi to high feminine culture, each table display was an example of the style and contrast between each artist. They showed the preferences of fur over felt and wigs over hats, all of them had more glitter than a preschool art project.
The location of the library was intentionally chosen for Testostermoan's presentation. Both Testostermoan and Whorechata worked at the Richardson Library under the supervision of Heather Hummons, the head of access services for the library. When Testostermoan presented the idea of educating students on drag culture, Hummons supported the idea right away to fight against the national legislative efforts to end teaching drag.  
"I feel like the library needed to be where we had the drag teach-in," Hummons said. "We want people who want to come here, and then if we can provide information and resources at the same time to help, why not. We're very big on trying to figure out a way not just to have our community involved, but also to have the public when we can."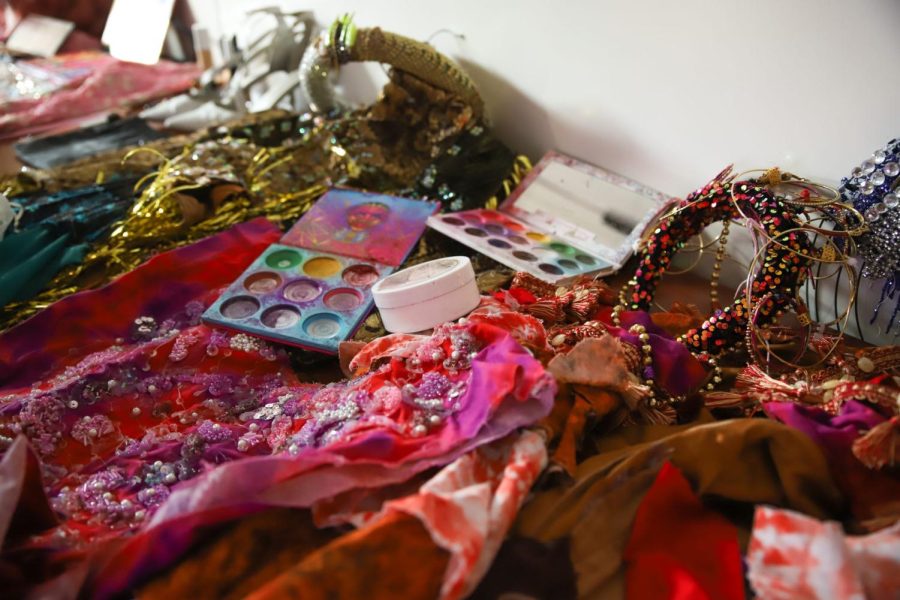 The Richardson Library provides resources for LGBTQ+ students and for those interested in learning more about Chicago's queer community. The library is hoping to continue a supportive community through events and programs that celebrate diversity and promote inclusivity. 
"One of the things that was great that we were able to see tonight is so many people who have never experienced drag before come tonight and not feeling embarrassed for not knowing anything," Hummons said. "Not everyone is as open about their sexuality or experiences as these amazing drag artists we saw tonight, but hopefully from this they have the opportunity to be true to their identity." 
While a handful of students and community members came to the event to support their favorite drag artists, other students walked in new to it all and were excited to experience the opportunity to learn without judgment. For DePaul freshman Lucy Simmons, this event was the first time she has seen a drag performance in-person. 
"I feel like especially in this generation, everyone just assumes you have the same experiences as everyone else," Simmons said. "I grew up in a small town and didn't know anything about drag besides 'RuPaul's Drag Race' that my roommate watches. I'm really happy the school decided to host something like this where we get to ask questions and really learn because I'm not old enough to go see drag at clubs." 
For Lúc Ami and Yuiza Beach, two of the drag performers, having students come up and share their appreciation of their work was the biggest impact this event had on them. 
"I love the behind the scenes aspect of this event and I think that's a really helpful aspect of appreciating drag is to see what people are inspired by and the work that goes into it," Lúc Ami said. "It's really great to get together with everyone here and I can share our experiences as performers in this scene and seeing people here that probably have never seen a drag show before." 
Community is known as an important part of drag culture and each of the drag artists touched on how drag has helped them in their own lives to become who they are today. 
"I think it's important that there's events where, if you were in a position of power to be able to showcase a wide range of drag because the community is bigger than just drag queens, and I think Ezra did an amazing job with showing how different but connected we all are," Yuiza Beach said.
The drag teach-in was also planned in connection with DePaul's drag show, celebrated annually in the Student Center. Testostermoan first performed at the DePaul drag show last year where he met other performers and started his own career as a drag king. This year, DePaul's drag will be held on May 26 at 7 p.m. in the Student Center.
"I saw Lúc Ami perform for the first time, and I was just enchanted by him," Testostermoan said. "This is everything I want to see in the world, and so it's really special to me that he's in the show." 
Looking back into his past before drag completely changed his life, Testostermoan hopes this event is inspiration to bring together the LGBTQ+ community at DePaul and find a safe space to be true to yourself. 
"I'm so happy to see how well this event worked out," Testostermoan said. "I was so sad before I started dragging. It was one of my lowest points because I was going through some transitions and didn't really have any friends at that time. I needed something and now I have all these friends who came out for me tonight to celebrate this big opportunity for me."