Fruity Party roots queerness in nature
June 4, 2023
Scattered between the raised plant beds and gardening tools, students share fruit and swap stories at the Fruity Party. The event on June 1 hosted by DePaul Urban Gardeners (DUG) and the LGBTQIA+ Resource Center kicked off Pride month in the comfort of the fenced garden on the corner of Belden and Bissel. With an array of fresh fruit, the queer centric event helped root community among the garden's greenery.
"It was heartwarming to have so many people there to celebrate Pride," said Grace Gallant, senior and co-head of operations of DUG. "It was a celebration of not only everything our ancestors did to get us where we are today but also for ourselves being out here, being queer and being loud and proud. It was beautiful and magical to be in that space with other [LGBTQIA] people."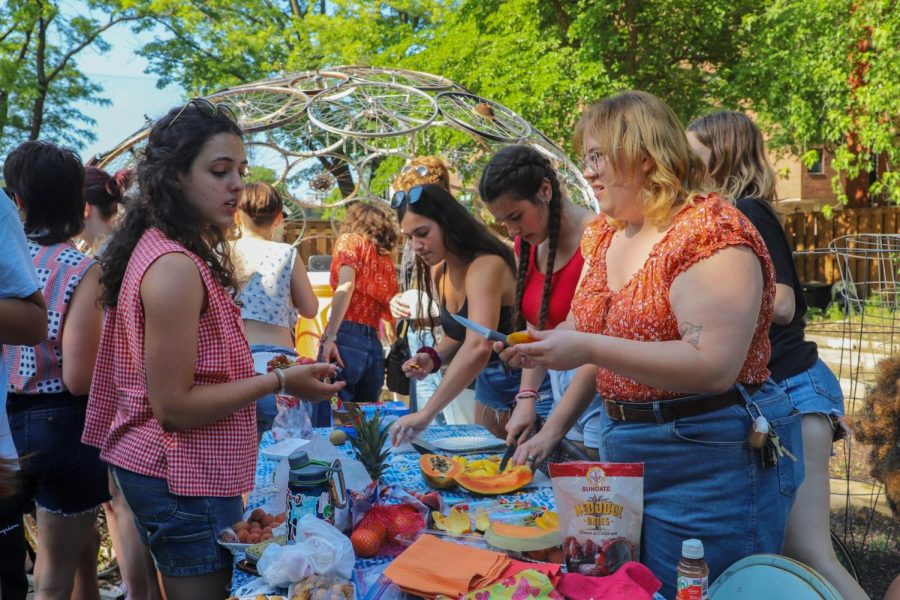 This is the second annual Fruity Party and the first year DUG partnered with the LGBTQIA+ Resource Center. 
Sophomore Branton East, a community engagement assistant at the LGBTQIA+ Resource Center, said working with DUG allowed both organizations to share their resources and spaces. It also gave each of the groups' members a chance to connect over shared identity with people they may not normally interact with. 
"We wanted to connect more people to our center from [DUG] and create a better sense of community within these different walks of life," East said. "Community looks very different for different people so while I feel comfortable being in the resource center, it's definitely a very different vibe than putting on a cute outfit and going to the garden with that club."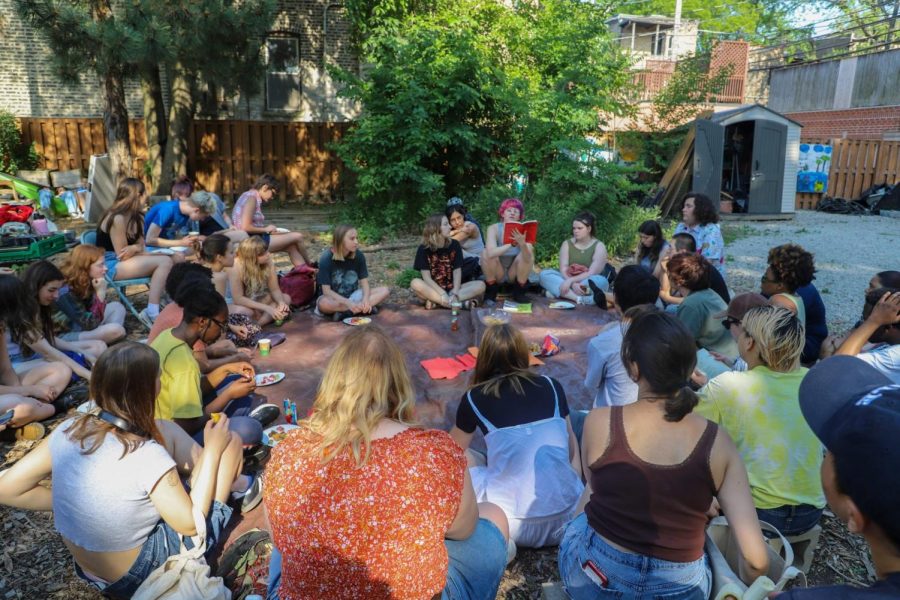 Gallant organized the event both years. They said the inspiration originally came from the fruit parties they held in high school with friends, where each person would bring fruit, dress up and meet in a picturesque area to hang out. 
"When I joined the DUG board last year and I had this place to make space for people and throw parties, I started thinking about the term 'fruity' being used for gay people," Gallant said. "It kind of inspired me to have the Fruity Party in the garden being used to celebrate Pride." 
Zoharia Drizin, a first year graduate student and president of DUG, said this year's turnout more than doubled in size compared to last year. She attributes this to the changes in Covid-19 safety protocols, which allow more people to be on campus full time and able to engage with clubs in person.
"People are sick of being stuck inside so they want to be out gardening and working with the soil," Drizin said. "This year we also have a lot more club infrastructure and resources like tables, chairs and people to make this big of an event even possible. There's a much more structured board, government model and communication system that makes us a lot more successful."
Senior Audrey Champelli attended the event after hearing about it from DUG members in her horticulture class. She said the queer ecology-related storytelling during the event interested her the most.
Queer ecology is a new scientific theory that aims to separate environmentalism from heteronormative ways of thinking by using a queer theory perspective.
"[I attended] this event because I'm in environmental science and studies classes felt like a way to get involved and hang out with other people where the only barrier to entry is related to my own interests already," Champelli said. 
East said the ties between queerness and nature lie in the intertwined history of the two and the consequent stereotypes that evolved. Flowers and herbs are often used as symbols related to queerness. 
"Looking back at history, queerness was often coded in nature," East said. "When I think about nature, I think about its concealment and how it can be so disregarded at times just like queerness. There's a lot we can learn from nature in the way it still prevails."
The Greek poet Sappho is one of the first documented lesbians in history and often used flower metaphors in her poetry to express the beauty and love of women. Oscar Wilde wore green carnations in his lapel to symbolize his queerness, a fashion choice paralleled by Elliot Page on the 2021 Met Gala carpet with his green rose lapel.
Events like the Lavender Scare from the late 1940s through the 1960s saw the discrimination of LGBTQIA+ employees from their government jobs and positions. Many were fired or forced to resign from their jobs because of their sexuality, a similar moral movement to the more well-known Red Scare. Lavender became a symbol and color for rebellion against homophobia. 
"Nature is very gay," Gallant said. "On a personal level I know that being gay is natural and beautiful. As a community we are constantly changing and growing just like plants and flowers. We wanted to talk about that interconnectivity of us as gay people and the nature that surrounds us."
The leftover fruit scraps from the event were used as compost for the garden. 
Drizin hopes the event brings more awareness to the club and encourages more people to see the space socially rather than just for gardening.  
"The organization is slowly growing with the interest and participation," Drizin said. "We're behind this looming brown fence that does create a nice sense of enclosure from the outside world, but it also means people don't know we're growing, harvesting and donating produce. We want to learn from this experience but we need people to know we're here first."
Gallant said next year they hope to increase the amount of fruit to account for the growing turnout.
"At DUG we want everyone to be loved, supported and accepted," Gallant said. "Being able to hear a bunch of people talk about gay love, what they're proud of, and the people in their life who have shaped who they are today was so beautiful. Making space is essential for building community and connecting people is simple once you get everyone together."