The Chicago Red Stars have just become Las Estrellas Rojas, in honor of Latine Heritage Month.
Chicago's professional women's soccer team, one of the 12 National Women's Soccer Leagues across the United States, celebrated their players' and fans' Latine heritage for the second time this year. 
Named after the four stars on the Chicago Flag, the Red Stars play for Chicago with immense pride. The team's players represent an array of nationalities, with multiple players and staff members coming from a Latine background, including Jill Aguilera, a Puerto Rican midfielder.  
But despite the Latine presence, the team just last year began commemorating Latine Heritage month since it was founded in 2006. 
Staff members of the team participated in the Mexican Independence Day Parade in Little Village for the first time last year and again this past  Saturday, Sept. 16. They repped the heritage month t-shirts and carried a large banner, plastering the design with an added detail. Below Las Estrellas Rojas it said, "de Chicago."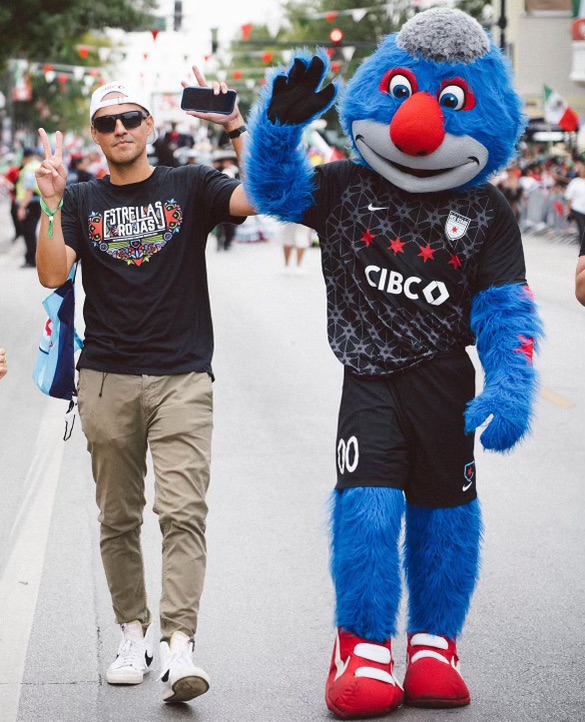 The Latine Heritage Month merchandise includes the t-shirt and a scarf. Both are black with an intricate colorful design, like papel picado. Centered around the team's name in Spanish, Las Estrellas Rojas, the design encapsulates the  joy the team carries as they play for their fans. 
The shirts were given away and available for purchase at the teams Latino Heritage Night on Sept. 30., when the team faced Racing Louisville FC. $5 of every purchase was donated to the Illinois DREAM fund,  according to the team. 
The team raised $600, according to a spokesperson for the team. 
At the beginning of 2021, the club signed a one-time deal with Univision Chicago, the leading Spanish media company in the US, airing all their matches during Latine Heritage month from Sept. 15 through Oct. 15 in Spanish.
The deal has since been renewed during both the 2022 and 2023 seasons, 
Establishing roots and connections in this city has always been one of the Red Stars' top priorities, and with soccer being a way of life in most Latine nations, this connection is important and fitting. It is unknown as to why it took the organization this long to take pride in its and this city's Latino heritage, but it is a step in the right direction. 
Not only have the Red Stars taken multiple steps forward in celebrating this important month, but the league did as well, with all 11 other teams and cities.