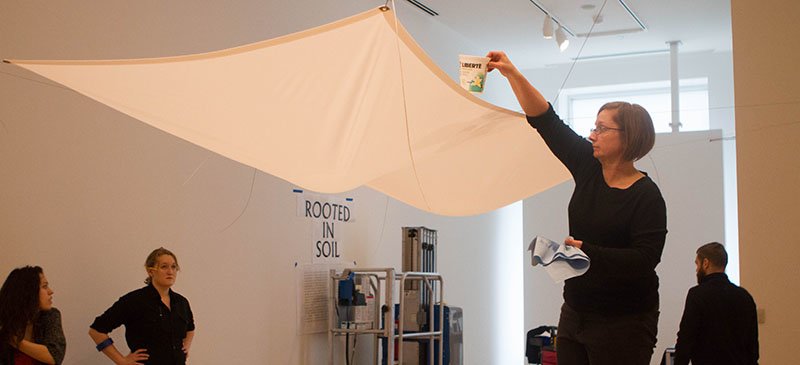 [dropcap]T[/dropcap]he upcoming exhibition at the DePaul Art Museum is a pile of dirt.
That's not a bad thing — "Rooted in Soil," opening Jan. 29, explores the reciprocal relationship between humans and soil.
"Soil is linked to everything around us, and we're connected to it in a multitude of ways," said Laura Fatemi, the exhibition's director and museum's interim director. "It's a key component of becoming a better steward of our environment."
The idea for "Rooted in Soil" began about a year and a half ago according to Fatemi, when she began working on a presentation proposal for a conference with her daughter Farrah, an environmental scientist and DePaul graduate.
[quote]"It looks at our role and how we are a part of this cycle … looking at birth, death and decay," Fatemi said. "The exhibition explores how we are connected to our environment at large."[/quote]
The show shares similarities with "Climate of Uncertainty," another environmentally-based exhibition the DePaul Art Museum (DPAM) hosted in 2013 that focused on climate change.
"It has some similarities in that it's kind of awareness-building and consciousness-raising on this resource that we're so connected to, yet at the same time kind of checked out from or oblivious to," Fatemi said.
As part of a greater university community, DPAM often collaborates with different departments for programming, and "Rooted in Soil" is no different, relying on many contributions from DePaul's environmental studies department and its chair, Liam Heneghan.
Heneghan is the adviser for Chicago Wildsounds, a soundscape ecology project with DePaul students. Chicago Wildsounds will have a soundscape, "Rooted in Sound," in the exhibition.
"It's another way to think about and reconnect with nature, which is what many of the artists are doing in the exhibition," Fatemi said.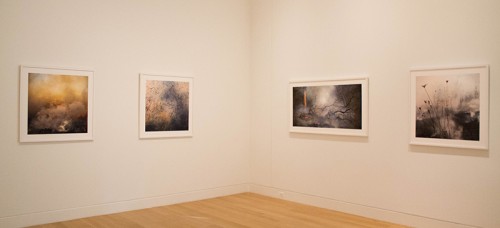 One of the works that will be on display is "Our Bodies, Our Soils" by Chicago-based artist Claire Pentecost. The installation resembles an apothecary with tinctures of soil from the city that visitors can examine and smell, according to a press release.
"(This exhibition) is different in the sense that this is probably the first time that we've had soil as an artistic medium displayed in the museum," Fatemi said. "This is kind of unusual for us."
This is the time for DPAM to be unusual.
The museum is currently in its fourth season at its Fullerton Avenue location – it previously lived in a tiny space within the John T. Richardson Library. Since its move, it has garnered numerous accolades, including being recognized by TimeOut Chicago, Chicago Reader and Chicagoist as one of the best museums in Chicago.
"I've been with the museum for 15 years now," Fatemi said. "It's amazing to see it go from one small gallery in the library to a standalone, beautiful, state-of-the-art building that was designed with the sole purpose to be a museum."
It's also a time of change: Louise Lincoln, former director of the museum, stepped down at the end of 2014, citing personal reasons and timing for her departure.
"Where the museum goes in the next couple years, I'll be interested to see, but I won't play a role in it," Lincoln said. "It's the right time in my life … and it's a good time for the museum to have new leadership."
Fatemi, formerly the associate director, is taking over Lincoln's duties until a new director is put in place.
According to Fatemi, the museum is currently in the process of working with a search firm to find a new director, and they have plans to have a new director in place by this summer or by the start of the 2015-16 school year at the latest.
[quote]"It's an exciting time right now with the museum," Fatemi said. "We're poised very nicely and we've grown very steadily and our stature within the arts community has continued to grow."[/quote]
Since moving into its space in September 2011, DPAM has served as a valuable resource for the university.
Gregory Harris, assistant curator of the museum, often gives tours to classes and talks about the current exhibits. "The last year, we seem to have picked up in the number of tours we're giving to classes," Harris said. "I notice I'm down in the galleries talking to classes more than I have been."
While there seems to be an increase in tours, attendance has remained steady since opening four years ago.
"Our numbers are actually startlingly consistent," Harris said.
DPAM's programming, which "tries to mirror the social justice mission of the university," according to Harris, is to credit for keeping attendance steady. Earlier this year, the museum's budget was cut.
"Our budget, like everyone else in the university, has been cut a little bit, so we used to be open seven days a week but now we're closed Monday and Tuesday," Harris said.
"We've had to cut down on promotion, but that doesn't affect the programming we do." Harris said. "For example, you won't see DPAM banners on Fullerton Ave. anymore. We don't place ads in any newspapers, or do online advertising."
Budget woes have been an issue for DePaul over the past year. At the end of the fiscal year in June, budgets were cut in many of the departments of the university and early retirement packages were offered to faculty.
The cuts are attributed to a decline in enrollment. Both overall undergraduate and graduate enrollment were down 6 percent for fall 2013 from fall 2012, according to DePaul's Enrollment Management and Marketing annual report.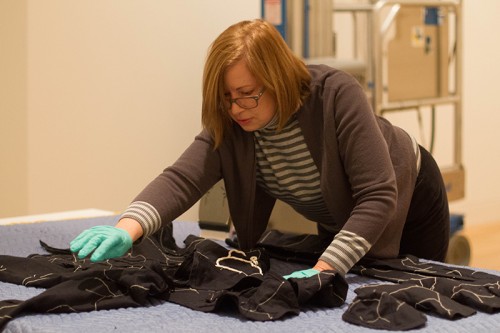 The drop in graduate enrollment has been the biggest source of financial struggle for the university. Grants and scholarships fund much of undergraduate tuition, but universities profit more from graduate tuition funds.
Overall graduate enrollment in Kellstadt Graduate School of Business, College of Education, and Liberal Arts & Sciences saw the greatest decline from 2012 to 2013 with a decrease in 11 percent, 16 percent and 12 percent, respectively.
When asked if the museum had any further issues with the administration at DePaul, Lincoln declined to comment.
Regardless of the museum's budgetary struggles, its mission remains constant. Education remains its primary objective, exhibiting thought-provoking and meaningful works that allows visitors to form heightened perspectives on the world around them.
[quote]"We don't have a particular niche or identity, and in some respects that's very liberating because we're not pigeonholed into doing any one, two or three different kinds of things," Harris said.[/quote]
Other university-affiliated museums in Chicago have a particular focus, such as Columbia College's Museum of Contemporary Photography or Loyola University's Museum of Art, which exhibits solely spiritual art.
"We're a teaching museum," Harris said. "(The exhibitions) use visual media as an educational tool to put a different perspective on topics that are otherwise relevant to students at the university."
Over his past five years at the museum, Harris is proud of the exhibitions that have been shown, and he credits their work to the increased coverage of the museum.
"Not to toot our own horn, but I think we do good shows and they're interesting and people are recognizing that," Harris said. "You put together a show and you put it up on the wall, you hope that people come see it and talk about it."
Starting Thursday, people will surely be talking about "Rooted In Soil."
"We want to invite all of the students to come in and awaken the senses to the beauty, terror and mystery of soil that the artists are presenting in the exhibition," Fatemi said.
Despite any issues the museum has or will face, Fatemi believes in the DePaul Art Museum's future.
"We're in a good position to go forward," Fatemi said. "There are some challenges ahead as well, but I think we do an amazing job with few resources."
Even if those resources are a pile of dirt.