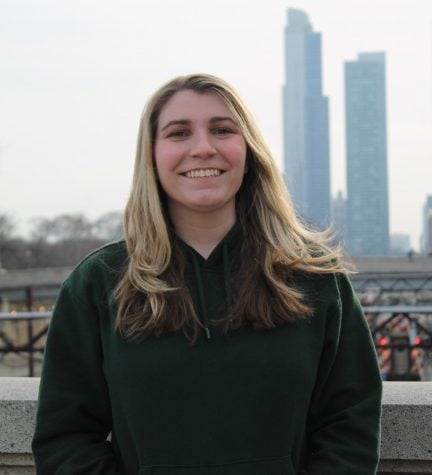 Lacey has been the mastermind behind The DePaulia's Arts & Life section for over a year. When she's not struggling to fill her nine pages, she can likely be found thinking about pugs, watching "Law & Order: Special Victims Unit" or looking for new hoodies to add to her collection. Also, she's from New Jersey (South Jersey, specifically) and never shuts up about it for some reason.
Contact Information:
Email her at artslife@depauliaonline.com. Follow her on Twitter @laceylatch.
Lacey Latch, Arts & Life Editor
Jun 14, 2019

Seniors make studio debut at DePaul Art Museum

(Story)

Jun 12, 2019

Museum of Contemporary Art exhibit redefines understanding of common language, imagery

(Story)

Jun 03, 2019

St. Vincent's DeJamz

(Story)

Jun 03, 2019

DePaul Art Museum current exhibitions highlight trends through local lens

(Story)

May 28, 2019

St. Vincent's DeJamz

(Story)

May 28, 2019

What's Fresh on Netflix

(Story)

May 25, 2019

DePaul FEST 2019 Recap

(Story)

May 13, 2019

Pentagon report: Sexual assault in U.S. military increased for female service members

(Story)

May 13, 2019

What's Fresh on Netflix

(Story)

May 13, 2019

St. Vincent's DeJamz

(Story)

May 06, 2019

What's Fresh in Comedy

(Story)

May 06, 2019

2 Navy recruits dead after training at Lake County bootcamp

(Story)

May 06, 2019

A conversation with those behind Netflix's new coming-of-age flick "The Last Summer"

(Story)

Apr 29, 2019

St.Vincent's DeJamz

(Story)

Apr 29, 2019

What's fresh on Netflix

(Story)

Apr 29, 2019

DePaul students with Halal diet worry about lack of transparency from dining hall

(Story)

Apr 22, 2019

St.Vincent's DeJAMZ

(Story)

Apr 22, 2019

What's fresh on HBO

(Story)

Apr 15, 2019

St. Vincent's DeJamz

(Story)

Apr 15, 2019

As 'Veep' enters final season, Julia Louis-Dreyfus cements legacy fit for comedy royalty

(Story)

Apr 15, 2019

What's Fresh on Climate Change

(Story)

Apr 15, 2019

New Illinois program lets patients substitute opiate prescriptions for pot

(Story)

Apr 08, 2019

St.Vincent's DeJamz

(Story)

Apr 08, 2019

What's Fresh on Hulu

(Story)

Apr 01, 2019

Bill Hader discusses the delicate balancing act of 'Barry' season two

(Story)

Mar 11, 2019
Mar 11, 2019

St. Vincent's DeJamz

(Story)

Mar 04, 2019

St. Vincent's DeJamz

(Story)

Feb 25, 2019

What's Fresh: In podcasts

(Story)

Feb 25, 2019

Pete Holmes on comedy, commitment and the third season of 'Crashing'

(Story)

Feb 18, 2019

The Recording Academy's cruelty

(Story)

Feb 18, 2019

What's Fresh on Netflix: True Crime Edition

(Story)

Feb 11, 2019

What's Fresh on HBO

(Story)

Feb 11, 2019

St. Vincent's DeJamz

(Story)

Feb 04, 2019

What's Fresh on Amazon Prime

(Story)

Feb 04, 2019

St. Vincent's DeJamz

(Story)

Jan 28, 2019

St. Vincent's DeJamz

(Story)

Jan 28, 2019

Breslin and Hamill: HBO's look at journalism legends and the importance of human stories

(Story)

Jan 28, 2019
Jan 28, 2019

What's fresh on Comedy Central

(Story)

Jan 14, 2019

St. Vincent DeJamz

(Story)

Jan 14, 2019

Trump's business failings foretold the shutdown

(Story)

Jan 14, 2019

what's FRESH on Netflix

(Story)

Nov 12, 2018

What's Fresh for Veterans Day

(Story)

Nov 05, 2018

What's Fresh in Late-Night

(Story)

Nov 05, 2018

St. Vincent's DeJamz

(Story)

Oct 22, 2018

In search of greatness

(Story)

Oct 22, 2018

One man. One mountain. No rope.

(Story)

Oct 22, 2018

St.Vincent DeJamz

(Story)

Oct 22, 2018

Backlash over a black Bond

(Story)

Oct 22, 2018

What's Fresh for Halloween

(Story)

Oct 15, 2018

Navy Pier to host lakeside love search

(Story)

Oct 15, 2018

What's Fresh on Netflix

(Story)

Oct 15, 2018

St Vincent DeJamz

(Story)

Oct 15, 2018

Dystopian optimism in "The Oath"

(Story)

Oct 08, 2018

Working students turn strain into skills

(Story)

Oct 08, 2018

St. Vincent's DeJamz

(Story)

Oct 08, 2018

What's Fresh on Podcasts

(Story)

Oct 01, 2018

St. Vincent DeJamz

(Story)

Oct 01, 2018

What's Fresh on HBO

(Story)

Sep 24, 2018

St. Vincent's DeJamz

(Story)

Sep 24, 2018
Sep 24, 2018

What's Fresh on Netflix: Sophomore Seasons

(Story)

Sep 17, 2018

Blue Man Group briefly lights up Wintrust

(Story)

Sep 17, 2018

St. Vincent DeJamz

(Story)

Sep 17, 2018

'A Simple Favor' surprises to the end

(Story)

Sep 17, 2018

Kevin Hart on education and redemption

(Story)

Sep 17, 2018

What's Fresh on Hulu

(Story)

Sep 10, 2018

What's Fresh on Netflix: Animation Edition

(Story)

Sep 10, 2018

13 years of 'Sunny'

(Story)

Sep 10, 2018

St. Vincent's DeJamz

(Story)

Sep 10, 2018

The Second City closes welcome week

(Story)

Aug 23, 2018

"Minding the Gap" explores life's complexities through skateboarding

(Story)

Aug 06, 2018

An Interview with Post Animal

(Story)

Aug 06, 2018

Lolla Recap: Day 4

(Story)

Aug 05, 2018

Lollapalooza 2018 Recap: Saturday

(Story)

Aug 04, 2018

Lollapalooza Friday Recap

(Story)

Aug 03, 2018

Lollapalooza Thursday Recap

(Story)

May 29, 2018

St. Vincent DeJamz, May 29, 2018

(Story)

May 29, 2018
May 21, 2018

Playing it safe: As national and local violence ramps up, concerns about safety follow suit

(Story)

May 21, 2018

St. Vincent DeJamz

(Story)

May 14, 2018

What's fresh and recently canceled

(Story)

May 14, 2018

Late-night eats in Lincoln Park

(Story)

May 07, 2018

St. Vincent DeJamz

(Story)

May 07, 2018

Hip-hop in transition

(Story)

May 07, 2018

What's Fresh on Netflix

(Story)

Apr 30, 2018

St. Vincent DeJamz

(Story)

Apr 30, 2018

What's Fresh on Hulu

(Story)

Apr 23, 2018

What's Fresh on HBO

(Story)

Apr 23, 2018

St.Vincent DeJamz

(Story)

Apr 16, 2018

Television in bloom

(Story)

Apr 16, 2018

What's Fresh on Netflix

(Story)

Apr 09, 2018

Bill Hader gets in touch with his dark side for "Barry"

(Story)

Apr 09, 2018

What's fresh in HBO documentaries

(Story)

Apr 02, 2018

Film review: "Game over, Man!" is for "Workaholics" fans

(Story)

Apr 02, 2018

What's Fresh on HGTV

(Story)

Apr 02, 2018

Henry Winkler stops by to talk "Barry"

(Story)

Mar 23, 2018

"Thoroughbreds" is this year's dark horse horror film

(Story)

Mar 12, 2018

What's fresh on Amazon Prime

(Story)

Mar 12, 2018
Mar 05, 2018

What's fresh in reality tv

(Story)

Mar 05, 2018
Feb 26, 2018

What's Fresh in stand-up

(Story)

Feb 26, 2018

Rager on the Red Carpet

(Story)

Feb 26, 2018

Teen love with a twist shines in "Every Day"

(Story)

Feb 19, 2018

The truth about treason

(Story)

Feb 19, 2018

what's FRESH on Hulu

(Story)

Feb 19, 2018

"Crashing": Comedian Pete Holmes discusses HBO's hit show

(Story)

Feb 14, 2018

Film review: Marvel's "Black Panther" highlights Black excellence

(Story)

Feb 12, 2018

Valentine's Day on TV

(Story)

Feb 12, 2018

what's FRESH on NETFLIX

(Story)

Feb 12, 2018

Rom-Com Recommendations

(Story)

Feb 12, 2018

A tail of true rejection

(Story)

Feb 05, 2018
Feb 05, 2018

Where to stream Oscar nominees

(Story)

Feb 05, 2018

What's Fresh on FOX

(Story)

Feb 04, 2018

An Eagles win is a win for the common person

(Story)

Jan 29, 2018

What's Fresh on NBC

(Story)

Jan 29, 2018

Identity and hip-hop

(Story)

Jan 29, 2018
Jan 29, 2018

Hot Chocolate Battles

(Story)

Jan 22, 2018

What's FRESH on ABC

(Story)

Jan 22, 2018

"The Chi" a love letter to the South Side

(Story)

Jan 22, 2018
Jan 16, 2018

What's Fresh on HBO

(Story)

Jan 16, 2018

"The Post" powerfully preaches the free press

(Story)

Jan 16, 2018

Student Photographer Spotlight: Wendy Davis

(Story)

Jan 16, 2018

DPAM puts focus on Chicago

(Story)

Jan 08, 2018

"Bright" leaves viewers unsatisfied

(Story)

Jan 08, 2018

Gen Z finds a voice with "Grown-ish"

(Story)

Jan 08, 2018

What's fresh on Netflix

(Story)

Jan 08, 2018

St. Vincent's DeJamz

(Story)

Dec 14, 2017

A Winter break binge watching guide

(Story)

Nov 13, 2017

Networks at war: Popularity of military TV shows rise as quality falls

(Story)