Big East Tournament: No. 2 DePaul knocks off No. 1 Seton Hall for Big East Championship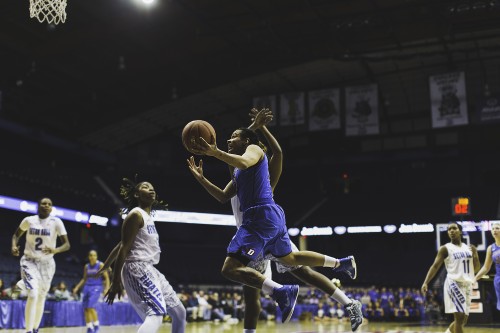 DePaul's 78-68 win over Seton Hall started out just like their game earlier in the year: DePaul went up fast and big in the early minutes. Except this time, there was no Seton Hall comeback to ruin the night for the Blue Demons as DePaul won the Big East tournament title for the second year in a row.
"Coming out of every time‑out we would all huddle up and be like, remember they did this to us before," junior forward Megan Podkowa said. "We`ve been up by 12, and this has happened before, so we really had to stick to our defense and rebounding and make sure we get the job done.  We can't let them back in the game."
Podkowa led the Blue Demons with 19 points and was one of four DePaul players in double-figures. Seton Hall senior guard Ka-Deidre Simmons led the game with 23.
"It`s hard to play on the road, especially as a No.1 seed in a conference tournament, but clearly they outplayed us today," Seton Hall head coach Tony Bozzella said. "This was their day.  The last two times we played them, it was our day.  So I give them credit."
This win came after Seton Hall had defeated DePaul twice in the regular season, once by twenty points at Seton Hall, and then a heartbreaking 81-80 loss in Chicago.
"First two times that we played them, our defense wasn't there and our rebounding wasn't there," Podkowa said. "So I think we all came in ready to play and ready to rebound and defend against them tonight."
DePaul got off to a dream start as they rolled out to a 15-3 lead right out of the gate. The Blue Demons continued to shoot well and, at the under-8 timeout, sported a 68 percent shooting percentage, as well as a 50 percent from beyond the arc.
Seton Hall started to climb back late in the second half and were within four with 1:16 to go in the half. This was after DePaul had turned the ball over 12 times in the first half. DePaul grabbed another bucket in the final minute to put their halftime lead at 35-29.
Centrese McGee led the Blue Demons with nine points, all from beyond the arc. Ka-Deidre Simmons led the Pirates with nine points as well.
The Blue Demons replicated their first half start in the second half and soon jumped out to a 48-31 lead. Their shooting was down to fifty percent but with six Seton Hall turnovers, DePaul was able to control the game in the opening minutes of the half.
Seton Hall seemed to threaten as they got to within ten points in the waning moments of the second half while DePaul went on a four-minute scoring drought. The Blue Demons, however, held the Pirates and never let them closer than ten points. DePaul never trailed in the entire game as the pushed forward for the victory 78-68.
With the win, DePaul (26-7) earned an automatic bid to the NCAA tournament. Both DePaul and Seton Hall (28-5) will learn their tournament opponent Monday, March 16.
"It's a relief knowing we don't have to sit there wondering if our name is going to pop up or not," DePaul junior guard Chanise Jenkins said.
Jenkins was named to the Big East All-Tournament team, while Podkowa was named the tournament's Most Outstanding Player.
"It's definitely all for my teammates," Podkowa said. "I mean, I feel I was getting a lot easy lay‑ups, wide open threes, and the guards really doing a great job of getting me the ball."
"I've been blessed to coach players that are really hard‑working, that are really intelligent and really have a sense of purpose," DePaul head coach Doug Bruno said. "For us to come out and be able to beat a team of this quality tonight, I'm just really proud of the players, and it always comes back to the players, and I'm just representing them."