Nation and World briefs: April 6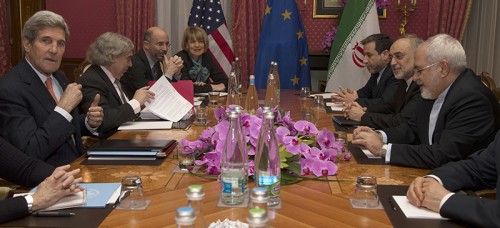 International news headlines you need to know for this week
Iran, Western powers agree on nuclear deal
Capping exhausting and contentious talks, Iran and world powers sealed a breakthrough agreement Thursday outlining limits on Iran's nuclear program to keep it from being able to produce atomic weapons. The Islamic Republic was promised an end to years of crippling economic sanctions, but only if negotiators transform the plan into a comprehensive pact.
They will try to do that in the next three months.
The United States and Iran, long-time adversaries who hashed out much of the agreement, each hailed the efforts of their diplomats over days of sleepless nights in Switzerland. Speaking at the White House, President Barack Obama called it a "good deal" that would address concerns about Iran's nuclear ambitions. Iranian Foreign Minister Mohammad Javad Zarif called it a "win-win outcome."
Opponents of the emerging accord, including Israel and Republican leaders in Congress, reacted with skepticism. They criticized the outline for failing to do enough to curb Iran's potential to produce nuclear weapons or to mandate intrusive enough inspections. Obama disagreed.
"This framework would cut off every pathway that Iran could take to develop a nuclear weapon," he declared. "This deal is not based on trust. It's based on unprecedented verification."
It commits Tehran to significant cuts in centrifuges, the machines that can spin uranium gas to levels used in nuclear warheads. Of the nearly 20,000 centrifuges Iran now has installed or running at its main enrichment site, the country would be allowed to operate just over 5,000. Much of its enriched stockpiles would be neutralized. A planned reactor would be reconstructed so it produced no weapons-grade plutonium. Monitoring and inspections by the U.N. nuclear agency would be enhanced.
Many of the nuclear limits on Iran would be in place for a decade, while others would last 15 or 20 years. Sanctions related to Iran's nuclear programs would be suspended by the U.S., the United Nations and the European Union after the International Atomic Energy Agency confirmed Iran's compliance.
Kenyan college massacre highlights security issues
The Islamic extremists who slaughtered 147 people at a college in northeast Kenya as they shouted "God is great" appeared to have planned extensively, even targeting a site where Christians had gone to pray, survivors said Friday.
In Nairobi, Kenya's capital, family members went to a morgue where some bodies had been airlifted from Garissa, victims of the worst attack in Kenya since the 1998 bombing of the U.S. Embassy by al-Qaida which killed more than 200 people. Screaming and crying relatives were assisted by Kenyan Red Cross staffers, who tried to console them.
Some Kenyans were angry that the government didn't take sufficient security precautions. The attack at Garissa University College happened six days after Britain advised "against all but essential travel" to parts of Kenya, including Garissa.
One day before the attack, President Uhuru Kenyatta dismissed the warning as well as an Australian one pertaining to Nairobi and Mombasa, saying: "Kenya is safe as any country in the world. The travel advisories being issued by our friends are not genuine."
Kenyatta would have been mindful that previous travel warnings, like for popular Kenyan beach areas, have hurt the country's tourism industry.
One man posted a photo on Twitter showing about 100 bodies lying face-down on a blood-smeared courtyard with the comment, "Our inaction is betrayal to these Garissa victims"
One of the first things that the al-Shabab gunmen did when they assaulted the campus early Thursday, survivor Helen Titus said, was to head for a lecture hall where Christians were in prayer. Al-Shabab is a Somalia-based Islamic extremist group with ties to al-Qaida.
"They investigated our area. They knew everything," Titus told The Associated Press outside a hospital in Garissa where she was being treated for a bullet wound to the wrist. Officials said 79 people were wounded.
The gunmen also told students hiding in dormitories to come out, assuring them that they would not be killed, said Titus, who wore a patient's gown as she sat on a bench in the hospital yard.
The masked attackers — strapped with explosives and armed with AK-47s —took dozens of hostages in a dormitory as they battled troops and police before the violence ended after about 13 hours, witnesses said.
Al-Shabab spokesman Ali Mohamud Rage said the group was responsible for the attack. Al-Shabab has carried out numerous attacks in Kenya, including the siege at the Westgate Mall in Nairobi in 2013 that killed 67 people, to retaliate against Kenya for sending troops to Somalia in 2011 to fight the militants and stabilize the Somali government.
Somali President Said Hassan Sheikh Mohamud called for stronger collaboration between Somalia and Kenya to defeat al-Shabab.
France drafts ban on anorexic models
In one of the most image-conscious cities on earth, France's Parliament has moved to make it a crime to use anorexic models or encourage anorexia, as authorities try to crack down on the glorification of dangerously thin women.
Other countries including Israel and Spain have taken similar action. The French measures would only apply within France, but could have symbolic impact beyond, because of its outsized influence in setting style trends around the world.
"It's not just about protecting the models but also teenagers, because this body-image pressure also affects them and contributes to the emergence of eating disorders and tendencies to eat less and less," said Olivier Veran, a neurologist and legislator who championed the anorexia measure.
The lower house of Parliament adopted the amendment on models Friday, as part of a larger public health bill working its way through the legislature. The bill goes to a full vote next week, and then goes to the Senate.
The amendment forbids anyone with a body mass index below a certain level from earning money as a model. The level — based on height and weight — would be defined later by decree if the law is definitively passed.
Any modeling agency or person who pays a model below that index would face up to six months in prison and 75,000 euros ($80,000) in fines if convicted.
The World Health Organization says that a body mass index of less than 18.5 is "underweight." Britain's National Health Service says adults with anorexia generally have a body mass index of less than 17.5. That would correspond to a woman who is about 5 foot 7 and 112 pounds.
French lawmakers adopted a related amendment earlier this week targeting those who run pro-anorexia websites, and another that would require publications to publish a note telling readers when they have altered a picture to make a model look thinner — or less anorexic.
Up to 40,000 people are estimated to have anorexia in France, 90 percent of whom are women, according to the health ministry.