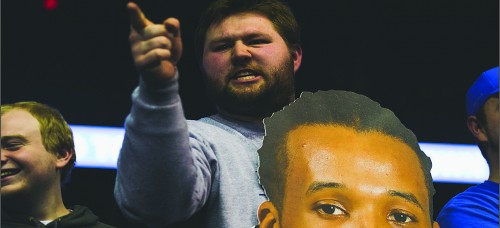 In 2004, DePaul went 21-9 (12-4), won their conference (Conference USA) and made it to the second round of the NCAA Tournament as a seven seed. They lost to Connecticut, which went on to win the championship.
That kind of basketball heaven hasn't been felt in a long time, but a familiar face of it re-emerged with the re-hiring of the coach at the helm of that success, Dave Leitao.
Amid the college basketball madness that is March and early April, DePaul students are wishing they had a team in the tournament so they can join the euphoria.
Leitao, however, never competed as a coach in the Big East, and when he led DePaul to the tournaments, DePaul was in Conference USA — a far easier slate of opponents.
The DePaulia asked students around campus what they thought about the rehire.
"I think it's like hooking up with your ex-girlfriend who dumped you," sophomore Ben Savage, 19, said. "We've all done it, and we're not proud of it."
Savage went on to say that DePaul's athletic department should have made a bigger splash with a firebrand coach.
Savage said as long as the Blue Demons rattle off some wins, he'll start watching again.
Sophomore Adam Chalifoux stopped following DePaul basketball and switched to Notre Dame because Coach Oliver Purnell's team was "hot garbage."
Chalifoux said Notre Dame's basketball program got better while DePaul's slowly got worse. "Whenever DePaul was on TV they'd be getting blown out by like 20," he said. "I'm not going to watch that."
"The last time I can remember being a fan was when Wilson Chandler played, during the Wainwright years," he said.
"I have mixed feelings about rehiring Leitao," Chalifoux said. "I think it's definitely an upgrade but I would have liked them to make a bigger splash — so I'm cautiously optimistic."
Both Savage and Chalifoux said they want Leitao to recruit Chicago players, recalling, at one point, current NBA All-Star and former Kentucky champion Anthony Davis, along with three other current NBA players who played high school ball in Chicago, all pondered playing at DePaul before going their separate ways.
"At least Leitao showed he could recruit guys," Chalifoux said. "And Leitao's teams could play."
Senior Jenna Duddleston thinks it's weird they brought Leitao back with so many other options available.
"I think they should have gotten someone within the city limits," Duddleston said. "Someone who really knows the Chicago area and can recruit some of the star players we have around here."
Duddleston cited two Chicago high school players who are now on Michigan State in the Final Four:  forward Gavin Schilling and guard Alvin Ellis III.
"We need a coach who can get Chicago recruits like that," Duddleston said. "There are so many good players right here in Chicago."
Junior Lauren Hernandez was nine the last time Leitao coached a game at DePaul. Since then DePaul men's basketball quickly became a benchmark of badness — going 36-140 since joining the Big East in 2005. But Hernandez said she'd starting watching because she likes the Leitao hire. She wants good basketball at DePaul University.
"I think it's crazy they had to spend money (on a consulting firm) to hire him again," she said. "But I'm cool with it."