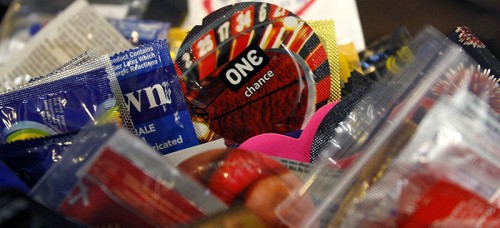 DePaul's sexual wellness programs have come a long way over the years. In 2011, the Trojan Sexual Health Report Card rated DePaul dead last out of 140 universities nationwide. Last year, DePaul triumphantly claimed 113, which admittedly is not worthy of a trophy, but at least an improvement.
The Trojan Sexual Health Report card determines the grade of universities by examining student opinions of health services, the availability of services and contraception, the prevalence of awareness programs and several other factors. It is arguably not the most accurate measurement of campus sexual health, but DePaul undoubtedly needs to step up its game.
"Sexual health can encompass a wide range of physical, emotional and spiritual dimensions," Rima Shah, DePaul's sexual health and violence prevention specialist, said.
According to DePaul policy, the university "reserves the right to restrict the distribution of medical or health supplies and devices items on university premises that it deems to be inappropriate from the perspective of the institution's mission and values. Specifically, the distribution of birth control devices, of any kind, is strictly prohibited on university premises."
"Our focus is on providing care, information, support and empowerment, so students can make healthy, informed and respectful choices related to sex. This holistic approach is consistent with DePaul's Catholic and Vincentian mission," Shah said. "We are in no way judging a student's behavior. Instead, we try our best to ensure that the student receives medically accurate information on sexual health to reduce any potential harm while also engaging them in a larger conversation."
Either way, the policy is outdated and it is time for progression. 
The common notion that contraceptives promote sex is outlandish, and while DePaul does not shy away from talking about the issues, there is minimal substantial follow through of providing actual protection.
Stanford's Sexual Health Center estimates that 1 in 4 college students have an STD. While only accounting for 25 percent of the sexually active population, people from the ages of 15 to 24 are responsible for more than half of the STD diagnoses every year.
Sexual health is not a game; it is a matter that must be taken seriously on college campuses. The likelihood of a college student getting an STD is far too high, and the fact that there is little being done to prevent the spread of STDs on campus is abhorrent.
The Office of Health Promotion & Wellness at DePaul is not completely in the dark regarding sexual safety on campuses. April is Sexual Assault Awareness Month, and DePaul is trying to get the word out about assault on college campuses.
The rate of sexual assault on college campuses is astonishing. According to the National Sexual Violence Resource Center, "one in five women and one in 16 men are sexually assaulted while in college." Additionally, "more than 90 percent of sexual assault victims on college campuses do not report the assault."
The stigma attached to a high number of reported sexual assaults on campus is enough for victims to feel ashamed or embarrassed and not report their attack. DePaul is no exception to this. In 2013, only three forcible sexual assaults were reported on the Lincoln Park Campus, which is nearly impossible given the statistical data.
Talk, in the case of STDs and sexual assaults, is not enough. Recognizing what DePaul is doing right is undoubtedly important, but the acknowledgement of success should not stunt future efforts.
The presence of free STD and HIV testing, awareness campaigns and sexual health panels is a great start, but it should not be the end. Settling into this mediocrity says something about the university's lack of initiative and makes it clear that the university is not as interested in the health of its students as it may seem.
Progress is on the horizon, but it is going to take a great deal of pressure from the student body to truly transform the system. It is time for DePaul to take a step into the modern age and allow the distribution of contraceptives on campus.
We must continue to question the effectiveness of DePaul's sexual health programs, even if it seems to be headed in the right direction. More importantly, we must remember that as students, we can make a difference.
If you are passionate about this issue, put more pressure on the officials who are denying women their right to contraception. Together we can bring DePaul's sexual health policies into a brighter future, but only if we try.