Spring styles at DePaul and for the season
Hang on for a minute...we're trying to find some more stories you might like.
Last fall, hundreds of thousands of fashionable people flocked to New York, London, Paris and Milan, all curious to see what designers and brands would be selling in the spring. So many gorgeous pieces and concepts made audiences ooh and aah with delight, and now the time is finally here to shop for and wear them.
Wondering what trends dominated the season's runways and how you can rock them? Here's some go-to guides on a few of the most popular styles for spring.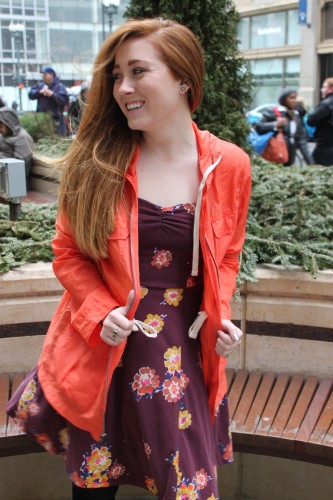 Floral Patterns
"Florals? For spring? Groundbreaking." As Meryl Streep's snarky fashion editor character Miranda Priestly sarcastically noted in "The Devil Wears Prada," it's not exactly a new idea to start incorporating floral patterns into a springtime wardrobe. But this year, the flowers shown on the runway aren't your run-of-the-mill dainty, girly prints.
"Floral is taking on a new shape this spring in the form of oversized floral prints that really make an outfit pop," Lindzi Shanks, Chicago native and blogger behind the popular website Trendy Sparrow, said. She suggests trying a bold and bright floral piece with something neutral.
"Rock an oversized floral print skirt or short with a simple one color top. Or give floral prints some edge by mixing them with studs or a moto jacket," she said.
For shorter girls, floral dresses may be difficult to pull off, so try a printed floral top and a pair of dark skinny jeans to lengthen the look of your legs.
"Floral for spring can be original depending on how you style it," Shanks said.
Festival Fashion
With music festivals like Coachella coming up this month, as well as Bonnaroo, Lollapalooza, and tons of others happening this summer, lots of designers are creating looks that pay homage to the free-loving bohemian era of the 1970s.
"While it has become trendy to talk about 'festival style' as a category of clothing, the truth is, it's essentially '70s-style boho clothing," Shanks said. From fringe details to flower crowns and palazzo pants to flowing dresses, bohemian chic is everywhere. Jessica Jaksich, a social media coordinator at a New York City fashion line, loves festival fashion because "you can feel trendy and fashion forward without sacrificing comfort one bit."
As for how to style the perfect Coachella-worthy outfit? "I'm really into kimonos this season," Jaksich said. "They're great to throw over a simple tank top and jean shorts or a dress and add a festival feel to your look."
Palazzo pants with a neutral tank make for another great festival look.
Military Jackets
Military jackets and army-inspired outfits were a trend in fall and winter runways, but many brands chose to show them again in spring, adding lots of girly pieces to refresh the look. This season, military chic goes above and beyond basic camouflage to incorporate lightweight jackets in tons of shapes and colors.
For spring, "I am in love with bomber jackets, especially in olive green," said Charmaine Simmons, University of Illinois at Urbana-Champaign senior and blogger for Sincerely Evonne. Bomber jackets are a great addition to a Chicago spring wardrobe — they're light and easy to throw on over any outfit.
"I would wear a bomber jacket with a loose tank and some dark skinny jeans that are ripped at the knees, or with a flared skirt," Simmons said.
For a softer look, try a girly lace dress or printed skirt and top with your military jacket.
Denim On Denim
It sounds like a fashion concept straight out of a bad '80s movie -— denim shirt and blue jeans in the same outfit. But layering different denim is becoming very popular once again, and is a great way to style things you might already have in your closet.
"I bought so many denim tops during the chambray craze a few years ago and always struggled to find the right bottoms. Being able to throw on my favorite blue jeans is such a relief," Jaksich said. But before you try the trend, Jaksich suggests taking a closer look at various denim washes.
"One rule that I learned is that it's good to pair different shades of denim together," she said. "Like a light jean top and dark jean bottoms, or vise versa."
Try pairing your jean shirts and pants with a blue and white striped top to capitalize on this season's nautical-chic trends, or mix it up and try out a pair of white jeans.
Jean skirts are back in, too — pair one with a t-shirt and denim vest.