Brittany Hrynko of DePaul women's basketball to fight for roster spot on Atlanta Dream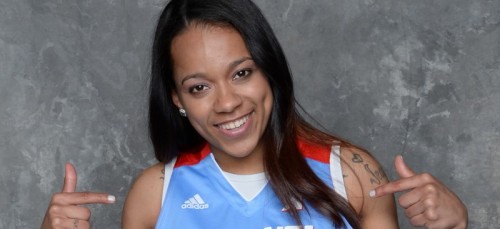 Now that she has been drafted and then traded to the Atlanta Dream, Brittany Hrynko will have to compete in training camp to make the roster.
Hrynko is one 16 players on the Dream's roster, but the WNBA's limit for a roster is 12. Hrynko will start training camp with Atlanta on May 17. The WNBA season begins June 5.
"She still has to make it at the next level," DePaul head coach Doug Bruno said. "Players have to enjoy it for a day, and then mentally re-group. She has to understand that they have to go in and fight to earn a spot.
"Women's basketball isn't like men's where there is guaranteed money. In women's basketball, you still have to go earn yourself a spot. That's where Britt has got to be focused and be the beest she can be."
On Atlanta's roster, there are six guards. The Dream's first round pick was also a point guard, Samantha Logic from Iowa.
Historically, only three of the Dream's second round picks have been on the roster since 2008. Their pick last season, Cassie Harbets, failed to make the roster while their picks in 2012 (Tiffany Hayes) and 2013 (Alex Bentley) made it.
Likewise, players drafted No. 19 overall, Hrynko's position, have had mixed results in making a roster. In the last five years, three players made it while two were waived.
Hrynko, however, said she is looking forward to competing for a roster spot.
"I'm just going there to be the player that I am, being coachable and do whatever the coach needs me to do," Hrynko said.
It helps Hrynko that the Dream's style of play is a similar one to what she played with under Bruno. The Dream are coached by former Los Angeles Lakers star Michael Cooper and they focus on pushing the pace.
Bruno said Hrynko should be suited for the next level considering how she improved as a faciliator during her time at DePaul. Each year, Hrynko's vision grew and she eventually surpassed Veronica Ross at DePaul's all-time assist leader with 680 assists.
"This is going to be where the faciliation aspect comes into play," Bruno said. "All along in her career at DePaul, the issue of faciliation was about DePaul first, but it was also about the next level. (It will be ) Britt's best chance to make it on the next level as a great point guard. And Britt has always been a quality scoring guard. She's never going to lose the ability to score.
"But when you have the chance to faciliate, that's made for her game."
Hrynko said she has only been to Atlanta a few times for AAU ball when she was growing up, but is looking forward to getting to know the area.
Hrynko is also familiar with some of her future teammates, primarily former Big East foes Angel McCoughtry and Shoni Schimmel.
She has also heard from Dream president and general manager Angela Taylor, who asked Hrynko for her dimensions for gear such as shoes and sweatpants. Taylor also if Hrynko had a preference for a jersey number she wanted.
And what did she go with?
"12," Hrynko immediately responded. "She said they had it, so I should be in luck."
View Comments (2)