Bacon lovers, creative chefs unite at Baconfest Chicago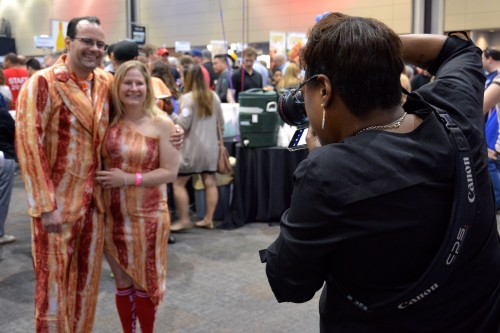 It was a bacon lover's dream. Donuts and popcorn with bacon sprinkles set side-by-side with bacon-wrapped onion rings. Bacon-infused bourbon and fried pickles were followed by pork-stuffed Bao, bacon custard pie and churros topped with bacon crumbles.
"It kind of sells itself, right?" said Mike Cappo, a first-time attendee. "It's called Baconfest."
Inside a large event space at the UIC Forum, more than 170 chefs creatively served 8,000 pounds of bacon in culinary creations ranging from bacon-infused guacamole to bacon-flavored pop rocks. The seventh annual Baconfest attracted an expected 4,500 bacon lovers of all ages and culinary experience levels.
One hour into the Saturday lunch session, Cappo was already taking a bacon break in the hallway.
"We'll see how I feel tomorrow," he said as he sipped a beer with his friend. "I'm an amateur bacon lover."
Meanwhile, at the end of a row of tall tables scattered with samples on small paper plates, VIP ticket holder Emily Wolkowitz took a moment to consult her festival map. She and her husband had already sampled over a dozen bacon dishes before noon and her guide resembled a coach's playbook, with x's marking the samples they'd already tried and notes doodled in the periphery.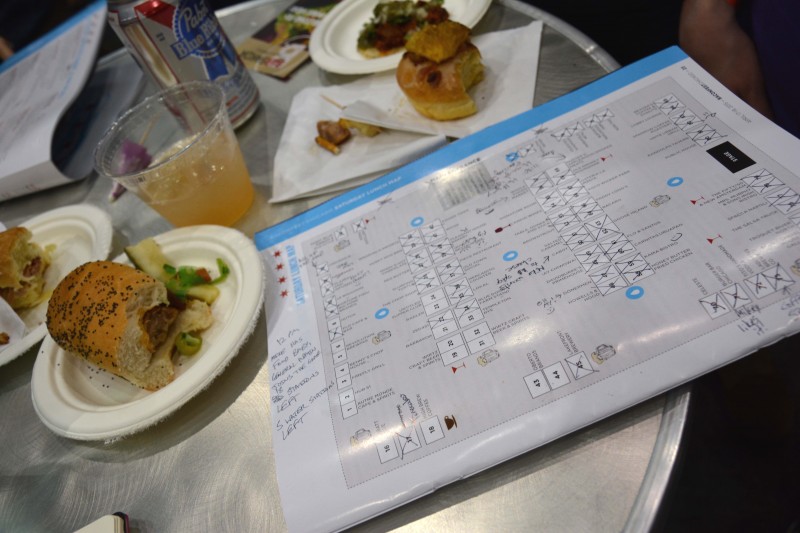 She and Mike Wolkowitz have been married since September but they have been sharing their love of bacon at the festival for five years.
"We just get one thing from each place and share it," she explained. "We really just take one bite of each thing. We don't finish it because that's a lot of food."
The newlyweds' strategy includes buying VIP passes that give them an extra hour before the official start time, one-on-one time with the chefs, and shorter lines at each vendor. Once it gets busy, they take turns leaving the table to retrieve more bacon delicacies.
Another couple, Brian and Kelly McAdow, celebrated their passion for pork with a well-planned outfit. Last year, they showed up in bacon t-shirts. This year they won the costume contest.
Brian sported a suit screen-printed with photos of bacon complete with a matching tie. Kelly sported a similarly printed dress with red athletic socks labeled "bacon" in white white capital letters on the sides.
He "pieced together" his suit by searching online at sites like Amazon.com.
"You type in 'bacon' and you can get some good stuff," he said.
Donna Binbek was one of countless festival-goers that stopped the McAdows and asked to take their picture. A food blogger and personal chef, she stopped in her pursuit of culinary ideas to ask the couple to strike a pose.
"This is my first time here," said Binbek, who frequents other food festivals. "I'm deeply entrenched in the industry so I'm doing a little bit of work and a little bit of fun."
She offered her own advice for enjoying the many options offered. "Try Candid Wine's Sparkling Rose," she offered, gesturing to a booth in the next row. "It's crisp, it's clean, it's got a little bit of strawberry and it will refresh your palate after having all this bacon and oil and sugar."
With dozens of drinks and dishes to try at each of the three sessions offered, guests sampled everything from bacon-infused bourbon bloody marys to carefully plated gourmet pork belly.
The Wokowitz's enjoy trying the range of culinary experiments but also appreciate a simple approach. To them, all of the hype is fun but unnecessary. Their favorite dish this year was a basic, well-seasoned slice from Chicago q.
"I don't need the extra stuff, I don't need the fancy things," said Wolkowitz, smiling with his bacon-loving bride. "All I need is bacon. Bacon's all you need."