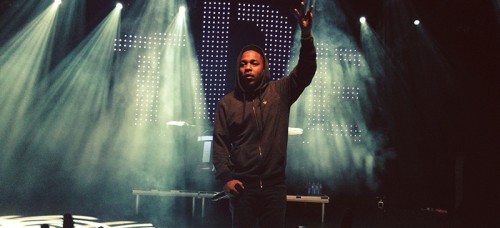 This past week, Kendrick Lamar's latest album, "To Pimp A Butterfly," eclipsed 500,000 sales.
J. Cole's album, "2014 Forest Hills Drive," became the first album to reach platinum status without any features in almost three decades. Although these numbers may seem like mere accolades for the respective artists, they stand for something much more relevant. Both albums, brimming with relentless commentaries on the social hierarchy, mark a new era in American progressivism.
In a time where social media has become the source of news and discussion for many young people, the voices of politicians, religious and social leaders, as well as other supposedly influential people have become muffled. In their place, artists such as Lamar and Cole have stepped up as role models and leaders in the movement for social progression. Their albums, experiencing boundless commercial success, have ignited and continued the national discussion about racial inequality amongst young people across America. These effects are not incidental.
Lamar himself claimed that his album would be "taught in college courses someday." Similarly, other artists such as Common and John Legend have used their voices to speak out about racial tension. Following the acceptance of their Academy Award for best original song in the best picture nominated "Selma," the duo delivered a speech that would trend all over the internet, reaching young people around the country.
But this evolution of social progressivism is not limited to artists nor racial issues.
On the same night that John Legend and Common gave their outspoken speech, actress Patricia Arquette used the limelight of her Oscar win for best supporting actress to speak out on behalf of women across the nation. Skewering the gender-based wage gap that exists in the American workplace, Arquette delivered a speech that brought the crowd to a roar and the eyes of a national viewing audience to this      particular issue.
Time Magazine's list of the 100 Most Influential People of 2015 is perhaps the most irrefutable piece of evidence to the growing role of celebrities in social progressivism. This year, more than ever before, the annual issue featured dozens of stars and pop culture sensations ranging from the always controversial Kanye West to actress Emma Watson. In West's interview with Time, he himself acknowledged that whenever he speaks "a drop of the truth" he "breaks the internet."
Watson, one of those most prominent young actresses of this generation, used her fame and influence to promote the female empowering HeForShe campaign. Although these are only two of the many stars noted in this list, the common denominator between most of them is that they have used their outreach to introduce their fans to a wide array of different social issues.
Though public opinions of these celebrities and their social ideals are subjective, it is undeniable that we are in the midst of a new era of social progressivism. With the Internet, social media and television, celebrities have helped create a network that allows them to easily reach millions of predominantly young people around the world.
As this network continues to grow, the already massive reach of these celebrities will grow as well. And as we continue through this new era, it is crucial to acknowledge the power that celebrities have in helping shape the future of our society. It is only then that we can make a truly steadfast effort in bettering the world we live in.