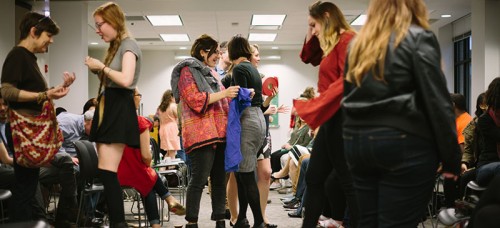 Do you know where your clothes come from? That was the question behind DePaul's second annual Fair Trade Fashion show Friday night as students and community members gathered to celebrate and spread awareness of sustainable clothing.
Co-sponsored by Chicago Fair Trade, the show was held in Munroe Hall on DePaul's Lincoln Park campus and featured a number of local brands and designers who make sustainable and fair trade clothing lines.
The event honored the victims of the 2013 Rana Plaza factory collapse, in which 1,129 workers were killed and 2,515 injured when the eight-story Bangladesh clothing sweatshop collapsed on April 24, 2013. Fair trade organizations worldwide now recognize April 24 as Fashion Revolution Day, encouraging others to buy sustainable fashions and asking companies to improve sweatshop conditions in third-world countries.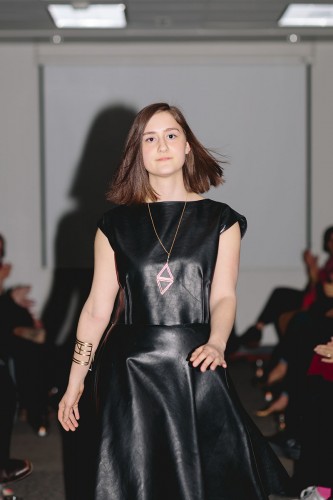 Upon arrival, DePaul's guests were encouraged to check the tags on their clothing and see where it was made, adding the country to a chalkboard display at the head of the runway.  They also found notecards on their seats, each with the name of a worker who was killed or injured in the Rana Plaza collapse. A moment of silence for those victims was held before the show began.
Twelve models showcased designs by Production Mode, Alta Gracia clothing, Mata Traders, Raven + Lily, and other fair trade brands as the members of the DePaul Fair Trade Committee board, as well as Chicago Fair Trade, explained where some of the pieces are made, the difference between sustainable and factory working conditions, and why buying fair trade clothing is an important part of a sustainable lifestyle.
Chartwells, the university's food and beverage provider, worked closely with DePaul Fair Trade to design a menu of fair-trade ingredient snacks, set out for guests to nosh on as they mingled with designers, took pictures in a photo booth, and entered a raffle to win one of three DePaul sportswear items, made by Alta Gracia and donated by the DePaul University bookstore.
"I'm happy with the turnout," said Amelia Sisk, a senior and DePaul Fair Trade board member. "We had more DePaul students than last year, which is really important."
The DePaul Fair Trade committee was founded during the 2012-13 school year by a group of students who wanted DePaul to become an official Fair Trade University.
"We succeeded in 2013," Sisk said. "What that means is that a certain amount of fair trade products are sold at every output on campus."
Fair Trade certified items sold at DePaul include the coffee in The Bean and Brownstone's, sportswear made by Alta Gracia sold in the bookstore, and various food items in the Student Center, including jasmine rice, chocolate, tea, ice cream, and sugar packets.
Now that the committee has succeeded in making DePaul a certified Fair Trade University, "we exist to make sure that Chartwell's and the bookstore are still adhering to the commitments that they've made to us," said Sisk. "In this past year and the year before, we've turned to talking about apparel, human rights, and the movement behind fair trade, not just the certification of it."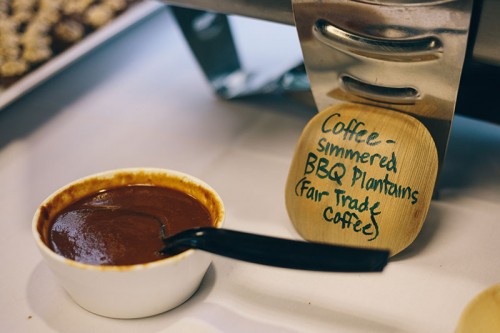 "Fast fashion has become an exponentially growing thing. Stores like H&M have a new collection every single week," senior Claire Flaherty, another board member, said. "How do you change that culture of consumption to clothes that last for longer and are made sustainably?"
Their discussion of fair trade clothing led to the first annual Fair Trade Fashion Show, held on the same day last year. The theme for the first show was "Inside Out" and guests were invited to come dressed in inside out clothing, making it easier to view clothing tags and learn where companies make their garments.
"We planned it only about a month in advance," said junior Helena Duecker, a board member on DePaul's committee. "But it came together really well."
DePaul Fair Trade works very closely with Chicago Fair Trade, the largest fair trade committee in the country.
"We established this relationship where we encourage students to go to their events, and we try to go to them, too," said Duecker, also a former Chicago Fair Trade intern. "They're really fun, and they raise awareness of what fair trade is and why it's important."
Members of Chicago Fair Trade helped DePaul's committee plan both their first and second fashion shows, connecting the students with the designers whose collections were shown as well as showing support for the event by attending.
Also in attendance at the show this year were many of the designers and brand representatives.  Jamie Hayes, the designer behind Production Mode, was thrilled with the show. Her start in designing and making fair trade leather pieces came from a merging of her two passions, fashion and labor organizing.
"We were making a lot of things that it felt like weren't needed in the world," Hayes said. "Fair trade is a way to engage in the economy and change that. It's about what we can do."