Baltimore riots: Policing the police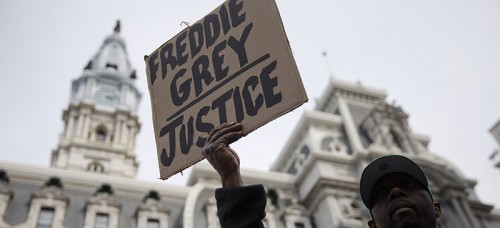 In the midst of Freddie Gray's death and the Baltimore riots, an injustice in Chicago has gone practically unnoticed by the national news media. While headlines reading "unarmed black man shot by police" have become so common they have practically lost their shock value, the unjust trial for unarmed 22-year-old Rekia Boyd, an African American Chicago resident shot and killed by a Chicago police officer in March 2012, has slipped through the cracks of the American news cycle.
Boyd was with a group of friends when they got into an argument with off-duty officer Dante Servin. As the group had their backs to Servin in the alley, one of the men reached into his waistband for his cellphone. Servin, mistaking the phone for a gun and "fearing for his life," shot an unregistered handgun over his shoulder in the direction of the group. One of the bullets grazed the intended target's hand but another hit Boyd in the head, killing her.
Although this incident comes as no surprise to many, what makes this case different is the absolute injustice of Servin's trail. Just four days into the case, the judge gave a rare direct verdict acquitting Servin of all charges. He claimed these charges of involuntary manslaughter and reckless discharge of a firearm did not align with his actions. The judge even suggested that Servin should have been charged with       murder instead. 
Arguably more disturbing than the acquittal itself was the reaction by Chicago Police Superintendent          Garry McCarthy.
"My concern is how is this going to affect policing in general in the Chicago Police Department, because every single officer who's out there now might be in a position where they hesitate, and as a result, they could lose their lives," he said.
Police should always think twice before pulling the trigger on what could be an entirely innocent person; lethal force is supposed to be a last resort. The Chicago Police Department should be instructing officers to take every possible precaution before shooting a civilian, not teaching them to fire their guns the moment they feel their lives could           be in danger.
Police violence against unarmed black men and women is by no means solely a Chicago issue, and is not a simple topic by any means. "The real issues are systemic and these killings are the triggers, but in fact there are many problems of racial profiling, stereotyping of African-Americans, poverty and homelessness," DePaul professor Barbara Speicher said.
Sean Sartin, a 25-year-old Albany Park resident, explained a main root of animosity he and many other African Americans nationwide have towards        the police.
"I don't hate the police, I'm just afraid of them," he said.
Chicago police are apparently aware of this issue as McCarthy recently announced he and other top police officials would be embarking on a listening tour to all 22 police districts in the city. He wants to talk to residents about their relationships with local police with hopes of building a greater trust between the Chicago Police Department and city residents. While the listening tour is a significant, direct effort to improve relations between officers and black Chicago residents, the systemic, historical issues will be a much more difficult task to address and resolve.
Police departments across the United States continue to try and legitimize the murders committed by their officers instead of addressing the real issues at hand. For as long as that continues, there will be protests, anger and even violence. The news media and police departments across the country have a duty to not merely address these issues, but search for long-term solutions that will resolve the tensions between marginalized communities and those who are supposed to protect them.