DIY generation of drag queens takes center stage at DePaul's Amateur Drag Show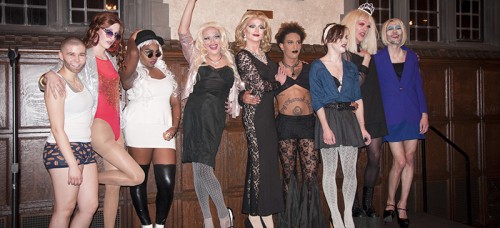 As Brooke Candy's song blasted through the Cortelyou Commons, Sara Tonin, scantily clad as a nun, stomped and gyrated in platform boots under the watchful gaze of a dozen portraits of priests. The crowd ate it up.
DePaul's Amateur Drag Show had the room packed Friday night. Every chair was filled and people lined the walls to cheer on the queens and kings. After a final lip-sync battle to "Stupid Girls" by P!nk, Sara Tonin was crowned the queen of the queens, meaning she will perform at the professional drag show later in May.
Jeremy Martens, a.k.a Sara Tonin, and Arie Thompson, a.k.a Mel A. Tonin, agree that they are in drag for the fun of the performance.
"We're not trying to be girls," Thompson said.
"I've been doing theater since middle school, and I really liked acting," Martens said. "And like every gay man my age, I watched RuPaul."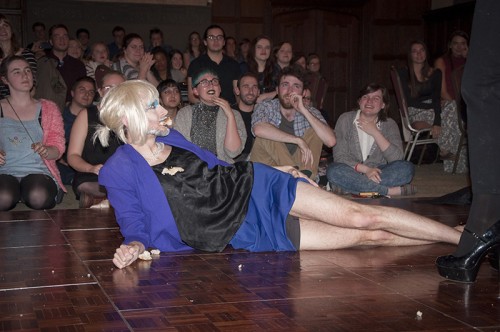 It's worth noting that Martens changed wigs — from a blonde Sia-like wig to a short black bob — for his interview.
Both sophomores in the theater school, Thompson and Martens performed a duet Friday night to "Complètement fou" by Yelle.  They said that there isn't an elaborate backstory of the characters, except that they are sisters and both CEO-types.
"I think it's connected to our personalities," Martens said.
"Yeah, because I'm really sleepy," Thompson said.
Men dressing as women for performances has been around for hundreds, if not thousands, of years; records from Ancient Rome show that male cross-dressers were not uncommon. While men dressing as women for performances was considered okay, cross-dressing men were seen as degenerates.
"It's a celebration of femme-ness," Kathy Ferolito, their self-described momager, said.
"Or just of weird queer-ness," Thompson said.
Although the term "drag queen" was first used in the late 1800s, drag balls were forced underground during the world wars to avoid police harassment.  In the 1950s, America's conservative culture and fear of the subversive meant that drag queens and drag shows continued to be viewed as immoral by mainstream society.
After the Stonewall Riots in 1969, drag continued to grow. "Paris is Burning" documents the ball culture of New York City in the 1980s, especially in the African American and Latino/a gay and transgender community.
The movie "Party Monster" serves as the inspiration for the drag Martens and Thompson like to do, an anything goes, dress how you feel kind of mentality. The "club kids" from the movie were somewhat infamous in the late 1980s and early 1990s.Despite the popularity of RuPaul, the 1980s was considered the golden era of ball culture.
Martens' first show was last year at the amateur show; this was Thompson's first performance.
Briget Diehl, a DePaul theater student and amateur drag performer, described the New York balls as a "seedy but loving community."
During that era, drag queens would be part of a house where they would have a drag mom and probably share a name.  The moms would teach the new queens the ropes, kind of like bigs and littles in sorority houses.
"Your drag mom beats your face," Diehl said — meaning putting on the makeup. "It usually takes queens two years to get the face technique."
The ball scene is not as prevalent now, and drag has evolved into several different styles, and RuPaul's Drag Race, now on its seventh season, helped it go more mainstream.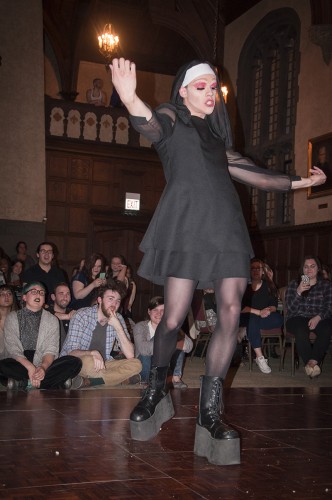 Diehl described a few styles of drag from pageant, where queens focus on beauty and polish, to comedy, which is more of a nightclub and party scene and less about looking fishy, that is, like a woman.
Diehl and Michael Conroy, another theater student, said the new generation of drag queens is more "do-it-yourself," especially because YouTube has a plethora of tutorials for full drag makeup.
"It used to be that your mother would teach you makeup and the aesthetic," Conroy said. "Now, there are a lot of orphan queens, for better or for worse."
As part of the new generation, Thompson and Martens are teaching themselves the makeup.
"We're still learning," Martens said. "But it's really hard."
The process is worth it, though, because they get to express something in themselves that can't be expressed in everyday life. Plus, it's fun.
"I just like to dress up," Thompson said.
"It's more fun when you go to a party all dressed up or in character," Martens said.