Blue Demon rundown: May 11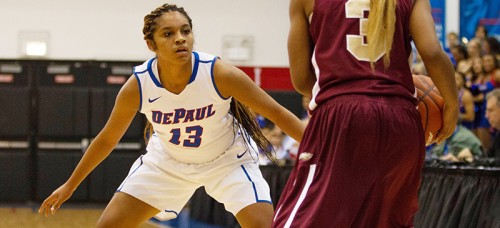 Women's Basketball
Junior guard Chanise Jenkins has been invited to participate in the USA Basketball Women's Pan American Games And World University Games Team trials. Jenkins is one of 54 players from around the United States to be invited to play in the tournament. The trials will be at the United States Olympic Training Center in Colorado Springs, Colorado May 14-17.
Twelve players will be selected from this group of trialists to represent the United States in the Pan American games. The list of players who made the team will come out on May 17.
Jenkins is one of three Big East players who were invited to the trials. Villanova's Caroline Coyer and St. John's Aliyyah Handford will also be members of the trial teams.
Jenkins is the third Blue Demon to be invited to the trials. Senior Brittany Hrynko was invited in 2013 and Keisha Hampton, a member of the Blue Demons from 2008-2012, was invited and made the full team as well in 2011. That team went home with the gold medal.
Jenkins will enter her senior season at DePaul with 1,083 total points and 490 assists. She averaged 12.4 points a game in 2014-15, as well as 4.7 assists and 28.5 minutes a game. She started all 34 games for DePaul this season in their run to the second round of the NCAA tournament, as well as winning the Big East title.   
Track and Field
DePaul took home eight Big East individual championships at the conference competition in Philadelphia. The men's team as a whole finished third, while the women finished fourth.
Freshman Ivy Dobson was named the Men's Most Outstanding Track Performer as he won the 100 and 200 meter dashes. He was also a part of the 4x100m team that won first place with Nick Meersman, Sebastian Feyersinger and Jarvis Hill.
Senior Matt Babicz continued his strong spring by winning the shot put conference championship for the second year in a row.
On the women's side, DePaul took home the 4x100m race, as well as Sarah Moss' discus win.
Men's Tennis
Although men's tennis' season ended at the Big East tournament, they still have some reason to celebrate afterwards. Two Blue Demons were named to the All-Big East team. Sophomore Nathan de Veer, who transfered to DePaul after spending his freshman year at Georgia Gwinnett, was named to the team for the first time in his career, as well as freshman Alex Galoustian.
de Veer and Galoustian also teamed up as doubles partners, going 12-6 as a team, the best doubles record on DePaul.
Galoustian was also named the Big East freshman of the year. He went 19-3 overall and seemed to find a home in the No. 4 and No. 5 singles role, going a combined 14-1 in those spots.