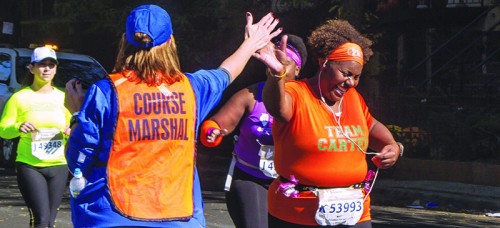 Even if running a race is just for fun, it's important to properly prepare
What do zombies, chardonnay and rock 'n' roll have in common? They're all titles of races for Chicagoans to participate in. However, despite the trend of whimsical themes with finish line treats to boost a race's popularity, running is a serious sport with great effects on the body. The benefits outweigh the negative consequences if the correct precautions and training are undertaken.
Whether it's a 5K, 10K or even a half or full marathon, it's important not to rush in unprepared. Like anything, practice makes perfect. Depending on a runner's experience, interval training is the best method to increase endurance and performance levels.
For example, if preparing for a half marathon, don't try to start out running 10 miles.  It's much easier to take the training over a longer period of time, adding a half to full mile for a long run each week interspersed with shorter routes. Websites from Runner's World to PopSugar provide training schedules to stay on track.
However, running alone isn't going to make a race easier to take on. Cross-training is helpful to build endurance and strength levels without the same stress on joints. This can include other forms of cardio such as swimming or taking a spin class.
Sarah Ruhl, 43, is the fitness director of Chicago Athletic Clubs and a big supporter of cross-training for runners.
"Cross-training is good to build muscle strength and speed," Ruhl said. "You need that for recovery by lifting weights and cross-training as opposed to just running. I think the biggest mistake runners make is not cross-training —to train in different modalities is best so you can move in all different directions."
In addition to focusing on upper body strength to propel forward and core strength to improve posture, Ruhl also touts the importance of stretching.
"A lot of people don't take the time to stretch and use a foam roller to release that tension," Ruhl said. "Yoga is a great way to take a rest period to stretch those muscles."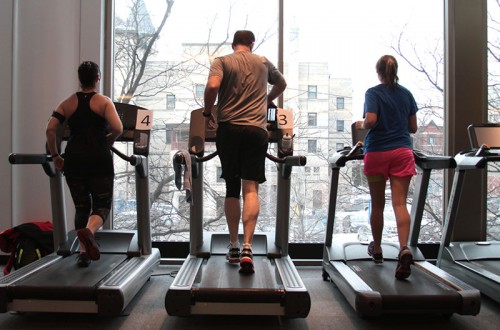 In addition to mixing up a training regime, having a balanced diet is key to providing the most efficient body fuel. Emily Gardner, 31, is an expert personal trainer and nutritionist at the Lakeview Athletic Club. She believes every person's individual abilities call for individualized nutrition regimens.
"With different clients, people tend to run differently, so I'm not going to give you specific ratios," Gardner said. "You have to experiment with what works for you. You always want to be going for a well-balanced diet; it's usually never a good idea to cut carbohydrates out. The glucose from the carbohydrates is what your muscles run on."
Gardner suggests a mix of carbohydrates from starches like potatoes and pasta to fruits and vegetables high in fiber like pineapple and spinach.
"I like to mix them, so if you need instant energy you have some simple carbohydrates mixed with something that's going to push you out longer," Gardner said.
Gardner also touts the cautionary tale of energy bars, reminding her clients not to eat the meal replacements as snacks, choosing those with natural low-calorie sweeteners and adding a bit of fat like nuts or avocado to satiate hunger.
"If you're not getting enough protein, your body will have no choice (but) to take it from the muscle," Gardner said. "It has to come from somewhere, so if it's not coming from your diet, you're going to lose muscle mass." She noted this kind of expenditure without proper replenishment can lead to constant soreness and eventually sickness.
Gardner believes in keeping sodium and potassium levels in balance to make sure fluid levels stay consistent. She also notes the tradition of "carbo-loading" the night before a race has been disproven. It's better to increase carbohydrate intake throughout the week leading up to a big race.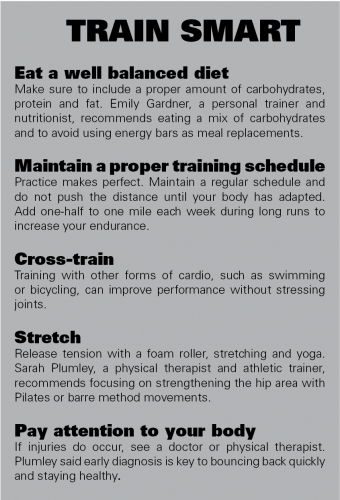 Despite paying attention to maintaining a training schedule and proper diet, runners can still end up with many injuries to their joints and tissue.
Sarah Plumley, 27, is a physical therapist and athletic trainer at NovaCare Rehabilitation at DePaul University. She notes the many injuries runners can face.
"There are a lot of knee issues like patellar femoral pain syndrome, runner's knee, IT band syndrome, Achilles tendonitis, shin splints (medial tibial stress fracture) and anterior compartment syndrome," Plumley said. "A lot of it is related to poor training and decreased hip strength."
To ward off these injuries, Plumley recommends focusing on the hip area.
"I would recommend doing Pilates types of movements to strengthen the hip and core," Plumley said. "While using a resistance band, walk backwards with it tied between your ankles. The barre method is another type of exercise we like to recomend."
Another important aspect to avoid injury comes from wearing proper running shoes.
"As far as shoe wear, you want to change them every 500 miles or six months," Plumley said. "You don't want to bounce around in between different shoes day-to-day because you want to train in the mechanics of the shoe. You want to make sure they're up-to-date, fit correctly and for your type of running."
If injuries do occur, NovaCare Rehabilitation offers free injury screenings to give runners more details about how to rehab themselves back safely.
"To bounce back, it depends on the severity of the injury and how long they've had it," Plumley said. "It's important to get diagnosed by a professional as soon as possible."
By paying attention to your body's needs and giving it the proper care and fuel, running a race won't be such a pain.