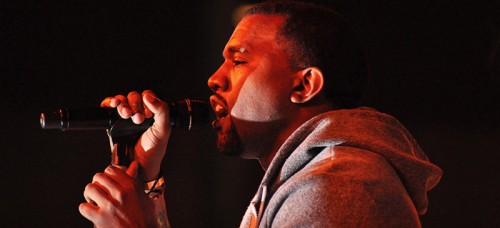 Last Monday, Kanye West received an honorary doctorate from the School of the Art Institute of Chicago. He smiled, joked and laughed as he delivered a speech to over 900 graduates and their families and posed for pictures with the faculty. Many are criticizing the school for choosing to honor such a polarizing pop culture icon. But is there really anything to criticize?
From crashing the stage at the MTV Video Music Awards to releasing a book of selfies, West and his wife, Kim Kardashian, are known for being two of the most controversial celebrities in today's media. And despite how the public may feel toward them, it has to be admitted that they're really good at what they do: being celebrities.
Each of them has a talent, something that has helped their career skyrocket. West's is clearly his music. He started rapping early in life, battling other freestylers at Chicago's Dragon Room and eventually dropping out of the American Academy of Art to pursue music full-time. He's released seven studio albums and two live albums, accounting for a total of 109 singles. All of his records have gone platinum, and his shows sell out worldwide.
Kardashian has a talent, too, though it's not as obvious. She's got an eye for business like few others today. She turned scandal into sales when her sex tape was released, her family's reality show is in its 10th season, she has released makeup and beauty lines for multiple stores, she also models, and yes, she just released an infamous book of selfies. If there is money to be made, Kardashian knows how to make it —and is probably already doing it — and frankly, that is something to be admired.
Another thing that KimYe value very publicly is family. Kardashian's entire clan, which includes her parents Kris and Bruce Jenner, her sisters Kourtney and Khloe Kardashian, as well as step-siblings Kendall and Kylie Jenner, and brother Rob Kardashian, do almost everything together. They're rarely seen without at least one member of the family in public, and they show up at book launches, fashion shows, concerts and other events to support one another.
West has become a large part of those strong family ties. Little sister Kylie modeled in his show during New York Fashion Week, and Kardashian attended with their daughter, North, in tow. They graced the cover of "Vogue" as a duo, as opposed to individually. They support each other and their successes, and it doesn't seem like a camera stunt.
Kanye's mother, Donda West, played a very large role in his life. She inspired a number of his songs before her sudden death in 2007, including the hit "Hey Mama." The lyrics discuss him eventually going back to school to get his doctorate, to make his mother proud and prove he could do it years after he dropped out. On Monday, he did just that. Kardashian jumped in on the love and support, tweeting "I'm so proud of you baby & I know your mom would be so proud too!!!!"
Kardashian and West have their priorities in order. They're both excellent at being famous people, loving their families and showing each other the most support they can. You don't have to like them — just respect them and what they do and their success.