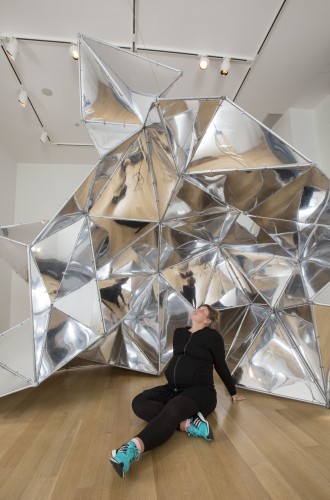 Sonja Thomsen's solo show at the DePaul Art Museum (DPAM), "Glowing Wavelengths in Between," invites viewers to have temporal experiences with light. The show features photographs, sculpture and installations that playfully explore the physical experience of seeing. Thomsen draws from a range of influences, including Sir Isaac Newton, Buckminster Fuller and Bauhaus sensibilities. She filters light through prisms of her experience as both a biologist and dancer, evident in the sense of playful and physical experimentation.
The show fills DPAM's sunny second floor. The staircase's walls are covered in a silvery geometric pattern designed by Thomsen, reminiscent of Bauhaus principles of integrated design.
Photographs of light effects and pages of books collaged with holographic panels line the walls. Bits of text are legible despite the paneling; the words often reference scientific phenomena.
One photo, "Demarcate (2013)," depicts a plane of light on a child's hand. A geometric mobile of glittering metallic shapes hang in the CTA-facing window. These pieces often reference the same themes from different angles; they work best in conjunction with one another, intricately linked.
Notably, the exhibition space lacks extensive captioning. Instead, viewers are given a small booklet containing information about Thomsen's inspiration and a short interview. This allows viewers to have a more spontaneous and unmediated relationship to the pieces, led through the space by light refractions.
Her training as a dancer is evident, as she appears interested in a sort of bodily knowledge. In this sense, Thomsen draws on the modernist tradition by using discreet art objects to create a heightened awareness of the gallery space.
The show's centerpiece is "Trace of Possibility (2013)," a large plexiglass reflective sculpture that viewers can stand beneath, the mirrored surfaces throwing patterns of light across the white museum walls. In conversation with DPAM's Gregory J. Harris, Thomsen said she dreamed this structure during a residency in Iceland before creating it. The rest of the exhibition was created in response to this work.
Thomsen did studio-based experimentation with light in order to produce the various effects pictures in photographs. The viewer is challenged by the coexistence of photographic representation of light effects and actual light patterns being thrown from the reflective sculptures.
Thomsen calls her interest in science, math, cosmology and phenomenology that of a "dilettante," yet rather than being a point of weakness, this playfulness gives the works a sense of life. Thomsen also tackles philosophical debates about objectivity and science's authority.
"Scientific knowledge is always in a state of becoming," Thomsen said, "In that it appears to be based in logic, reason and proof, yet ideas are often disproven since the disciplines are always evolving and the limits of understanding are constantly changing."
At the show's reception on Thursday, a very pregnant Thomsen chatted with guests in the crowded gallery.
"I think it's interesting how she manipulates light to create a certain atmosphere," Erin Clancy, a 23-year-old DePaul graduate in attendance, said. "It's very dreamy and minimalist and cool."
Thomsen's show is, in many ways, an exercise in dreaming: her Icelandic vision and those of the viewers.
"I am creating a space to experience wonder," Thomsen said to attendees. "If I can make you, even for a split second, get lost and find yourself in a new space, then that's really exciting."
She transforms the gallery space into a sort of heterotopia by harnessing the power of science and natural light. Viewers can explore their relationship to the works and light. "Glowing Wavelengths In Between" runs at DPAM through August 9.