Wrights of Spring festival at DePaul Theatre School celebrates work of young playwrights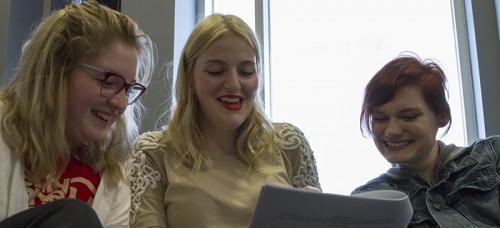 The electric and innovative Wrights of Spring Festival takes place over two weeks every year, during which student scripts are explored in various forms.
During this festival, one student production is also chosen for DePaul's New Playwright Series, and is then transformed into a main stage production the following year. The festival is a time to commend student work, enjoy new never-before-seen productions, and bridge the gap between the world of theater in school and the world of theater beyond.
This year, "Video Galaxy", written by Jared Hecht was selected for the New Playwright Series.
"The camaraderie of young playwrights during this time is wonderful," Hecht said. "It's not everyday you get to see the work of your peers in such a joyous setting. It's a celebration. In my opinion, there's nothing more culturally significant than plays. They showcase what's going on in the world. They're reactionary to the times and that type of poignance isn't always attainable in TV or movies."
Witnessing your work come to life in front of a live audience is a singular experience that has not been lost on Hecht. This time has evoked a mixture of feelings.
"Watching the play has been excruciatingly blissful," he said. "It's exciting and draining. Watching your work shows you it's successes and failures and then it becomes a process of rewriting."
While the New Playwright Series represents cornerstone within the WOS festival, a wide array of DePaul Theatre School community members come together to create art during this time. The work of various student-playwrights is read or performed, and WOS engages others facets of the Theatre School, too.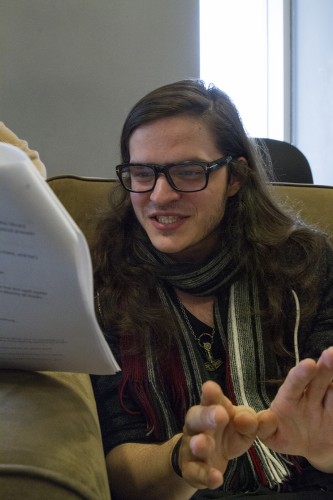 "We've built an energized community of young theatre artists around new work," said Carlos Murillo, who is one of the playwriting faculty who leads Wrights of Spring each year. "The festival engages students across disciplines in a unique way. While the playwright's work is central, they are very much indebted to the work of actors, directors, managers, dramaturgs, designers — there's a thrilling energy that emerges from the collaborations, especially since the festival is largely student driven and not driven by the curriculum."
Wrights of Spring represents a time in which individuality is probed, independence is explored, and innovative art emerges.
Murillo, who has produced an impressive body of work, supports students every step of the way. Playwrighting is no easy feat, and Murillo said he draws upon his own experiences to help students harness their creativity.
"My job is to identify and to coax out each writer's individual voice, while trying to inspire them to think more deeply about their plays, and to approach the writing process with rigor and excitement," he said.
The audience also plays an intregal role as they watch  these brand new works. Because many of the works by first and second year students are in various stages of completion, the festival brings a whole new level of viewer interaction.
"The audience is an active collaborator in the creation of a play," said Dean Corrin, another member of the playwrighting faculty who leads Wrights of Spring. "When playwrights see a new work in front of an audience, they see if through fresh eyes.
The audience can remind a playwright about what's important in their production, or if certain aspects are confusing, or unclear. It lets the playwrights flesh out their work and learn from their mistakes.
"A playwright can't finish a play until they have a chance to revise it after the audience takes it on a test drive," Corrin said.
Murillo said this makes it a raw, collaborative experience for both playwrights and theater fans alike. Even still, Wrights of Spring is still a time to celebrate the work of young and energetic creatives at an exciting time in their emerging careers.
"I think folks who come to the festival really experience and participate in the joyous, hyper-creative, collaborative environment we've created," Murillo said. "It's an opportunity to catch a young writer at the very beginning of their journey, hear fresh voices and ideas, and participate in an end-of-year school wide celebration of the creative spark that drives our playwrights and every other student that works in this building."
---
Wrights of Spring schedule of events
May 20 – Opening night
The festival opens with short new works by plawrighting students performed without rehearsal and cast right on the spot.
May 22 – "Video Galaxy"
The play by BFA student Jared Hecht opens, and runs through May 30.
Saturdays and Sundays – New play marathon days
Head to the fourth floor of The Theatre School to watch up to a dozen new works, and workshop performances of plays being considered for full-production.