DePaul students' Vincentian engagement of civil rights problems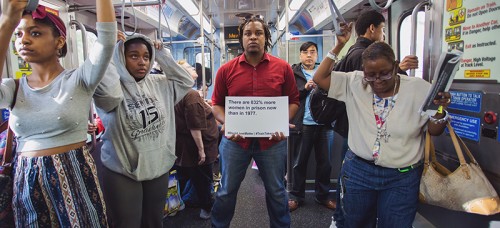 At 5 p.m. on Friday, amid workers commuting from the Loop, a "train takeover" protest disrupted the already bumpy flow of the train ride. Among the ranks of veteran protestors, DePaul students as part of the Vincentians United (VU) faction and other social justice and activist groups joined in.
The takeover is part of an ongoing movement around Chicago for social justice, and DePaul's students across various communities are getting as involved as possible in the city's rallies, as well as creating their own.
"Supporting other causes is fundamental to the development and betterment of our social, political, and economic communities," Cara Anderson, member of VU, said. "The louder a movement becomes and the more support it (receives)," she believes, "the more likely changes to the system become. Between LGBTQ, Muslims, Latinos, Environmentalists, and so many more activists, we have separate messages (but) the same foundation of recognizing the issues that are existent in the system and that they must be changed."
Change has been a common theme and word used in conversations. After the recent death of Freddie Gray in Baltimore, as well as Natasha Mckenna's death after being tasered multiple times by police officers, protests continue to make headlines nationally. Here at home, protests are organized and carried out, but rarely make larger headlines or gain larger acknowledgement beyond Facebook likes and promotion.
Such smaller protests are the way communities have bridged the gap. Vincentians United, an activist group and potential student government ticket on campus, as well as other activist groups such as Men of Vision and Empowerment (MOVE), Black Student Union (BSU), Students for Justice in Palestine (SJP), and Feminist Front work to support each other's causes as much as they support their own.
"I wanted an opportunity to support people constantly engaged in the fight," Tyler Solorio, SGA candidate, said. "I feel it's important to support causes across groups and community, especially in regards to oppression, for no other reason than it being the bare minimum of what someone should do as a decent human being. I think activism is essential in changing the system of police brutality, as it is because of devoted activists across a huge spectrum of issues that things really change."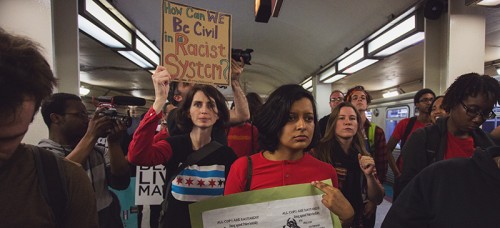 The devoted activists and students have garnered their own awareness of activism and its importance. These activist tactics, which include protests, petitions or vigils, lead to the various communities meeting and uniting — whether they be located on campus or on a CTA Red Line train heading north.
"Personally I never knew how crucial activism was until I participated in protests, petitions, vigils, community meetings. When the Baltimore city state's attorney gave the decision in regards to the indictment of the officers involved with the Freddie Gray arrest and said 'protesters we heard you loud and clear,'" Anderson said. "I saw and knew that activism is essential in enacting change, inspiring individuals to do what may seem as unimaginable or unchangeable circumstances. Without the zealous protesters, without individuals fighting police brutality, in my opinion (issues) will continue to go one ignored, swept under the carpet as if it did not exist. Activism yanks the carpet up and says 'you will hear us, you will see this for the dirt that it is, and that it is here.'"
The train takeover will help further awareness of the issues, Anderson believes, but to achieve it there will be many stepping-stones. Not everyone has to be ready to step now, but "as long at least one person is able to hear the message and join the movement or support it, that is all that matters," Anderson said.
Protests aren't always the tool for change as seen in previous movements. Though the current situation does not currently have a name, its events and the anger and anguish behind the push for change are reminiscent of earlier movements. Those leading the change now on campus know that there is still much to be done, but they're willing and ready to put in the time.
"Nothing moves without some kind of force, literally and metaphorically, and I believe that civil disobedience —like with train takeovers — is significant to reminding people who may not be impacted due to their personal privileges what other people suffer because of their differences not pertaining to the status quo," Solorio said. "BSU and Feminist Front are the most easily identifiable leaders in discussing a variety of social issues. I wish administrations would be willing to have a discussion of acknowledge and at least let the communities of this campus who suffer most from the problems of the status quo know that they support them."