How to deal with bad landlords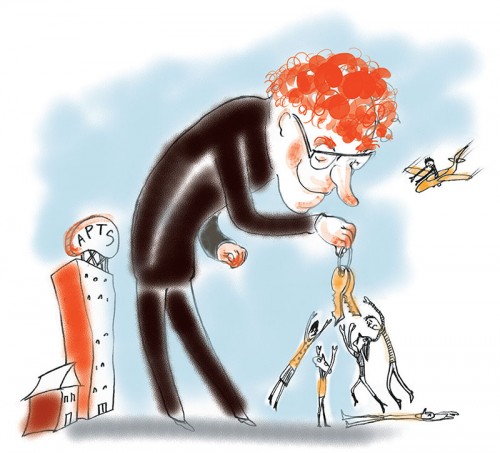 For many college students, transitioning from the rules of resident advisors to the legal obligations present in contracts with landlords can be challenging. Suddenly, warnings and informal roommate counsel turn into damage fees, late fees and the struggle to get landlords to respond to repair requests.
Navigating legal contracts can turn out to be a nightmare in itself, and coupled with an unresponsive landlord, the apartment experience can turn out to be the ultimate horror story.
For first-time renters, it is important to conduct preliminary research on your soon-to-be landlord before you sign any kind of binding agreement. This can be done through a simple Google search or even asking the current tenants about their relationship with the landlord.
Finding out as much as possible about your potential landlord can only work to your benefit, and can even save you trouble by discouraging you from signing a lease.
Landlords are "obligated to repair anything deemed 'essential' to the health and safety of his tenants," according to the Money Times.
"This includes dealing with heating, water and electrical issues; remediation of mold or fungus; battling bug infestations; and keeping the roof in working order."
Ultimately, My Property Guide, a local resource for people buying, selling, renting or letting property, advises tenants to keep in mind that the "landlord's obligations do not arise until he (or she) has been made aware of the defect."
Furthermore, the landlord "is then allowed a reasonable time to carry out the repairs. This will be judged according to the type and extent of the disrepair."
It is important to document everything when it comes to making contact with a landlord. From keeping copies of e-mails and text messages, to repair requests and even including photos of damages with date stamps, the more documentation, the better.
Should your landlord ignore your requests, especially in situations that concern you and your roommates' health and safety, Money Times reports you have the right to alert "state or local health and building inspectors, sue your landlord in small claims court" or break your lease — a situation where it is advised to contact an attorney first.
Professional letting agencies that work with multiple apartment locations tend to have a better reputation for responsibility and maintenance of property. These agencies normally have repairmen ready to fix repairs and essential damage once a work order is put into place. While sometimes this can mean more expensive properties, the benefits for some are worth it.
In late January, Chicago's Building Department compiled a problem landlords list on its website "in an attempt to crack down and publicly shame apartment building owners into providing tenants with basic services such as heat, hot water and working smoke and carbon monoxide detectors," according to the Chicago Tribune.
These landlords are the worst of the worst in the city, many of whom "have been found to be liable in two or more administrative hearings within a two-year period and have at least three serious building code violations."
The Chicago Tribune reported that most of the apartment buildings cited are on Chicago's West and South sides. If searching for an apartment in these areas, this list might be helpful to consult.
Although bad landlords are certainly problematic, and in some instances, dangerous, it is important to effectively communicate with landlords, and document all communication no matter what the circumstance is.
Some landlords see the potential of taking advantage of students who might be renting for the first time. Because of this, always be aware of your rights as a tenant and read your lease carefully before signing, keeping an eye out for hidden clauses or anything concerning work orders and repairs.
If stuck with a bad landlord, consult parents and in extreme situations, legal counsel, to figure out what can be done next within the parameters of your lease and the law.
Editor's Note: This article is part of The DePaulia's 2015 Apartment Guide. To view more articles from this special section, click here.