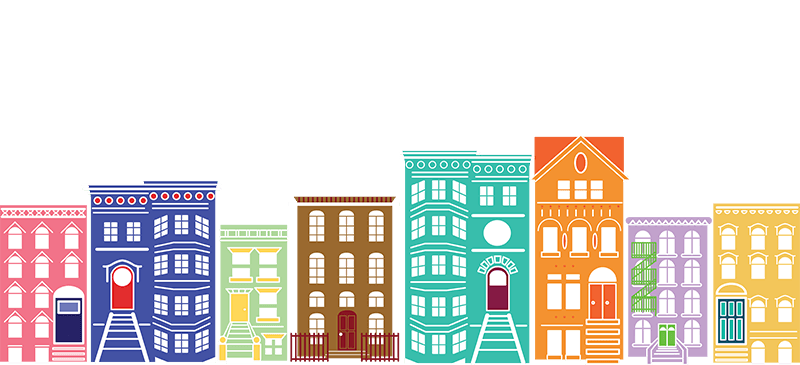 A breakdown of Chicago's neighborhoods to simplify your apartment search
Editor's Note: This article is part of The DePaulia's 2015 Apartment Guide. To view more articles from this special section, click here.
WEST
Ukrainian Village
With plenty of grocery stores and cultural institutions, Ukrainian Village is a great neighborhood to live in. A large influx of Ukrainian immigrants moved to the area throughout World War I, shaping the neighborhood's history and culture, which still remains intact to this day. The Ukrainian National Museum and the Ukrainian Institute of Modern Art both reflect the proud Ukrainian heritage of the residents. The neighborhood is filled with restaurants representing numerous cultures, including Old Lviv which serves a Ukrainian buffet and Japanese food at Kai Zan.
Humboldt Park
Humboldt Park has been the home of a large Puerto Rican community since the 1970s, but has lately become a victim of gentrification. Despite this, the area is home to many Puerto Rican restaurants. The National Museum of Puerto Rican Arts & Culture is a prominent feature in Humboldt Park, showcasing the culture of the city's Puerto Rican community. The neighborhood is home to a 207-acre park, which features two lagoons, a fieldhouse and even a baseball park.
Logan Square
Although widely gentrified, stretches of the neighborhood located around Logan Boulevard, or between California and Sacramento Avenues function as a communal focal point highlighting the diversity of local activity. Live-music drinking spots, the iconic Logan Movie Theater, and restaurants highlighting both traditional Latino cuisines and eclectic modern tastes can all be found  along this corridor. West of Kedzie Avenue, the neighborhood is generally considered to be less gentrified, with local businesses reflecting this (still interesting) reality.
Wicker Park
Once a dying neighborhood ravished by crime, Wicker Park radically changed during the '90s after community efforts cleaned up the area and gentrification began to take place. Wicker Park is like Lincoln Park's hipper and younger counterpart at a similar price point—think upscale resale shops versus high-end yoga boutiques, or young professionals versus families. It's home to dozens of booming independent businesses and restaurants, and easily accessible via the Damen and Division Blue Line.
SOUTH
Bridgeport
Home to five of Chicago's mayors, including two of the Daleys, Bridgeport has always had a presence in the city's political scene. This neighborhood may be a bit of an unconventional choice for a DePaul student, but with its proximity to the Stevenson Expressway, I-90 and I-94 Bridgeport is a convenient location for those who frequently commute to the suburbs. Bridgeport also is home to a burgeoning art scene, with venues like the Co-Prosperity Sphere and the Bridgeport Art Center, any creative type would be right at home in this neighborhood.
Chinatown / Armour Square
An interesting option for those seeking a different experience from the standard North Side neighborhood. Bustling restaurants and bars, ethnic groceries and the Ping Tom Memorial Park define community life in this southern neighborhood. East of the Red Line, life differs from the ethnically-defined dynamics of Chinatown's small borders, with famed venue Reggie's Rock Club and the amenities of the South Loop close by. Additionally, McCormick Place—the site of DePaul's future basketball arena—is just a short bus ride away.

Pilsen
A traditionally Latino neighborhood, Pilsen is quickly being occupied by young artists and professionals. Unlike some of the more northern community areas, the Lower West Side community is still predominately Latino. The vibrant culture is visible in many Mexican restaurants, bakeries, murals along 18th St. and the National Museum of Mexican Art.  Easy access to the loop campus makes this neighborhood desirable for many students, but getting to Lincoln Park may be a bit trickier for students without a bike or a car.
CENTRAL
Gold Coast
The Gold Coast is centrally located between both DePaul campuses and just about everything else in the city. Michigan Avenue and the lakefront are within walking distance, but all of the amenities will cost you. The Near North Side (encompassing Gold Coast, River North, Old Town and Streeterville) has the highest average rent in the city. Parking is near impossible unless there's parking in your building, and the neighborhood lacks the charm found in most of Chicago. Crime for the Near North Side is also on the higher side, coming in No. 5 for most overall crime.
South Loop
The South Loop shares many similarities to the West Loop, but its proximity to the lakefront is what sets it apart. The South Loop has easy access to just about every neighborhood in the city due to its central locale, and easy access to restaurants — though many Loop spots follow 9-5 work-week hours, grocery stores (Trader Joe's, Jewel-Osco, Mariano's, Whole Foods and Target all have outposts in the neighborhood). Like the West Loop, most residencies are in high rises or converted lofts, which don't come cheap.
West Loop
Home to some of Chicago's best restaurants along Randolph Street, the West Loop has kept some of its industrial, gritty feel while developing over the past several years. The neighborhood is filled with mid- and high-rises with many converted lofts as well. Restaurants and grocery stores (including a new Whole Foods and a nearly-new Mariano's) are a-plenty, but the neighborhood doesn't have a student-friendly feel.  Come to the West Loop in your late 20s.
NORTH
Lincoln Park
Accessibility and convenience are certainly pros to living in Lincoln Park, but the downside is cost. While the average price per apartment may swing high due to the swanky apartments, there are more affordable options if you choose to live with one or more people. A simple solution to your neighborhood needs might cost you, but it comes with its perks. As a wealthier neighborhood, there's tons of nightlife options, accessible transit, independent shops, grocery stores and proximity to other great North Side neighborhoods.
Lakeview
Great ample access to public transit, plentiful nightlife and safety are Lakeview's most attractive qualities. Bounded by Diversey Parkway to the south, Irving Park Road to the north, Lake Michigan to the east, and Ravenswood Avenue to the west, the neighborhood has a community for nearly every student's lifestyle. Chicago's LGBTQ community thrives along Halsted Street, the Southport Corridor provides a change of pace for those looking to escape the quick pace of the city, and Wrigleyville is a party all year long.
Uptown
For those seeking the frills of Lakeview without dealing with the drunkenness of  Wrigleyville, look no further than Uptown. Due to its size, Uptown has multiple cultural identities. Containing Little Vietnam with its cluster of Asian grocery stores and variety of  Thai, Cambodian and Vietnamese restaurants, as well as entertainment hotspots like the Green Mill Cocktail lounge, the Riviera Theater and the Aragon Ballroom, Uptown is an excellent north-side alternative to Lakeview for those yearning for a little diversity in their lives.
Lincoln Square
Where Lawrence, Lincoln and Western avenues meet sits the charming commercial heart of Lincoln Square. The neighborhood is still heavily influenced by its deep German roots, with long-standing institutions such as the Chicago Brauhaus and Lutz Cafe and Bakery, in addition to German cultural organizations. But it's not an entirely sleepy area, and is marked by cultural diversity of neighboring Albany Park. It's also home to many small business and a thriving bar and restaurant scene while maintaining its cozy neighborhood feel.
---
HOW TO SURVIVE AS A COMMUTER
1. Be prepared for delays
Whether you drive or take the Metra, you're going to deal with delays. One of the major complaints about the Metra trains is that they're consistently delayed, especially the BNSF Railway line, which passes through Downers Grove and Naperville, where many students are from. Students who drive always have to be thinking about how to schedule their day around the traffic on the expressways surrounding Chicago. It's helpful to have a daily plan of what you will be doing, hour to hour, while commuting, so there's no need to rush throughout your day.
2. Find a friend who you can stay with
While it's nicest to be at home, in your bed, far away from the bright lights and loud noises of the city, it's also helpful to have a friend to stay with when you have an early morning following a late night downtown. It also gives commuters a rare opportunity to hang out with their friends who live in the city, as commuters typically go from class to class until they head home.
3. Bring meals with you
Commuters typically deal with incredibly long days in the city, leaving early in the morning and not getting back until late at night. With all the time spent in classes and traveling, you're bound to get hungry. As food in the city is expensive, so it's helpful to be able to bring a meal from home. While it can be fun to eat out once in a while, it's more cost effective, and better for you to be able to bring a home-made meal. DePaul's campuses are filled with microwaves as well, so commuters don't have to resort to a boring sandwich every day, either.
4. Remember it won't be this bad forever
Commuting is like a horrible nightmare that I worry I will never escape from. Don't fret fellow students who live with your parents, one day you will be able to afford rent on your own. While you're still commuting think about the positive aspects of living at home. For some of us, our parents make our food and wash our clothes. Someday we will look back on this extra time spent with our parents one day and treasure it. Or, at least that's what we can tell ourselves when the Metra is delayed another hour longer.