Currency exchange: Replacing Andrew Jackson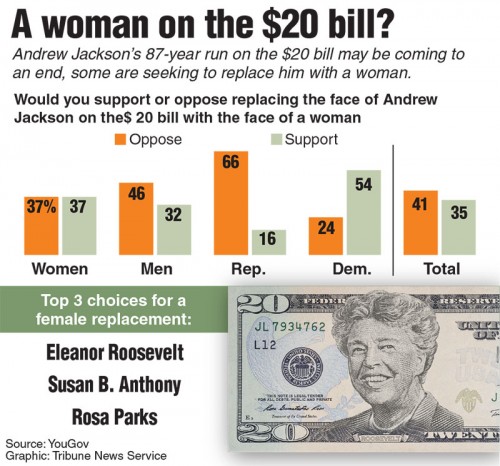 During President Andrew Jackson's first inaugural address, he said, "In a free government the demand for moral qualities should be made superior to that of talents." While an agreeable statement, it is ironic once one considers Jackson's legacy and those impacted by it — especially Native Americans.
This devastating era is a main reason the Women on 20s movement has surfaced, advocating for the replacement of Jackson on the $20 bill with a woman who fought for the rights of oppressed Americans. 
Jackson was the main supporter in enforcing the Trail of Tears, a government enforced, systematic removal of tens of thousands of Native Americans from their lands to Indian Territory — an area that is now the state of Oklahoma.
It is estimated that more than 5,000 Cherokees died on the 1,200-mile march. "The Trail of Tears crystallized a lot of what had been a larger process of Indian removal: the idea that native peoples serve as an obstacle towards a kind of march on civilization," DePaul professor Thomas Dorrance said.
The Women on 20s movement recognized this atrocity and created an online election to vote for a woman to replace Jackson on the $20 bill. The 10-week election garnered over 600,000 votes, and supporters chose between 15 women who impacted American history. Abolitionist and conductor of the Underground Railroad, Harriet Tubman, won the election, and the Women on 20s movement sent the petition to the White House, urging President Barack Obama to support their cause. Secretary of Treasury Jason Lew holds the authority to replace Jackson on the $20 bill.
Susan Ades Stone, executive director of Women on 20s, sees Tubman as a perfect candidate to replace Jackson on the $20 bill. "Tubman sought freedom for herself and all others — men, women, black and white — to participate in a capitalist society and earn fair wages," Stone said.
Tubman's victory has some questioning why Jackson would not be replaced with a Native American. After all, Chief Wilma Mankiller, the first female chief of the Cherokee Nation, was one of the four women on the movement's final ballot.
Critics of Tubman's nomination must recognize that Jackson was a slave owner. Additionally, voting rights were extended only to white males under his presidency, further oppressing powerless citizens of the U.S. "The removal of property restrictions (to vote) cut a lot of points of access for women or people of color who owned property," Dorrance said.
Critics may argue that taking Jackson off the $20 bill would be a disservice to his legacy, but as a historical figure on U.S. currency, Jackson's history of promoting rights solely for white men makes him the most deserving of a replacement.
"If we're going to include a sort of broader spectrum of American society on the currency,"     Dorrance said. "I think for that reason which the way Andrew Jackson was kind of a pivotal figure in the classification of citizenship and both (his advocacy for) gendered masculinity as well as whiteness certainly makes him a good candidate for this type of move."
Replacing Jackson on the $20 bill should be seen as an acknowledgement and apology to Native Americans for the Trail of Tears, but also a step forward for all oppressed Americans. Jackson's possible replacement is an opportunity to demonstrate the great changes happening in           our nation.
Now more than ever, it makes sense to have a person who does not fit the description of a white, rich male on an American bill. Putting Harriet Tubman, an African American woman and abolitionist, on the $20 bill would send a message that the times truly are changing.