Report: Two DePaul women's basketball transfers faced verbal abuse at Illinois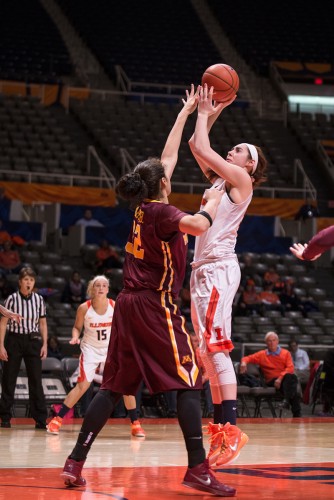 The families of two of DePaul women's basketball's incoming transfers from the University of Illinois filed letters to the school this past week, accusing Illinois women's basketball head coach Matt Bollant and former associate coach Mike Divilbiss of player abuse.
Sophomore Jacqui Grant and freshman Amarah Coleman, DePaul's two transfers, and their families joined five other former Illini families in a letter to Illinois Chancellor Phyllis Wise, objecting to an internal investigation into the manners of Bollant and Divilbiss, according to The Daily Illini.
Initially, three letters — from the families of Grant, Taylor Gleason and Taylor Tuck — were sent in April, which outlined verbal and emotional abuse conducted by the two coaches.
"Our daughter, Jacqui Grant, recent left the University of Illinois and the Illini's Women's Basketball Program under most unpleasant circumstances," Thomas D. Grusecki, Grant's stepfather, wrote to Wise. " Under the direction of head coach Matt Bollant and assistant head coach Mike Divilbiss, this team, your team, our team, Illini's team, has been the target of countless acts of player abuse, NCAA rule infraction, personal belittlement, demoralizing diatribe and an overall culture of racist diatribe and an overall culture of racist overtones."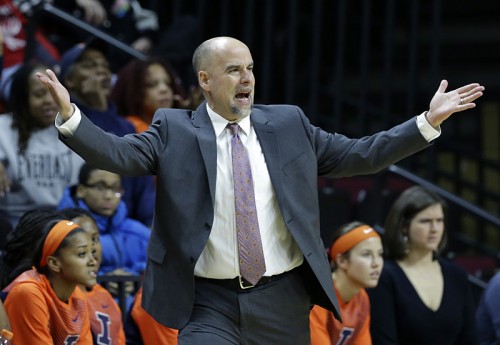 In his letter, Grusecki laid out seven instances in which Grant was abused, ranging from Divilbiss belittling Grant about her dyslexia to the coaches having Grant's medical tests delayed, which revealed she had mononucleosis and was playing with an enlarged spleen.
On May 15, Divilbiss and the university "had agreed to part ways." But after an internal investigation, Illinois announced that the program didn't commit any NCAA or university violations.
A follow up letter sent Thursday from the seven families, however, said the internal review protocol to be "unacceptable as well as completely disrespectful to the student-athletes and their families affected by the coaches and coaching staff involved in these patterns of abuse."
"Please do everything in your power to put a swift end to this ongoing embarrassment," the letter read.
Amid other concerns, the families voiced their displeasure with the way Illinois handled injuries. In Gleason's letter, the family claimed that their daughter was forced to play on a fractured foot. Illinois has hired a Chicago law firm, Francezk Radelet, to investigative the medical claims further.
Bollant was also accused of "systematically (trying) to create racial tension among the team," according to the letter of the Tuck family. In the Gleason's letter, Bollant had a system in which he would designate players as "CRABS," which meant they were casted off as part of the team's "old culture."
"Even though Taylor was brought in by Coach Bollant she was classified with the black girls as CRABS because of their style of play," the Gleasons wrote. "Racism comes in all kinds of forms and racism was a horrible issue with the U of I basketball program."
LaKeisha Coleman, Amarah's mother, also told The Daily Illini her daughter faced discrimination. She told the paper that the coaches would often notice the race of their opponents, and use that as to try and drum up motivation.
Both Grant and Coleman will have to sit out one year due to NCAA eligibility rules. Grant's transfer was officially announced in April, and Coleman's has not yet.
Repeated attempts to reach the Coleman family went unreturned. The Grants declined to comment at this time.
---
Allegations
Jacqui Grant was reportedly verbally abused regarding her dyslexia and her relationship with her estranged father.
Grant was pressured to play soon after her bout with Mono her freshman year and a cardiac ablation procedure her sophomore year.
Players were divided by former coach Jollete Law's recruits and Bollant's recruits, with Bollant telling Law's recruits they were "CRABS" and separated because they were "part of a losing culture."
Would repeatedly threaten

 

to take away players' scholarships reportedly without reason or violation, telling players "not to renew their leases on their apartments.