Rainbow dreams in the emerald isle: Ireland's affirmative gay marriage vote may signify larger shifts in Catholic values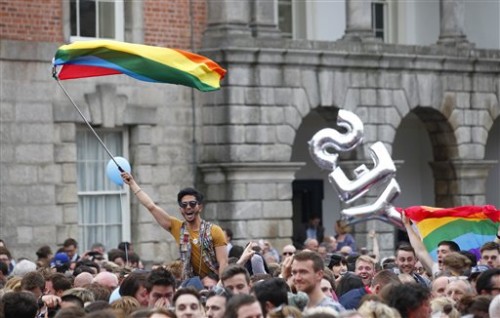 With young voters mobilizing, and one of the largest voter turnouts Ireland has ever encountered, rainbow flags were seen flying over the Emerald Isle in celebration of  the Republic of Ireland becoming the first country to legalize same-sex marriage in a popular vote.
The Republic of Ireland joined 19 other countries, the first being The Netherlands in 2001, as well as 37 American states in its legalization of same-sex marriage, as 62 percent of voters helped pass the referendum making same-sex marriage legal throughout Ireland.
Around 71.9 percent of the Irish population is Catholic, a religion which has been traditionally against same-sex marriage. Instead of looking at the result of the vote as a defeat for Catholicism, some are looking at it as a shift in Catholicism — one that focuses on the experiences of others.
"What we saw in the result is less a rejection of Catholicism itself, I think, and more a further piece of evidence that Irish Catholics are looking to their own experiences — in this case, with gay family members whom they love, or with gay neighbors and colleagues whom they know well and respect — and then relying on their own consciences as they make up their minds on these newer social questions," Mary McCain, a professor of Irish history at DePaul, said.
Many Catholics are still critical of same-sex marriage, on the basis that the main purpose of marriage is to biologically create children, and while love plays a part of it, the importance of marriage is its religious vocation.
According to Catholic.com, marriage is not a private matter of emotions, and the success or failure of marriage has deep impacts on all of society.
Pope Francis, who was elected Pope in 2013, has been leading some to believe that the Catholic Church is becoming more progressive in terms of social issues. The Pope previously said "who am I to judge?" when questioned about the existence of a "gay lobby" in the Vatican. 
"I think it's true that Pope Francis is trying to change the relative weight that the Church puts on various issues," Michael Budde, a professor of Catholic studies at DePaul, said. "I think Pope Francis is calling all Christians to a radical renewal of their faith, and to a posture that combines joy, mercy and courage; he invites non-Christians to share in that from their own starting points as well. Whether or not that makes for a 'progressive' agenda, it certainly makes for a compelling vision of Christianity and the Church."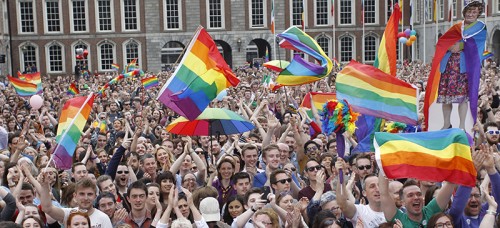 Other Christians are also welcoming the LGBT community, and many denominations and churches have become LGBT-affirming, and do not consider being transgender or homosexual a sin. This includes denominations such as Unity Church and Reformed Anglican Catholic Church, as well as groups such as Believe Out Loud — a group that encourages Christians to fight for LGBT equality.
Despite the change that Pope Francis is bringing about  within the Church, many still hold traditional beliefs, including Cardinal Pietro Parolin, the secretary of state of the Vatican, who was disappointed in the outcome of the vote in Ireland. 
"I was deeply saddened by the result," Parolin said, and later added that the result of the vote was "a defeat for humanity" in a conference in Rome on May 26, a few days after the vote.
This vote is a  symbol of progression within the historically conservative country.
"Ireland has had two women presidents, and the Irish government has also implemented many policies over the years that would look pretty progressive to an American," McCain said. "But it's also true that Ireland was socially conservative on issues like divorce and birth control until somewhat recently, and that abortion remains illegal there except in very limited cases."
Although Ireland has a significantly higher population of Catholic people than the United States, the amount of people who identify as religious in both countries is dropping. 
According to a study done by the Pew Research Center, younger Americans are more likely to not be religious, as 36 percent of the younger millennial generation, born between 1990-1996, describe themselves as not religious, compared to 23 percent of Generation X, born between 1965-1980. Younger people in Ireland are also less likely to be religious than in previous generations, as 20 percent of college students in Ireland identify as atheist, according to a study reported by Irishcentral.com.
It was the younger generation who mobilized and voted in large numbers that contributed to the passing of the referendum. Over 68,000 new voters registered and voted, and many of them were young adults.
"The legalization of same-sex marriage by popular vote is remarkable because it shows what can be done when people come together for a cause they believe in," Alicia Moran, a DePaul junior who is a member of the DePaul Irish Society, said. "The Republic of Ireland is historically tied to religion and this yes vote to same-sex marriage marks a true separation of religion and state."
Others argue that the vote doesn't signify a definitive break between the religious and non-religious, and instead just signifies that Catholicism is evolving to be more accepting of LGBT communities. 
"It's important to remember that many, many of the people who voted 'yes' would self-identify as Catholic — and some considerable number of them are, indeed, practicing Catholics at that," McCain said. "Many probably celebrated the results on Saturday and went to Mass the next day."