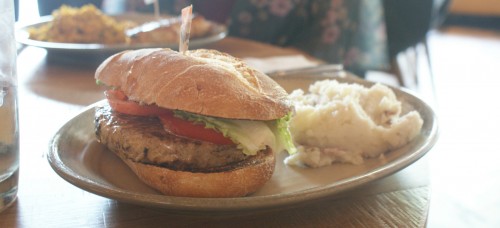 As any student who has studied abroad in the United Kingdom or South Africa can tell you, Nando's is incredible. The South African-based restaurant is an interesting take on casual dining, with a Mozambican/Portuguese themed dishes of peri-peri chicken.
The restaurant was first established in a suburb of Johannesburg, South Africa in 1987, and over time spread to 35 different countries. Although the chain was created in South Africa, Australia and the United Kingdom boast the most restaurant locations, each being home to more than 200 Nando's locations.
Nando's spread to the United States, but all of their locations have been in the Baltimore-Washington DC metro area. On May 20, the first-ever Chicago location opened at 953 W. Randolph St. in the West Loop.
The new location is artfully decorated and in a large space so customers never feel like they're too close to one another. The restaurant also features comfortable chairs and outdoor seating, which make for an enjoyable dining experience.
The restaurant is famous for its brand of peri-peri chicken, which is marinated for 24 hours before being grilled and basted. After that, customers are able to choose the heat level of their sauce.
Beyond chicken, Nando's also offers burgers, salads and a variety of sides which include fries, hummus and flame-grilled corn on the cob.
Chicken: I ordered the Flame Grilled Chicken Breast with Mango Lime peri peri sauce. The chicken was delicious — rich with flavor and cooked perfectly. Despite how good it was, I had a hard time eating the chicken because it was so spicy. The mango lime sauce was described as having "a mere hint of heat" but was far from mild. I have no tolerance for spicy food so I had to drink three glasses of water to get through the meal. Overall, I was happy with the chicken. I can see how it would be really good on their chicken sandwiches. — Carolyn Duff
Veggie burger: For vegetarians, going to a chicken restaurant is hardly appealing. Thankfully, Nando's offers numerous vegetarian options, including the veggie burger. I don't know what it's made of, but whatever it is, it works. The burger is delicious, especially with the medium sauce, which doesn't overwhelm it. It comes with a tomato and lettuce, and combined with a wild herb peri a peri sauce on the side, it leaves both a sweet and spicy taste, and altogether incredibly enjoyable. — Erin Yarnall
Mashed potatoes: Only the highly coveted mashed potatoes that I wait for all day on Thanksgiving could compare to the mashed potato experience I had at Nandos. Not only were they made with my favorite kind of potato (red-skinned), they were mashed to perfection. No lumps whatsoever. They had a noticeable butter flavor, but it was not too overwhelming. Nando's genuinely serves some of the best mashed potatoes and they are recommended to everyone who goes to the restaurant.  — Erin Yarnall
Rice: I thought the rice would be a good choice because it's a Portuguese themed restaurant, so ordering the Portuguese rice seemed like a no brainer. The rice was pretty good, but nothing to write home about. It had a really nice flavor, without being overwhelmingly spicy which was a pleasant surprise. I enjoyed the rice, but I probably would have prefered the mashed potatoes, peri chips, flame grilled corn on the cob, or garlic bread. Basically I would have been happier having ordered any other side. — Carolyn Duff