Party like it's 1999: Thousands crowd Lincoln Park to support U.S. Women's Soccer
[slideshow_deploy id='13040′]
The celebration of America continued for a second straight day.
A day after the Fourth of July, thousands of people jammed into Lincoln Park Sunday to watch the United States national team's 5-2 win over Japan in the Women's World Cup. The viewing party was located near Stockton and LaSalle Drives.
It was the U.S.' first World Cup win since 1999 and, for those watching in Lincoln Park, there was plenty to celebrate.
"It takes your words away," Rob Kieber, a 24-year-old from Waukegan, said about the watch party. "It takes your breath away. It's amazing."
Kieber, who was right up front to watch, led "USA" and "I believe that we will win" chants throughout the match, rallying those around him.
And it didn't take long for the vociferous Lincoln Park crowd to erupt. U.S. midfielder Carli Lloyd got her team on the board with a goal in the game's first three minutes.
But what came next was even more shocking — Lloyd followed it up with another goal just two minutes long. Lloyd and the U.S. went for the kill when a shot from the halfway line soared through the top of the goal, giving them a 4-0 lead and Lloyd the fastest hat trick in the history of the Women's World Cup.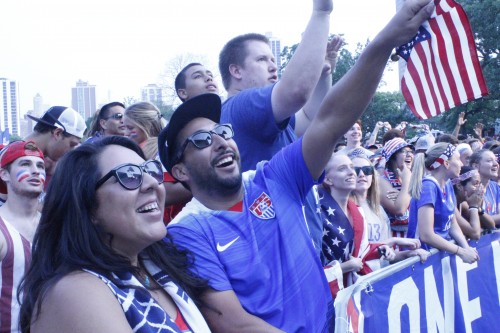 "I have never seen anything like this," Joseph Bruni, a 22-year-old senior at Dayton University, said at the time. "This literally looks like a FIFA game. I've never seen goals like this scored so easily."
For the second straight year, U.S. soccer has drawn thousands of people to watch in Chicago. What's even more remarkable is the passion it's created for women's sports, with the Women's World Cup semifinal drawing an average of 9 million viewers.
DePaul senior Chris Contos said soccer's popularity in America continues to grow.
"It's just a great time to be a soccer fan in the U.S.," Contos said.
As soon as the match ended, speakers in the park blasted Queen's "We Are the Champions" and those in attendance passionately sang along, including father Jay Kelly and his 13-year-old daughter, Pilar.
Pilar Kelly said the U.S.' win was great for women's soccer and it was a great example for women soccer players, such as herself.
"I'm so happy," Kelly said with a wide grin. "It's such a great feeling."