Religious liberty questioned after same-sex marriage ruling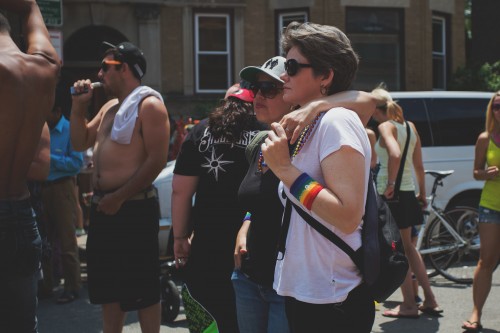 The Supreme Court ruled 5-4 in favor of legalizing same-sex marriage on June 26, prompting celebrations nationwide and temporarily hijacking practically everyone's Facebook Newsfeed.  While most Americans embraced the decision as a civil rights triumph, a conservative minority found the ruling to be a potential danger for religious liberty. Conservative religious institutions now fear that if they are to deny same-sex couples the rights and services they provide straight couples, they could lose their tax-exempt status.
This fear is validated by the 1983 case surrounding Bob Jones University. The Supreme Court ruled that, because the university prohibited interracial dating and marriage, it would no longer be considered tax exempt. The court declared that by forbidding interracial couples the same rights as couples of the same race, it was rivaling "fundamental national public policy." Many conservatives believe the Bob Jones University case could be used to challenge religious institutions that refuse to provide same-sex couples with the same rights they would a straight couple.
Opposition to the Supreme Court's ruling worry that, as Chief Justice John Roberts Jr. wrote in his dissent, put freedom of religion into question.
"Today's decision, for example, creates serious questions about religious liberty," he wrote. "Many good and decent people oppose same-sex marriage as a tenet of faith, and their freedom to exercise religion is — unlike the right imagined by the majority — actually spelled out in the Constitution."
Unlike the opposition, the Supreme Court majority opinion interpreted the Constitution as validating the right for same-sex couples to marry, rather than protecting those who would deny those rights to use religion as their excuse.
"Under the Constitution, same-sex couples seek in marriage the same legal treatment as straight couples, and it would disparage their choices and diminish their personhood to deny them this right," the majority opinion wrote. In other words, legalizing same-sex marriage does not take away a conservative's right to practice their religion as they see fit. Rather, it ensures that institutions that refuse to provide same-sex couples with the same rights as straight couples do not do so on the government's dime.
[box]Read: SCOTUS gay marriage ruling ushers in change[/box]
It is important to remember that religious institutions are not incapable of supporting LGBTQA rights. DePaul University — the nation's largest Catholic university — openly supports the LGBTQA community. DePaul has a number of programs and services that exist, according to the DePaul website, "to promote foster and support a campus environment that is inclusive of people from all sexualities and gender identities." DePaul and other religious universities like it serve as proof that religion does not solely act as a means of validating bigotry.
The Supreme Court's ruling does not prevent those who oppose same-sex marriage from speaking their minds. It does not force conservative religious institutions to perform same-sex marriage ceremonies. It merely ensures that if an institution is not providing the same rights to all couples, it will not be doing so with the support of the American government.