Cecil the lion sparks debate at DePaul, nationally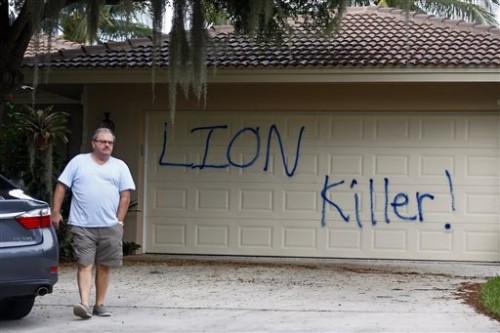 More than 900,000 have signed a petition asking the United States to extradite Walter Palmer, the American dentist who killed Cecil the lion, to Zimbabwe to face trial.
The African country, which has said it will seek extradition, is accusing Palmer of financing the hunt and illegally concealing the crossbow used to kill the famous lion so as not to alert rangers. The entire hunt was reported to have cost the big game hunter around $50,000.
"I had no idea that the lion I took was a known, local favorite, was collared and part of a study until the end of the hunt," Palmer said in a recent statement.
According to the Zimbabwe Conservation Task Force, Cecil was lured out of the park by a dead animal attached to a car, a hunting technique known as "baiting." He was then shot and wounded with an arrow and tracked for 12 hours until he was finally killed, skinned, and then had his head cut off as a trophy.
Oppah Muchinguri, Zimbabwe's minister of environment, released a statement shortly after telling the details of the tragedy.
"On the (July 7) after receiving a tip-off, our law enforcement officers immediately started investigating the matter and discovered that on (July 1), this lion was illegally killed," Muchinguri said. "The lion had a fitted GPS satellite collar as part of current research efforts being done in Hwange National Park and its surrounding areas. The lion was well known and regularly sighted by tourists."
Newspapers in Zimbabwe reported that the lion's death went extremely unnoticed among the locals until they found out from British media. Most were not even aware that Hwange National Park housed Africa's most famous lion. But since the death, there has been a noticeable decline in tourism as most tourists cancelled their plans to go see Cecil after being informed of his death.
Chelsea Hassler, a representative from the Animals Rights Coalition, believes that the cost of these hunts is part of the issue.
"It's problematic that rich privileged white folks are paying a small fortune to go hunt sometimes endangered or close to endangered animals in countries where the average income is less than $1,000 a year," Hassler said. "To spend more money than most people make in a year (or a lifetime in many cases) to kill one animal for "sport" must seem particularly heinous to people who are struggling to find enough food to eat."
Palmer has hunted game such as Grizzly bears, leopards, rhinos, and even a lion before Cecil. He was also convicted of a felony in 2008 for falsely reporting where he killed a bear.
Jimmy Kimmel, host of the show "Jimmy Kimmel Live" went on a rant about this in a recent monologue on his show that aired Tues, July. 28 on ABC.
"Why are you shooting a lion in the first place?" Kimmel asked.
Nick Grammatico, a freshman game design major, does not think this will change the way other countries look at America.
"I think they either love us or hate us already. I don't see his name carrying any weight except in America," Grammatico said.
Kimmel went on to give viewers the link to the Wildlife Conservation Research Unit's website, urging them to donate so they can "show the world that not all Americans are like this jackhole." To date, Kimmel has helped raise more than $150,000 to date for the Oxford researchers that had followed Cecil since 1994.
"This case has shined a bright light on issues such as 'big game' hunting and poaching, and conservation as well," Hassler said. "We've already seen business practices change, like major airlines putting a stop to shipping these 'trophies.' Animals are not trophies. They have their own lives and families and should be permitted to live as such. Particularly egregious is, in this type of hunting, the animal isn't used for more than a trophy, a decoration, bragging rights."
Cecil's death has sparked a heated discussion among conservationists about legislation that would prohibit imports of big game trophies to the U.S and European Union. Many African countries are also being called to ban bow-hunting and lion-baiting.
Vereshia Noble, a freshman chemistry student, believes that this case has definitely raised more awareness globally.
"Already, people are doing more things to squash this issue we've been facing for decades. China recently pledged $2 million to curb the poaching problem in Zimbabwe. I'm certain laws and punishments for the crime will continue to evolve to the point where little to no one will want to risk illegal hunting," Noble said.
"While I hope it will lead to more enforcement of regulations and greater punishments for to discourage poaching, but looking at our history, realistically I doubt (the way we look at animal conservation) will really change all that much," said William Gilliland, a biology professor at DePaul. "Maybe people considering a similar hunting trip will see the storm that the internet dropped on Palmer and not go through with it. But look at Jimmy John Liautaud, the owner of the Jimmy John's sandwich chain — his big game hunting safaris have gotten people to boycott his restaurants, but this has not deterred him from continuing to hunt."