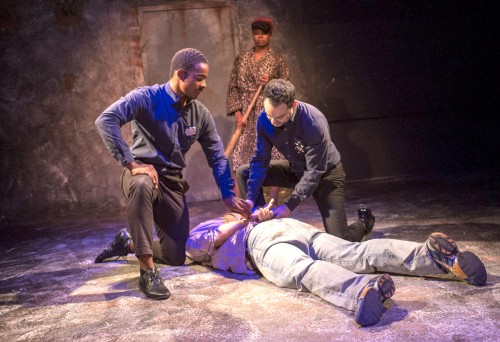 For the past three years, First Floor Theater has asked local playwrights to put together a show that both exposes audiences to the work of classic writers and introduces a new twist of modernity to timeless ideas for an annual literary festival.  Each year, these playwrights pay tribute to the works of one influential writer, with past muses including the Brothers Grimm and Mark Twain. Each show is characterized by eight short plays that pay homage to the chosen writer.

This year's inspiration was none other than Franz Kafka, the 20th century existentialist writer known most famously for stories like "The Metamorphosis" and "A Hunger Artist." Kafkapalooza kicked off its opening night on Aug. 14.
Held in Wicker Park, the opening night of Kafkapalooza wowed with its innovation and creativity. Bringing together a variety of local actors, writers and directors, Kafkapalooza entertained from start to finish without flaw. The curators for this year's fest are company members Jesse Roth and Hutch Pimentel.
Among the original works was "Justice For All," inspired by Kafka's short story "In The Penal Colony" and written by Karen Kessler. This performance addressed Kafka's obsession with bureaucratic labyrinths, concluding with actress Rebecca Flores eerily uttering "poor, dreadful species."
Another powerful performance was "Fugitive Awareness," inspired by Kafka's letters to Felice Bauer and written by Skye Robinson Hillis, which featured actress Hayley Burgess dominating the stage with her internal conflictions about being loved and, more importantly, "being whole."
Other original works exhibited during the two-hour show include "The Old Ball Game" by Kristiana Rae Colon, "Shrine to Caitlyn Jenner" by Ariel Zetina, and "Unhappiness" by Brett Neveu.
Each play of the evening was characterized by fabulous execution, innovative adaptation and a modern take on ideas that were touched on by Kafka over one hundred years ago. In a city like Chicago, developing something entirely original can be a little intimidating. A place so teeming with life and color can overwhelm any writer in pursuit of something new — but these playwrights have achieved the impossible: turning frightening, often morbid topics into ones full of urban intelligence, wit and humor.
Whether you love plays or just Kafka himself (scratch that — you don't even have to love Kafka to enjoy this festival), Kafkapalooza is a smart and entertaining plethora of talented performances and writing. The festival continues throughout the week until Aug. 22 at Collaboraction's Pentagon Theater in Wicker Park.