Kentucky clerk Kim Davis sparks national debate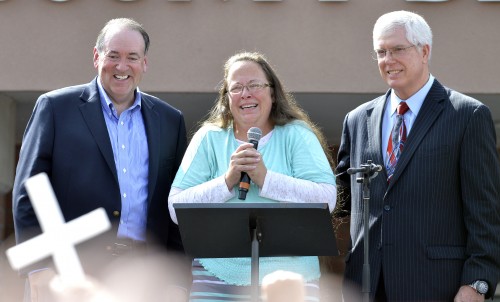 In early August, Kim Davis, a clerk in Kentucky for Rowan County, began denying marriage licenses to all couples in an effort to protest the recent and historic ruling of Obergefell v. Hodges mandating that gay marriage be legal in all 50 states. Davis, a self-proclaimed Apostolic Christian, has argued against the Supreme Court's ruling stating that requiring her to issue "a marriage license which conflicts with God's definition of marriage, with my name affixed to the certificate, would violate my conscience."
Despite the Court of Appeals ruling against Davis and the Supreme Court denying her subsequent appeal, this case still bears significant importance in the scope of the nation's current political and social climate. The case of Davis, among similar cases that have emerged over recent years, all point to an uncomfortable but undeniable truth: gay marriage may have gained the approval of the American majority (according to  the Pew Research Center, 55 percent of Americans favor allowing gays and lesbians to marry legally) and been deemed a fundamental right by the Supreme Court, but there is still a considerable amount of Americans that continue to oppose gay marriage, or at the very least, serving the gay people of their community.
Considering the way many right-wing candidates for the upcoming presidential election have flocked to Davis, it becomes increasingly undeniable that although the people opposed to gay marriage may be a minority, they are a well-represented minority. An example of such a candidate is former Arkansas Gov. Mike Huckabee who, in a recent interview with ABC, claimed that Davis did nothing wrong as one need only obey the law "if it is right."
Huckabee would go on to compare the legalization of gay marriage to the Dred Scott decision that stated black men and women, enslaved or free, could not be considered American citizens. Other political heavyweights, such as Sen. Ted Cruz, have also since emerged in support of Davis in defense of freedom of religion.
Considering this is also a nation that is supposed to give its inhabitants both the social equality to thrive as well as the religious liberty to practice freely, issues like this add to the already present tension between secular progressives and traditional religious folk. The biggest question raised by such dilemmas is how can people coexist when two of the most fundamental principles that our nation is founded on begin to clash?
The clash between these two principles is the result of misinformation and unwarranted entitlement. Although it is important for the government to make accommodations in order to preserve religious freedom, that does not mean the government needs to create federal laws that respect any establishment of religion. As stated in the Establishment Clause in the First Amendment,  "Congress shall make no law respecting an establishment of religion." This is the same amendment people like Davis have used to defend their homophobic behavior.
Furthermore, the Free Exercise Clause of the First Amendment, which states that Congress may not inhibit free exercise of religion, does not mean that the government cannot create laws that conflict with religious beliefs but rather that the government cannot make unreasonable laws that force a religion to be practiced differently. Essentially what this means is that although gay marriage has been legalized in the U.S., religious institutions still get to decide what kind of marriage they allow as it is in their right to free exercise.
This is where  Davis and Huckabee lose their credibility and have their arguments invalidated. Both of these people are government officials who are elected into public office to carry out the law of the land. The precedents of religious neutrality that have been set by the Supreme Court are meant to be respected within the chambers of public office.
A government building is no place to try to enforce personal religious beliefs.