Review: FOX's spooky sorority series "Scream Queens"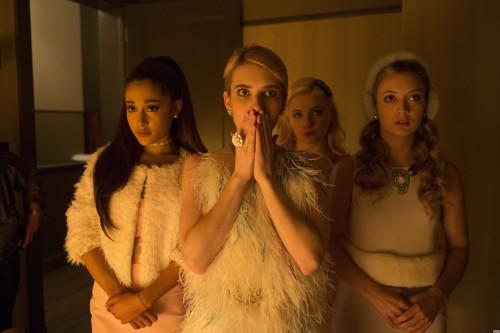 Starting this fall on Tuesday nights, Kappa Kappa Tau has bigger problems than just hazing. Ryan Murphy's new Fox series premiering Sept. 22, "Scream Queens" bends genres to give audiences a comedic take on a murder mystery.
The show centers on the 20th anniversary of Wallace University's infamous murder and now new cases are erupting through campus. Murphy twists the classic whodunit story with comedy and a cast packed with special guest stars.
Not only is the cast filled with Murphy-show alum like Lea Michele and Emma Roberts, but "Scream Queens" also brings forth well-known actors and personalities including KeKe Palmer, Nick Jonas and Ariana Grande. Roberts' character, Chanel Oberlin, rules the Kappa House along with her minions, Chanel #2, 3 and 5 played by Ariana Grande, Billie Lourd and Abigail Breslin. Robert's Chanel draws what seems like close connections to her season 3 "American Horror Story" character Madison Montgomery. Add in Hester Ulrich, Michele, a Kappa pledge with scoliosis who is promoted as one of the more comedic relief characters for the series. It would not be a Murphy show without male eye candy, courtesy of Nick Jonas, to add to the sexual frustration of teenage life that Murphy shows are always equipped with.
To bring together the fairly young cast is an original queen of scream, Jamie Lee Curtis. Curtis plays the dean of Wallace University and is an opposing force against the popular Kappa Kappa Tau sorority. Before spooking her way back into the horror genre for "Scream Queens," Curtis starred in the slasher classics "Halloween" and "Halloween 2."
Creator Ryan Murphy is known primarily for the musical comedy "Glee" and the series anthology "American Horror Story." While "Scream Queens" seems like Murphy is clashing the two worlds of his hit shows together, Murphy himself claims that audience reaction to "American Horror Story" did prompt him into creating "Scream Queens." During an interview with Behind the Scenes Comcast Special, Murphy described wanting to make a show for audiences looking for horror but too terrified of the gore of "AHS." "Scream Queens," mixed with comedy and less on camera goriness, would do the trick.
"Scream Queens" is for any television fan yearning for the Murphy charm of witty and smart dialogue along with a little spook just in time for the Halloween season.
View Comments (1)