Sumo restaurant's sushirito falls flat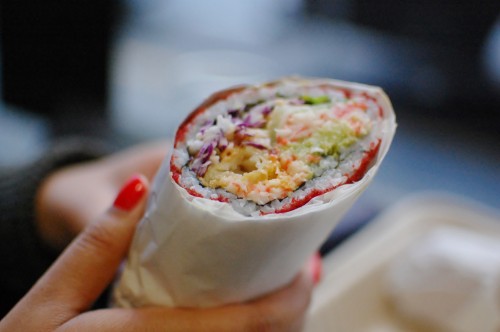 Imitation is often thought to be the sincerest form of flattery, but what happens when the imitation falls flat? It's called Sumo Restaurant's sushi burrito.
This past summer RedEye reporter Morgan Olsen reviewed the creation at the Lincoln Park restaurant, calling the combination of sushi burrito ingredients "perfect sushi harmony." While Olsen claims that this fusion staple has finally landed in Chicago, my experience sampling the sushi burrito wasn't as fulfilling.
Sumo Restaurant's sushi burrito was modeled after the California restaurant Sushirrito, which defines itself as the "original sushi burrito restaurant concept." Redefining sushi culture, its burritos infuse Asian and Latin flavor for a unique take on a favorite food.
According to a Business Insider review, the burritos from Sushirrito are super-sized and overly filling. The fresh ingredients are prepared right before your eyes and the experience of eating one is messy and delicious. With options such as pork belly, sake-asada beef, shrimp tempura, oven-baked agave-soy salmon and yellowfin tuna, there is clearly no competing with Sushirrito's dynamic menu.
Sumo Restaurant's take on the sushi burrito paled in comparison. The two options of burritos offered at Sumo Restaurant, fresh salmon and spicy tuna, include cucumber, crab salad, crab sticks, tempura sweet potato and special sauce. Each is wrapped in seaweed and rice paper, which acts as the tortilla.
While the seaweed and rice paper combo was a nice touch, the combination of ingredients wasn't exceptionally special. Paying $7.50 for the burrito since it was ordered after the restaurant's $5.00 deal before 2 p.m. made me question the portion value. While Olsen does point out that these burritos should be treated as the "perfect snack," I question why someone wouldn't just order a sushi roll. Sure the burrito is a fun way to eat sushi, but Sumo Restaurant's burrito is simply just an enlarged sushi roll.
The question for Chicagoans is whether or not eating a sushi in the shape of a burrito is worth a trip to the restaurant. While Sumo Restaurant gave its version of the Sushirrito the old college try, its jumbo sushi roll is not worth the trip. The service was slow and the ingredients bland. The Sumo Restaurant Yelp page has three out of five stars, with far from consistent reviews.
A Yelp review by Michael P. of Chicago notes the slow service of the restaurant, especially since the RedEye review surfaced. "My only tiny complaint about this restaurant is they aren't staffed up enough to handle the demand," he said. "Since the sushi burrito hit social media this place has been a zoo. (The) phone is often busy and I can't always get through to place an order."
There are a few loyal customers who swear by the restaurant. Dave D. of Chicago calls Sumo Restaurant the best sushi in the city. "I've spent the last eight years in Chicago going to as many top sushi places as I could, and now that I've been to (Sumo Restaurant), I feel no need to go anywhere else," he said.
The sushi burrito's arrival to Chicago has me holding out for a real Sushirrito to come to the Windy City. Until then, you won't find me at Sumo Restaurant snacking on its enlarged sushi roll that has the audacity to call itself a burrito.