Freshmen adjust to college volleyball schedules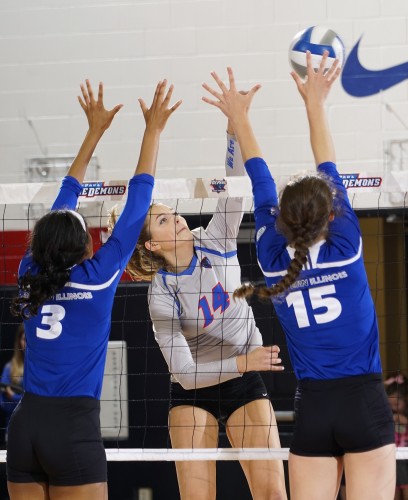 Leaving home for the first time can be tough on any college student, but for the DePaul women's volleyball freshmen, the team has become like a second family. Having traveled for three out of the four weekends since the 2015 preseason began sounds like it could only add to the stresses of entering college, but freshman Kendall Latshaw assures that it's done nothing but bring the team closer.
"It's just been a lot of fun, and it's been really exciting, especially because we've been winning, and hanging out with teammates is fun," she said. "The only stressful part is packing because they check my bag like twenty times to make sure I don't forget anything."
The Blue Demons held an 8-1 overall record going into the weekend, after a achieving a perfect 3-0 at the past weekend's Georgia State Invitational. Freshman Brittany Maxwell made the all-tournament team, alongside sophomore Caitlyn Coffey.
"I definitely feel super blessed, [and] everyone here has been super inviting," Maxwell said. [The coaches and upperclassmen have] all been great mentors, so it's just a great feeling to come in [to] play well and do what's expected of you."
But the expectations of success don't stop on the court, as every student-athlete knows; academics is top priority. Though with a great support system, the team's adjustment to juggling both school and sports has been just as successful.
"It's definitely a challenge, but we have a huge support system here at DePaul, and they require study table hours," Maxwell said. "There's just so many people here to support you, so it's very easy to stay on top of what you need to do."
Aside from coaches and teammates, the freshmen have taken advantage of Triple-A (Athletics Academic Advising) when it comes to getting their schoolwork done. The returning players also have similar majors, which allows the freshmen to ask them for help on classes they've already taken.
[quote]"There's just so many people here to support you, so it's very easy to stay on top of what you need to do." — Brittany Maxwell[/quote]
"It's hard because I'm busy, and I mean I'm used to being busy, but not this busy," Latshaw said. "All of the freshmen take summer classes, (which) definitely helps, so we're kind of used to the workload."
For freshman Dominika Kowalska, the toughest challenge for her has been the language barrier. Although, since her transition to the United States, the Poland-native admits she's made substantial progress with the communication.
"For sure my teammates are helping me a lot with everything, (and) they motivate me a lot," she said. "I'm still adjusting to everything, so they've been essential to that."
One struggle all three ladies can agree on is time management.
"In high school you have a lot of off time and here it's just 'school and practice, school and practice,'" Maxwell said. "So it's definitely taking care of what you need to do and getting what you need done right away."
Even with their transitions, the freshmen are enjoying every bit of success.
"It's so exciting, because I know how bad the upperclassmen wanted (success) here, so they kind of set the bar for us," Latshaw said. "It's good to be reaching our goals, because we set a lot of goals this season and it set the tone for going into conference. It's just exciting and gave us the confidence we needed… I love it here. I couldn't have picked a better school."
The ladies headed out to Peoria, IL this past weekend as they took on the Bradley Invitational. They faced UTEP, SE Missouri State and Bradley, all throughout Friday and Saturday, Sept. 18-19 as they finished a road swing that saw them travelling three out of four weekends. Their 8-1 record heading into the weekend was already five wins better than their 2014 season.
View Comments (1)