Travelers trek from US, foreign countries to see Pope Francis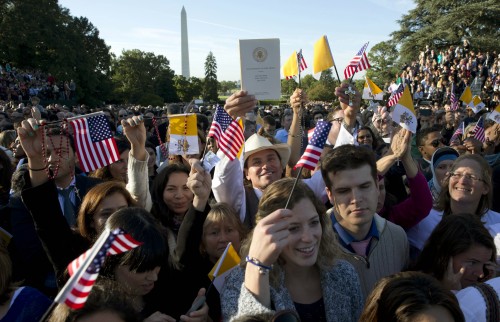 WASHINGTON, D.C. – Not all Catholic Americans can fly to Rome, but when Pope Francis made the journey to the U.S. for the first time, they were willing to meet him halfway.
Hundreds of thousands are expected to flood Washington D.C.'s streets this week for the pope's visit, many of whom are coming from out of state.
Michelle Calderon and her family flew from San Diego to not only see Francis in D.C., but to follow him to New York and Philadelphia.
Why make such a trip?
"Because he'a an amazing pope," Calderon said. "We've been wanting to see him forever. We're fully Catholic, my kids go to Catholic school. We really love this pope."
The trip has also brought strangers together as friends. Fr. Salvador Lopez flew in from Mexico, but had lost contact with his host in D.C. Then he met Calderon, who invited him to stay with her family.
"Religion brought us together, Caldeon said.
[box]Follow our live blog for updates from Pope Francis' visit to D.C.[/box]
And it's keeping other families together as well. Oscar and Eva Torres celebrated their 50th wedding anniversary this year. The couple, born and raised Catholic from Corpus Christi, Texas, never had the money to fly to Rome. But their children's gift of a trip to D.C. was the next best thing.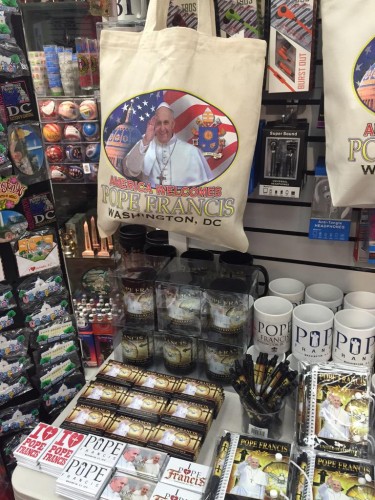 "This time we were so much more interested in this pope," Eva Torres said.
Traditional Catholics have critiqued the pope for his more liberal approach to issues like the environment, annulments and abortion, but for the Torres', he is doing a lot of good.
"The thing about the privilege to marry, the same sex thing, he says we have to accept it," Oscar Torres said. "Because that's what Jesus would do."  
"With our upbringing, our faith, we were taught differently, but things are changing," he said.
Not all tourists were coming for the pope. Some international travelers like Sabrina Krackow from Stuttgart, Germany didn't know the pope would be in DC for their trip, but considered it a lucky opportunity.
Other travelers and D.C. locals were frustrated by the closures and the effects they would have on their trip.
But for Calderon, the Torres's and the thousands of other visitors this week, seeing the Pope in D.C. is the chance of a lifetime.
"We would just love to only get a glimpse of him," Eva Torres said.
View Comments (2)