Planned Parenthood funding in peril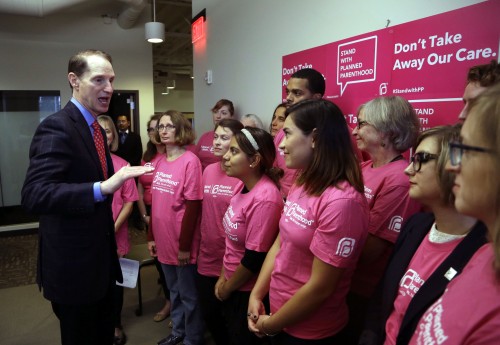 In a last-ditch effort to avert a government shutdown, Senate Majority Leader Mitch McConnell has proposed a bill that would keep the government funded through Dec. 11 without defunding Planned Parenthood.The bill will require votes from at least 13 Republican senators alongside the expected 46 Democratic votes to pass the Senate.
This bill follows a failed budget proposal calling for a total defunding of Planned Parenthood and an increase of approximately $13 billion in defense spending failed to pass the Senate, which has a Republican majority.
Conservative Republicans' politically-driven opposition toward Planned Parenthood, America's key provider to women's reproductive healthcare, results from a party populace adamant on taking all steps necessary to eliminate a woman's choice to abort.  While the majority of the party defends their stance citing religious or moral reasons, abortion is disqualified for federal funding for Planned Parenthood as a result of Congress' 1977 passage of the Hyde Amendment.  However, the federal Medicaid program does mandate abortion funding to woman impregnated as a result of rape, incest or to protect the life of the mother.
DePaul junior Bryn Vaydik, sees continued funding for Planned Parenthood as necessary for women's health. "Planned Parenthood is important to me because as a woman who has not always had health insurance, I know that I can rely on them for education and support for reproductive care," Vaydik said.
According to Planned Parenthood's annual report, the government funded $528 million towards the women's health service during the 2013-14 fiscal year. During that same time period, only 3 percent of the organization's total services were for abortion.
Taxpayer dollars are used to screen and treat sexually admitted diseases, cancer screenings, providing contraceptives and other women's health services. Yet, to some politicians on the far-right, the choice to dedicate approximately a half-billion dollars for women's health services seems asinine, regardless of the fact that a very small portion is used to fund legally mandated abortions.
Republican presidential hopeful Jeb Bush expressed his dismay at a Southern Baptist Convention in August, "I'm not sure we need half-a-billion dollars for women's health issues." He later apologized for the claim, saying he "misspoke."
Fellow Republican candidate Carly Fiorina has also attacked the program's alleged usage of aborted fetuses for research, daring President Barack Obama and female Democratic candidate Hillary Clinton to watch leaked videos by the Center for Medical Progress. "Watch a fully formed fetus on the table, its heart beating, its legs kicking while someone says we have to keep it alive to harvest its brain," she said.
It was later proven such a video does not actually exist.
Regardless, the effort to defund the program is still in motion.  Despite the likelihood McConnell's spending plan being passed by Congress, the extreme opposition to Planned Parenthood expressed in the first proposed spending bill exemplifies conservative ideals ignited by a party with a base strongly allegiant to their religious values.  Yet, the termination of Planned Parenthood funding would do something far from aiding the greater good.
Instead, it would be just another devastating blow to struggling Americans.  According to a March Government Accountability Report, 79 percent of Planned Parenthood clientele lived on around $18,500 per year as a single adult. Opposition to Planned Parenthood based on moral and religious issues conflicts with what would happen as a result of defunding the organization. It would weaken women's continuous fight toward establishing and sustaining equal rights in a country that guarantees the right to liberty.  Planned Parenthood funding will undoubtedly be an ongoing topic of discussion during the presidential race. Republican candidates Cruz and Gov. John Kasich, along with Bush, have voiced their support of defunding the women's service or else letting the government shutdown.
After Obama publicly refused to pass any budget defunding Planned Parenthood, Cruz said, "We need to stop surrendering and stand up for our principles." Yet the said principles currently being championed are in question, as it is more of a painful blow for women and minorities as opposed to an attack on abortion.