Can't read this: Banned Books Week at DePaul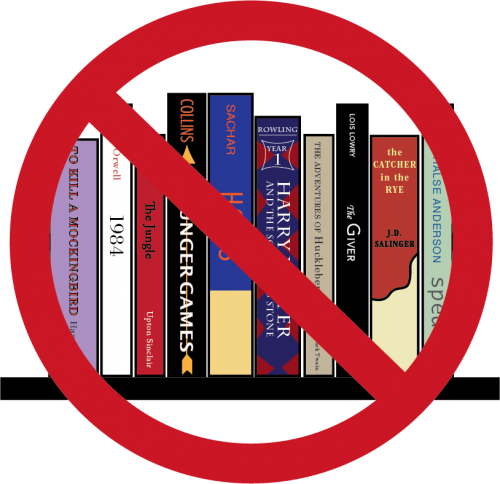 Some may consider the United States a land of free and unlimited access to knowledge. Others argue differently, that our access to knowledge is limited due to the banning of books.
The integrity of free access to education and knowledge is often challenged in the United States, but various organizations such as the American Library Association (ALA) push back. The ALA annually releases a list of the most-challenged and banned books in the United States in celebration of Banned Books Week, which began Sept. 27.
Topping the list in 2014 was "The Absolutely True Diary of a Part-Time Indian" by Sherman Alexie. Banned in Idaho schools in 2014 for its "sexually explicit scenes," "offensive language" and "anti-Christian views," the novel depicts the story of young Junior as he leaves his school on the Spokane Indian Reservation to attend an all-white high school.
According to the National Coalition Against Censorship, "The Absolutely True Diary of a Part-Time Indian" is a regularly challenged book, with six challenges or bans by various institutions in the first six months of 2014 alone.

"It's hard to imagine that anyone who has read Alexie's book in its entirety would try to have it banned," Acacia O'Connor, a spokesperson for the Coalition, said. "Some of the main character's frank comments — about masturbation, questioning God — make adults uncomfortable. But we can't hide things from young people, 16-year-olds in this case, because they might be uncomfortable to think or talk about."
The top four books on the ALA list last year were all by authors of color: Sherman Alexie, Marjane Satrapi, Toni Morrison and Khaled Hosseini. After the release of the list in 2014, author Sherman Alexie took to Twitter to celebrate by posting "I am the proud author of the most banned/challenged book of 2014!"
"I think it's absurd to ban knowledge and intellectual exploration," Emily Thompson, a DePaul peace, justice and conflict studies major, said. "Banning individuals' ability to use books as a way to gain opinions and to gain understanding of people that are different than them is wrong."
While institutions and parents are often accused of censorship, they are not the only guilty parties in the effort to restrict access to controversial material.
This past summer, some incoming freshmen at Duke University refused to read the summer reading selection "Fun Home: a Family Tragicomic" by Alison Bechdel, a New York Times best-selling author. The graphic novel, which was recently adapted into a Tony-winning musical, tells the story of the author, a lesbian cartoonist, and her relationship with her closeted father.
Duke University student Brian Grasso said reading "Fun Home" "may compromise my personal Christian moral beliefs," in an interview with The Duke Chronicle.
Grasso went on to write an article for the Washington Post describing his decision not to read the book.
"In the Bible, Jesus forbids his followers from exposing themselves to anything pornographic," Grasso said. '"But I tell you that anyone who looks at a woman lustfully has already committed adultery with her in his heart,' he says in Matthew 5:28-29. 'If your right eye causes you to stumble, gouge it out and throw it away.' This theme is reiterated by Paul who warns, 'flee from sexual immorality.'"
Many students and professors feel that there is something incredibly appealing about banned books, leading to many of them to become successes.
"My favorite banned book is 'The Catcher in the Rye,'" Abbey Mazur, a graphic design major, said. "I think banned books are really appealing because their messages go against conventional thinking and cause you to reevaluate your own ideas."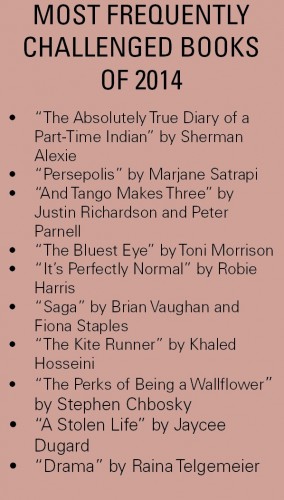 "I remember reading 'Beloved' by Toni Morrison in my AP Literature class in high school and loving it," Skyler Boll, a DePaul biology major, said. "We often discussed in the class how banned books had shaped this country, and our teacher talked about how he had often had parents challenge his reading list."
This year the Banned Books Week theme is young adult fiction, with Alexie once again topping the list. Other young adult fiction novels popular in the banned book world include "Persepolis," "The Perks of Being a Wallflower" and "And Tango Makes Three," a children's book about the real-life story of two male penguins who raised a baby chick at the Central Park Zoo.
Young adult fiction appears to be the most popular genre to ban or challenge, as New Zealand recently banned "Into the River," an award-winning novel by Ted Dawe. There is a fine of $10,000 that bookstore proprietors, schools or individuals must pay for distributing the novel.
"It's about censoring knowledge," Indiana University professor Kathy Lay said. "The philosopher Foucault always said that knowledge is power, so when people ban a book they are wielding that power over another group of people."
"The books a country bans tells us a lot about what the country fears, what makes it nervous," DePaul professor Ann Stanford said. "It also tells something about the power, or perceived power, of books — the written word."