DePaul comedian youngest to host Laugh Factory's coveted slot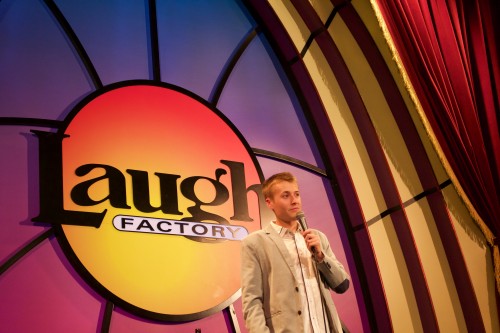 AJ Lubecker is the life of a party. He tells stories to get people laughing. He busts out in raps of his own and encourages others to dance. Hell, like any good gathering, he can be seen stumbling and slurring his own words occasionally before he shotguns a beer.
But unlike a lot of other DePaul students who enjoy the nightlife, Lubecker's party is on stage. Lubecker, a senior, has carved out a niche for himself at just 21 years old as a stand-up comedian in Chicago's ultra competitive comedy scene.
Lubecker brought his comedy act to the Laugh Factory Friday, debuting "Funked Up Friday"  — a show he created that featured four other stand-up comedians and also hosted the event.
Lubecker is the youngest comedian to host the Laugh Factory's coveted 10 p.m. Friday slot in the club's 36 years of existence.
"My sense of humor works better (with later shows). I don't need to work quite as hard and I'm able to be looser," Lubecker said. "I wanted to re-create that … a loose show where kind of anything goes."
On stage, Lubecker was relaxed. He eased the crowd of 200 people with a pre-recorded video on the difference between getting funked up and the expletive it looks like. The message of the video was simple: get ready to have fun.
And it's no surprise that Lubecker's stand-up matched a similar vibe. Lubecker's persona on stage was a character. His stories, told in almost a deadpan tone, focused on getting people to laugh on the absurd rather than getting them to laugh because it was relatable.
At one point, Lubecker told the story of his friend who was allergic to bees and how one day a bee landed on his friend, leaving Lubecker unsure what to do.  But really, the joke was really just an excuse for Lubecker to bust out Myskital's "Shake Ya Ass." As he recalled "warning his friend" about the bee, the beat from the song came on and Lubecker yelled "shake ya ass," paused, "…but watch yourself."
"My on-stage persona is closer to how I actually am," Lubecker said. "It's actually closer to inside my brain, that wouldn't necessarily work in normal conversation. I try to just unfold who I am.  I talk to myself all the time, and that's kind of what I do on stage."
It's a persona that Lubecker has spent almost five years developing. When he was 16, Lubecker would drive in from Algonquin to the city to do open mics. He was so young, however, that his mom would have to accompany him.
Despite being a student, Lubecker's sole drive is to be a professional comedian. He said he gets up on stage almost five times per week and intentionally avoids scheduling night class so he has the flexibility to perform. He's also traveled to other cities to do stand-up, going as far as Toronto.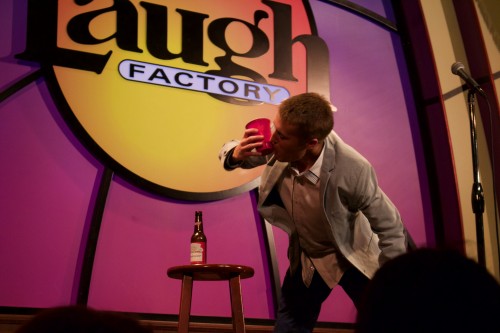 In some aspects, though, Lubecker still looks so young.  The last comedian of the night, Marty DeRosa, poked fun at Lubecker's appearance and asked when he got on stage, "that kid is here because of Make-A-Wish, right?" It drew a big laugh from the crowd.
"Unlike a lot of comedians, I felt like he was very good when he started. I felt like a lot of us were really jealous," DeRosa said. "He always got it. Sometimes people like that go 'I'm so young, can you believe it?' He actually had well-crafted jokes. It's interesting watching him perform. His on-stage persona is a lot older than he is … he's a bit of a veteran, but is still very young."
Yet, so much of stand-up is beyond just developing jokes. Lubecker has spent the last five years marketing himself and developing a business acumen as well.
At DePaul, Lubecker met fellow comedian and student Sean Parker and together the two of them went to The Playground Theater and pitched a show that would pave the way for "Funked Up Friday." Lubecker and Parker, as well as Kevin Lobkovich, Patrick Reilly and Aaron Branch, hosted a weekly show called "Chicago College Class Clowns (C4)," a show geared for college students.  C4 ran for two years on a weekly basis from January 2013 to May 2015.
Once Parker and the others graduated, Lubecker pitched the concept of "Funked Up Friday" to the Laugh Factory. Already having performed their regularly as a comedian and occasionally hosting a specialty C4 show at the Laugh Factory, Lubecker went to Laugh Factory owner Jaime Masada and Director of Operations Curtis Shaw Flagg with a business plan, telling them how the 10 p.m. slot could be used for a looser atmosphere and how he could draw an audience.
"He's probably one of the hardest working comics," Shaw Flagg said. "I watch the way he promotes. He's giving us his word that he can make it popular and draw in the time slot that he's in … We don't give that slot to just anybody."
Shaw Flagg said "Funked Up Friday" is a twist on the normal showcase of Chicago's best comedians, going for a more "funky, alternative" atmosphere.
Lubecker certainly brought the funk. After DeRosa, the headliner, finished his set, Lubecker wrapped things up with getting three members from the crowd to come on stage and create their own dances based on a phrase Lubecker provided.
Rich Michelin, 26, was one of those people chosen. He had to get out of his comfort zone and then wowed the crowd with his own dance moves.
"The show was great," Michelin said. "The funny thing is that my fiancé said that we should sit in the front row and I didn't want to. She said 'oh no it will be fun, they'll probably pick on people in the back.' Of course, I got picked."
Lubecker will host "Funked Up Friday" once per month with his next show being Nov. 6.
"It's definitely surreal thinking about it sometimes," Lubecker said. "I know that a lot of other comics were trying to get that show … Sometimes thinking about that it's happening, it's a huge stage. I can believe it, but it's just cool accomplishing things you were reaching for."
View Comments (1)