Chicago hosts first Architecture Biennial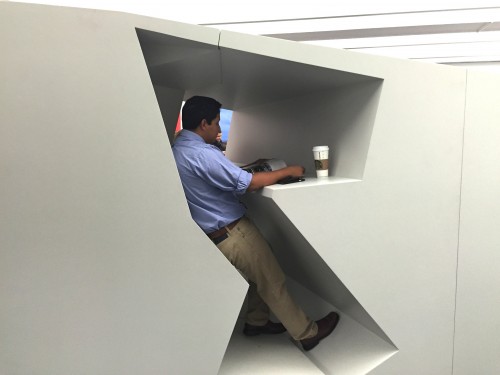 Imagine a man dressed in business casual clothing, Starbucks coffee in hand, reading news from a sleek silver laptop. He is not sitting on a bench outside, nor at a table, but rather sitting in a complex desk shaped like a backwards "Z" that looks like art. This desk is one of the many pieces displayed at the Chicago Architecture Biennial.
The desk is progress. The desk is the future.
At the Chicago Cultural Center, Chicago hosted North America's first Architecture Biennial, inviting people from all over the world to join the global conversation of the future of architecture beginning Oct.3.
According to the Chicago Architecture Biennial website, Mayor Rahm Emanuel has hoped for an international architectural event to happen, and his vision has finally come true.  The Chicago Department of Cultural Affairs and Special Events developed the plans for the Biennial.
Commissioner at City of Chicago & Department of Cultural Affairs and Special Events Michelle Boone explained the importance of the location during a conference in the opening.
"We recognized that when people come to visit Chicago, one of the first things that they do is take that fantastic architecture boat tour," Boone said. "We are surrounded by this living museum of modern architectural history around us, and as a city, we have done very little to promote architecture."
Sarah Herda, Biennial's co-artistic director, agreed with Boone.
"Chicago is the ideal place to convene the world and have this conversation," Herda said. "It doesn't matter where you went to school in the world, or where you trained to be an architect, you know Chicago. You learn Chicago. It provides an interesting context, and a kind of shared context to have a conversation on what's happening now. It contributes to this legacy by pushing the significance of architecture as a central concern in this city forward."
The event extends beyond just the Chicago Cultural Center. There are exhibits at Millennium Park, Stony Island Arts Bank, The Madlener House at Graham Foundation, 72 E.  Randolph St., Water Tower Gallery and The Illinois Institute of Technology. Many different crowds are attracted to the exhibit from actual architects to artists.
Ricki Ornelas is a student who attended the opening and works at  home decor store Z Gallerie. She came to the event with some of her coworkers to find inspiration for Z Gallerie.
"You don't expect a lot of people to actually be into something that can be bigger," Ornelas said. "Somebody had this idea in their head, and now its reality."
One day, Chicagoans may be reading the paper online, sipping on the latest coffee chain drink and sitting in massive white artistic cubicles that look like lost glaciers. If that happens, Chicago will be one of the places that started the conversation for progress.
Events at the Biennial last until Jan. 3, 2016. More information can be found at http://chicagoarchitecturebiennial.org/.
View Comments (1)