DePaul Cubs fans stuck in class during Wild Card game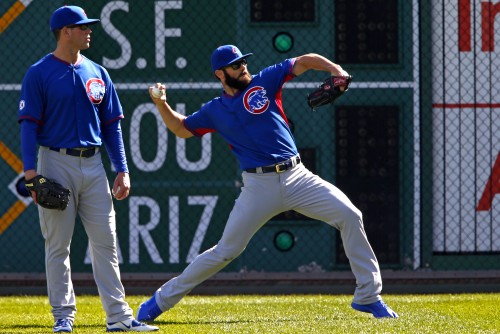 The Cubs will face off against their division rival, the Pittsburgh Pirates Wednesday at 7:08 p.m.  The winner of the game will advance to the National League Division Series on Friday where they would play their even greater rival, the St. Louis Cardinals.
But despite the game's importance, some of the team's biggest fans will be stuck in class at DePaul – and not just students.
Amy Merrick, a journalism professor at DePaul, said she's "a bigger Cubs fan than anyone in all of her classes combined,"  has the "opportunity" to teach her scheduled night class on Wednesday – right as the Cubs will be playing against the Pirates.
"I'm sure I'll let students check the score during the second half of the night, but I'm not sure anyone else in that group cares as much as I do," Merrick, a Cubs season ticket holder said. "I'm just hoping (Cubs pitcher Jake Arrieta) can pull out the win, so that I get to see the Cubs play in the NLDS on Friday night."
[box]Read: Wrigleyville prepares for Cubs Wild Card game[/box]
Many have heard by now of the University of Illinois student who sent his professor an email asking for his midterm to be delayed so he and his family could attend the game in Pittsburgh Wednesday evening.  But even with the inevitable distractions, Merrick's class will go on.
"Our night class meets only 10 times during the quarter, and I don't want students to feel shortchanged just because I wish I could watch the game," she said.
But DePaul Catholic Studies professor Jamie Waters sees no reason to alter her lesson plan to appease a few students.
"I would not permit students to watch the game during class," Waters said.
When asked if she would do anything different for class on Wednesday, she responded with a simple "no."
DePaul history professor Jay Nelson shares similar thoughts with Waters.
"I can't imagine what circumstances would lead me (to) change class structure for a night class," Nelson said.  "Perhaps a World Series Game 7 scenario…that involved the Sox."
Unless they want to wind up as an Internet meme, it's probably best for students not to reveal their Cubs fandom as an excuse to miss class on Wednesday evening.  Not many students expressed interest in missing class to watch the game.  But there are bound to be a few students who will come down with a last-minute "flu."