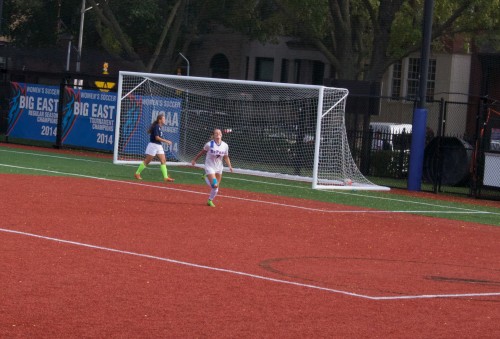 It's a day Elise Wyatt will never forget.
Against the Butler Bulldogs (9-5-1, 2-2-0 Big East), Wyatt scored her 32nd, 33rd and 34th career goals for the No. 21 DePaul Blue Demons (10-2-2, 4-0-0) to give them a 3-2 win and Wyatt the school's scoring record.
"That was one of my goals at the beginning of the season, to get nine goals or above to break her record," Wyatt said
The first brought her level with Julianne Sitch for the all-time record in the 20th minute when she calmly slotted home a pass from Franny Cerny into the bottom left corner of the net. The second gave Wyatt sole possession just ten minutes later, this time assisted by Lucy Edwards.
"We're happy to get three points, we know Butler is a good team," head coach Erin Chastain said. "(We're) happy to score three goals and really happy for Elise that she stepped up in this game and not only broke the scoring record, but did so with a hat trick."
Her third on the day? A solo effort showcasing her skills after she took the ball from about 30 yards out, dribbled into the Bulldogs' box and curled the ball around the oncoming goalkeeper.
The three goals brought Wyatt's season total up to 11, though, she hasn't been the reliable goal scorer she was in the beginning of the season as of late.
"She hasn't been in a scoring drought, but has had less of an impact in front of goal," Chastain said. "For her to get her confidence back in a really big game against a team that doesn't give away goals…it's incredibly important."
Wyatt isn't a stranger to scoring against Butler. She did just that in 2013, but she doesn't quite recall it quite as vividly as her coach does.
"Erin reminded me of a Butler goal two years ago, but I don't remember it," Wyatt said. "She told me the weak side run would be on, so just run early."
Her first two goals of the day came from Chastain's advice, both times sneaking in behind the defense, latching onto a ball, and finishing in the back of the net.
The score line could've easily been 3-1 had the Blue Demons not had a lapse in judgment immediately after Wyatt's third goal. The usually stout DePaul defense was caught wrong-footed and out of position several times throughout the match and paid for it.
"They were soft goals," Chastain said. "We knew they were dangerous on corner kicks and after we went up 3-1, we just had a big letdown and we can't check out mentally."
Were it not for Wyatt's now crucial third goal, the Blue Demons would've dropped two points. With the win, however, DePaul moved into first place in the Big East with a perfect four wins in four matches.
Wyatt's record-breaking performance could not have come at a better time. When she broke the record, though, she had to temper her emotions with 15 minutes still to play in the first half. She was modest when trying to put how she felt into words.
"It's always great to score goals…and having all of my teammates come over and say how proud they were of me," Wyatt said. "I'll never forget that moment."