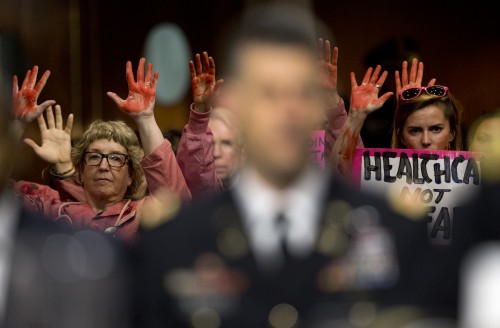 It was around 2 a.m. Oct. 3 when a Doctors Without Borders hospital in Kunduz, Afghanistan was struck by a series of U.S. airstrikes. According to Doctor's Without Borders, or as they are more commonly known throughout the world, Médecins Sans Frontières (MSF), the airstrike killed 22 staff members and patients.
In a statement released by MSF on Oct. 4, nurse Lajos Zoltan Jecs recounts the horrors he experienced just moments after the airstrike subsided.
"We tried to take a look into one of the burning buildings," he said. "I cannot describe what was inside. There are no words for how terrible it was. In the Intensive Care Unit, six patients were burning in their beds."
There has been much speculation about the motive of the attack, and MSF is outraged by the inconsistency of statements made by U.S. officials following the airstrike. The initial statement regarding the event merely claimed, "There may have been some collateral damage to a nearby medical facility." Shortly after, U.S. officials said that the attack was requested by Afghan military, only to have Gen. John Campbell later state that the order came from the U.S. chain of command and must have been a mistake. Eventually, President Obama apologized to MSF's international president for the airstrikes that he said "mistakenly struck" the hospital. Due to the United States' inability to remain consistent, MSF is launching private investigation into the matter in addition to the several existing investigations.
MSF's statement said, "All parties to the conflict including in Kabul and Washington were clearly informed of the precise location of the MSF facilities." The statement also claimed the airstrikes continued for more than 30 minutes after U.S. and Afghan military officials were initially informed of the attack.
The damage was enough for MSF to declare they would be leaving the region, which leaves those living there with a lack of medical care at a time in which it is desperately needed. The statements made by the U.S. make it clear that the hospital was not destroyed as a result of "collateral damage," but rather due to complete disregard of international human rights standards. The airstrike is in direct violation of Article 56 of the Geneva Conventions, which explicitly protects hospitals and other medical facilities, making this attack a war crime.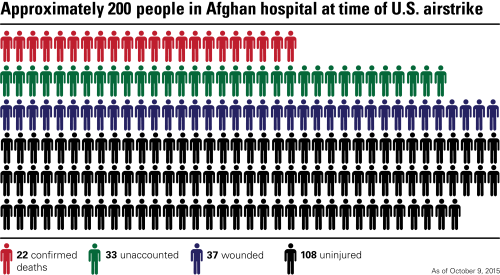 This abhorrent act of violence committed by the U.S. military not only says something poignant about how little the U.S. values human rights outside its own borders, but also shows how truly dedicated we are to our misguided brand of nationalism. Post-9/11, the bulk of U.S. actions have lacked both sensibility and compassion. Instead of taking the time to understand our contribution to the roots of terrorism, we allow misconceptions of our superiority as a nation to manifest themselves in ways that are threatening the future of civilization.
On 9/11, a total of 2,977 Americans were killed. On the other hand, according to the Brown University Project, as a result of post 9/11 conflicts "between 52,280 and 192,550 civilians in Afghanistan, Iraq and Pakistan have died as a result of the fighting at the hands of all parties." We have dropped bombs on wedding receptions, birthday parties and now a hospital. Not only are we responsible for deaths directly related to our actions, but also those that result as a consequence of our countless attacks. How many lives will be lost because of the lack of access to medical treatment in Kunduz? How many murders will it take for the U.S. to be held accountable for its actions?
National security and preventing terrorism at times calls for measures that could result in civilian casualties, but there is no valid excuse for contributing to the deaths of more than 100,000 civilians. As citizens we too contribute to these actions, whether that be through our tax dollars or our silent consent with government and military actions.
Losing your sense of humanity is a consequence of living in a nation that is in a constant state of dehumanizing anyone who stands in its way. Inaction, no matter what it is a product of, is not an option. Inaction cultivates a culture of unaccountability that allows horrific war crimes to occur indefinitely, and we must actively oppose such crimes during this crucial point in the history of the world. We must demand accountability in the case of Kunduz and a larger emphasis on human rights in military training.
The people have the power, and if you doubt the power of the people, then start with yourself. Open your mind to new ideas, vocalize your thoughts about the state of the world and demand accountability for gross violations of human rights. Humanity does not have borders, and it is imperative we resist the powers that tempt us to believe otherwise.