DePaul video game 'Omnibus' earns recognition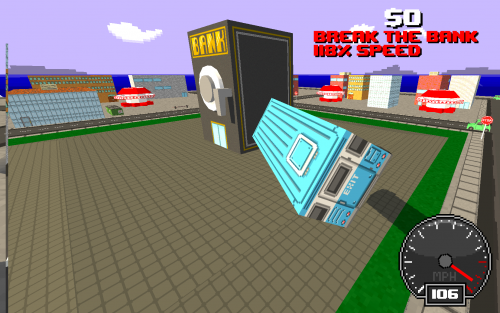 It can break through walls, defy gravity, and even drive on the moon. It is the bus that only gets faster and never stops, and it is all being created by two up-and-coming game developers in the back row of a computer lab in DePaul University's Student Center.
Amir Badri leaned in towards his computer, diligently modeling new features for his independent video game, "Omnibus." He seemed to have completely forgotten about his snack, a slightly bruised banana just to the left of him.
Just a few feet away his partner, DePaul masters student Jeremy Crockett, was engrossed in his own computer screen.
Crockett worked comfortably, dressed in track pants and a loose t-shirt, and was prepared to spend the next few hours in the lab, despite the sun shining just outside during a beautiful autumn afternoon. But neither Crockett nor Badri seemed to mind.
Crockett created the initial concept: a vehicle that never stops moving.
"He wanted to interact with the world in a weird way," Badri said. "But then, we were like, 'What if it could bust through anything?'"
"If you're going to have a vehicle that can break through anything, it at least needs to be hefty like a bus," Crockett said.
Because neither Badri nor Crockett specialize in animation, a bus was easier to work with than, for example, a person.
"Basically, you just have to make wheels spin, and then you're golden," Badri said.
This was two years ago. The pair had met before in a fundamentals of game design class, but they had not talked for a year until they reconnected in an ethics class at DePaul, where they began brainstorming game ideas.
The goal of the game is simple: complete missions to get the bus from point A to point B. You can crash into buildings, fly and flip through the air and defy the laws of physics, but if you land on your side, it's game over. The catch? The bus never stops and never slows down.
They knew the art needed to be different in order to complement the unique and goofy concept.
"Pixel art is super big, but used a ton," Badri said. "So, we decided to go with a Playstation One, old-timey look."
The art is pixelated, but is a more of a three-dimensional cube look than a two-dimensional pixelated arcade game. Crockett and Badri both said that this art style is one thing that really helped to set their game apart from other independent games.
Their game is catching on. In early July, "Omnibus" was featured in a PC Gamer article. Then, popular YouTube Gamer PewDiePie played it — attracting over 6.7 million views. They presented the game at independent game meet-ups, including Chicago's Bit Bash. Now, with about $8,000 raised on Kickstarter, the game can become fully developed. But the initial work started last summer as just a fun project.
While they were both proud of "Omnibus," they put the project on hiatus for almost a year.
"We kind of forgot about it. We were just like, 'Well that was a fun thing we did,'" Badri said.  "And then (Crockett) put in a double decker bus (into the game) just for kicks, and then we were like 'Why did we ever stop working on it?'"
They began showing people the game, even putting it up on a gaming blog site.
And then, almost out of nowhere, "Omnibus" was featured in PC Gamer. Badri was at work when he got the news, and began shaking from excitement.
"I initially didn't know about it. (My friend) actually messaged me 'Hey good job,'" Badri said.
It was this article that catapulted the summer triumph of Omnibus.
For Badri and Crockett, both alumni of the undergraduate game development program at DePaul, their careers are just beginning, but for now, they will focus their attention on "Omnibus."
They want to add more features, including more buses and new worlds to drive them in. With the money they raised from Kickstarter, they will meet monthly milestones to keep improving their game. Right now, they are working on building a level on the moon.
Their success is often compared to that of another popular DePaul game, "Octodad," in which users play as an octopus that is also a dad. Badri's older brother was on the original 2010 "Octodad" team. He said a lot of support for "Omnibus" came  from a similar community.
"We're like 'Octodad' junior," Crockett said.
"I guess we've got big tentacle shaped shoes to fill," Badri said.