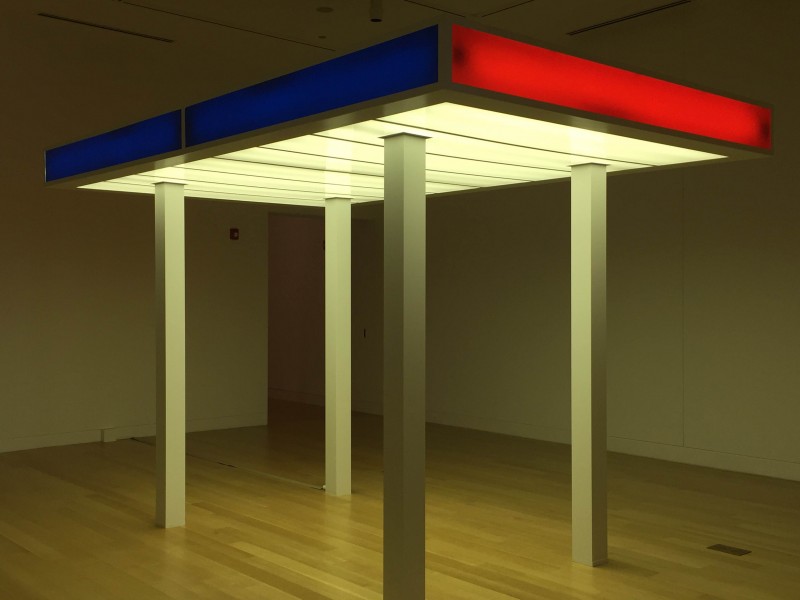 DePaul Art Museum (DPAM) recently opened a new exhibition showcasing the work of Chicago-based artist Matt Siber. The exhibition, called "Idol Structures," opened Sept. 9.
Featuring photography, sculptures and other media, Siber brings attention to the structures that we use in urban landscapes to propagate mass-media communication. Elements like used billboard vinyls, empty signposts and other items that usually hold advertisements draw attention to the components of media that usually are meant to stay invisible.
Siber said that he has been working on projects dealing with advertising, propaganda and "the ways we are manipulated and influenced to do things" since 2002, which then turned into him looking at signage and public spaces.
The inspiration for all of this comes from his own personal dislike for "being manipulated," he said. "Perhaps this is a way of counteracting it."
Siber also mentioned the importance of the exhibit, specifically for college students.
"You're learning about the world," Siber said. "I hope this exhibition makes you think of the world around you a little differently than maybe before you've seen it."
Though the themes of advertising and public spaces have been present in a lot of Siber's work as an artist, the idea for this exhibition has been discussed for several years and is now only recently coming into fruition. Gregory Harris, assistant curator at DPAM, said that he saw one of Siber's shows about three years ago, "back when we were just planning the new Art Museum building."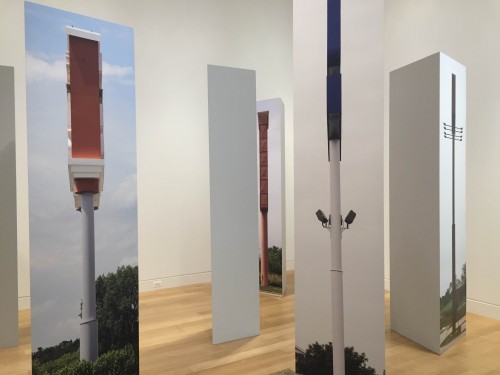 Since then, Siber had been working on creating an exhibition that would fit DPAM perfectly, taking into account the unique spaces in the new building, like the window looking over the train tracks, in which to place attention-grabbing works.
In this exhibit, Siber said that he focused on the differences between the idea of two-dimensional versus three-dimensional and "how things occupy space differently," such as advertisements and the signage that holds them there.
Claire Sandberg, a junior at DePaul and the Gallery Tech Intern at the Art Museum, said Siber made a lot of the pieces after the exhibition had already been discussed.
"We put our trust in him that he would make something really cool for us and he did," Sandberg said.
With so many varieties of structures in this exhibition, a lot of work went into creating an inviting yet meaningful space. With the help of the artist himself, "we spent the whole month of August hanging it all up," said Sandberg, who especially enjoyed hanging up the huge billboard vinyls using cherry picker lifts.
"Matt (Siber) has been around Chicago for 14 or 15 years, so he's well-known in the city," Harris said. She said Siber is most well-known for his photography, but has recently delved into other mediums, like sculpture for this exhibition.
"This project is the first project I've done that's dealt with sculpture," Siber said. He made his first sculpture in 2010.
So far, the student response has been great, Harris said. A lot of art classes have been making their way over to the museum, from DePaul and from other schools, as well as photography classes.
"Idol Structures" will be available until Dec. 20. The exhibition is free and open to the public.
Upcoming events at exhibitions at the DePaul Art Museum
Matt Siber Artist Talk
Oct. 14, 12 p.m.
Matt Siber will be discussing his work on Idol Structures.
Panel Discussion: "Arts, Communication, and Consumerism"
Nov. 5, 6:30 p.m.
Art scholars from across the country address issues of art, communication and consumerism.
The Andy Archetype: Works from the Permanent Collection
Sept. 10 – Dec. 20
A collection of works by Andy Warhol, in which he transformed cultural subjects into works of art.