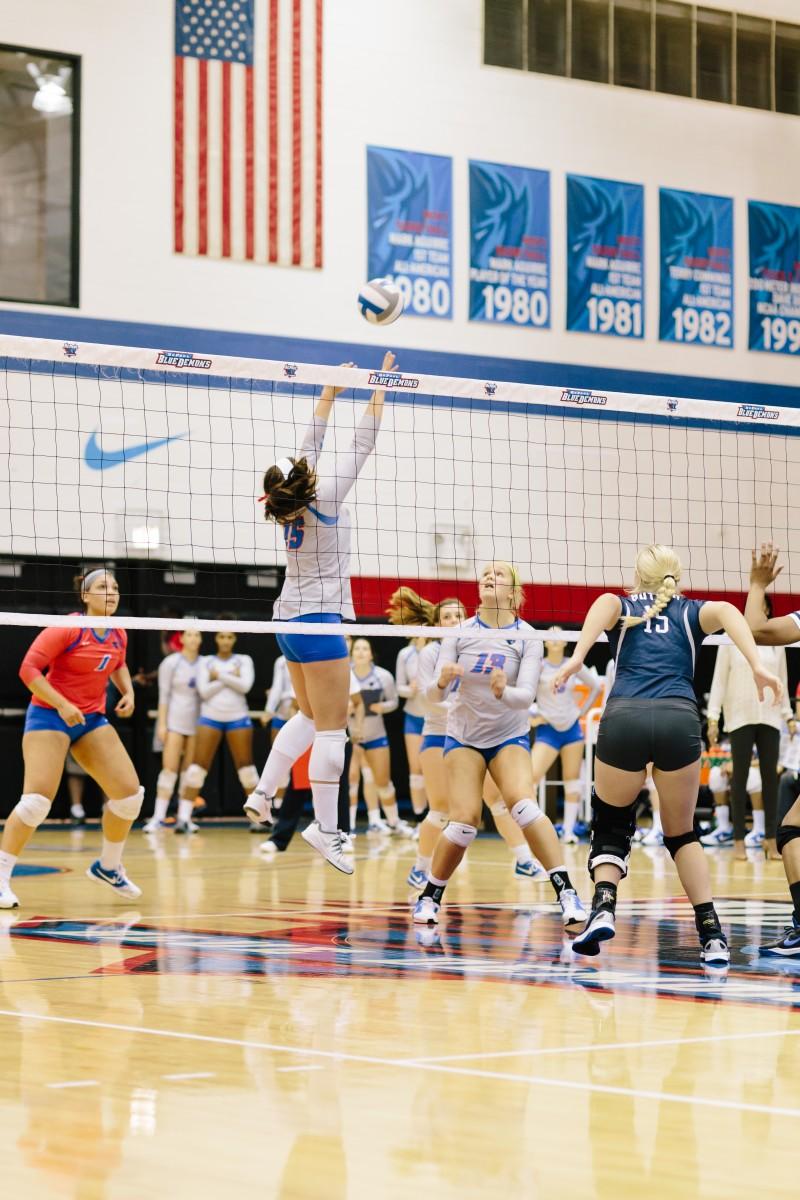 Screaming at the top of her lungs, you'll often find sophomore Caitlyn Coffey going up for sets that oftentimes scare even her setter. 
"Usually I tell her just to scream her head off to hold the block and she does a really good job with that… But sometimes I'm like, 'Oh my gosh.'" junior Colleen Smith said.
"Yeah, it's one of my favorite things," Coffey said.
Despite their age difference, the chemistry between these players is evident, both on and off the court. Although Smith admitted last season's load of incoming freshmen was rough on the team, she explained that she and Coffey were able to hit it off from the very start.
"I feel like we had a good connection, right from the start. I think we just connected on an easier level," Smith said.
During Smith's sophomore year, she and several others on the team attended Coffey's club tournament at the Great Lakes Center in Naperville. It was there where the two first met, and Coffey was admittedly shy, or as she put it, "a completely different person."
It didn't take very long for the two to quickly change the nature of their relationship into a sisterly bond. Now they can often be found hanging outside of games and practice, having breakfast, rooming together at away games or attending school soccer games. And now with Coffey having switched her major from science to communications, they might be able to take some of the same classes together. They're currently taking the same online course, where they plan to work on a group project together.
With so much time spent together, it's clear that these student-athletes are big fans of each other.
"Personally, I enjoy Colleen's sense of humor because I can relate it to my own," Coffey said.
"I feel like we kind of get to joke around with each other, and even when I do yell at Caitlyn, she doesn't take me seriously, which kind of makes me mad. But I would just say that her hard work and her ethic (is what I like best about her)," Smith said.
But what would a bond like theirs be without a handshake? No worries, they've got that covered too. Simple, but memorable, the two initiate a clap formation, followed by a hug and the words "I love you" from Smith.
Naturally, there are some arguments every now and then — but not about volleyball.
"I mean the Packers are better so there's not really a rivalry," Coffey, a Wisconsin native, said.
"Yeah, we have a lot of arguments about (football)…But to defend the Bears right now, a lot of the guys are hurt," Smith said, a loyal fan to the city's struggling team.
Clearly, these football enemies aren't afraid to disagree with one another, even when it comes to the game they both love. Whether one or the other is doing something wrong, they never hold back on the criticism, which Coffey admitted helps with the overall chemistry.
"I feel like we can hold each other to like a certain standard and push each other to be better every single day. I know I can always rely on her to make me better, so that's always helpful," Smith said.
Those standards are easily showcased in the players' current season performances, with Coffey already landing a career-high of 21 kills against Evansville during the DePaul Invitational. Continuing to make their team a threat in the Big East with an overall record of 12-3, Smith also recently notched a match-high of 35 assists and seven digs during their first conference win against top-rated Xavier.
The electric power that the duo holds in their presence is a force that won't be stopped any time soon, thanks to Smith's two-year extension of eligibility in the NCAA.
"I was really excited, I mean this has been something we've been working on for the entire year, so it was just really helpful from (head coach Nadia Edwards) and our compliance, so they did a really good job doing that," Smith said.
Getting two more full years with her teammate, Coffey admitted that getting "to see her playing the game she loves for another year is exciting."
With nothing to offer but love, the bond between these two athletes extends itself throughout the entire team.
"(Chemistry) was something that we  lacked last year, and I think that this past winter and spring, we really focused on coming together as one, and that really helped. I think that everyone has a really good friendship on the team," Smith said.
Coffey also admits that she's excited to come to every practice "because we just all get along so well."