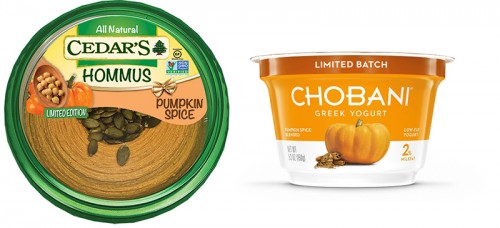 Often imitated, but never accurately duplicated, is Starbucks' famed Pumpkin Spice Latte.
Following the success of the Eggnog latte and the Peppermint Mocha Latte, Starbucks introduced the Pumpkin Spice Latte in 2003. Since then, the beverage has gone through a cultural evolution; with the effects, the Pumpkin Spice Latte has grown in popularity and the flavor has taken over Autumn.
With all yoga pants and Uggs jokes aside, the Pumpkin Spice Latte, for many, has become synonymous with fall.
Although Starbucks' does not own the pumpkin spice flavor, they did create a trend. Pumpkin Spice has not only inspired companies to invest in a range of new seasonal products, but it has also created a Pupmkin Spice society that allows members to bond over the beverage's "nutmegy goodness," on social media. 
Since the Pumpkin Spice Latte is often mentioned on consumer social media pages, it has an independent Twitter account (@TheRealPSL) operated by Starbucks.
This fall, Starbucks created the Orange Sleeve Society to celebrate Pumpkin Spice lovers everywhere. Faithful Pumpkin Spice Latte drinkers can now receive a free orange sleeve as a sign of Starbucks' gratitude. Several fans have already taken to social media to flaunt their orange knitted coffee sleeves and use the hashtag #OrangeSleeveSociety on Twitter and Instagram.
Starbucks has created anticipation and culture around their seasonal beverage. For anyone who has been to Starbucks since the start of fall, they may have noticed a slight difference in the Pumpkin Spice Latte.
According to Starbucks' Director of Espresso Americas, Peter Dukes, the famed Pumpkin Spice Latte has returned with real pumpkin and without caramel coloring.
Starbucks is making a conscious effort to produce their lattes with natural ingredients; however, the popularity of the flavor has caused other not-so-natural products to appear on the market.
Cruise down the aisles of Jewel-Osco and Halloween costumes won't be the only horror in sight. Almost every aisle has a food influenced by the Pumpkin Spice Latte.
The most well-received with the pumpkin spice flavor include Oreos, Hershey's kisses and Planter's almonds. 
This year it seems like every company has challenged themselves to jump on the pumpkin spice bandwagon. Even alcohol brands, like Leinenkugel and Four Loko, have released special pumpkin spice booze for adult enjoyment.
Pumpkin spice does not take a halt after the grocery aisles, but has also translated over to household items. Body care brands like Philosophy and Bath and Body Works have released pumpkin spice-scented body washes, shampoos, lotions and candles.  Limited edition pumpkin spice products will circulate until holiday products are ready to come to the forefront. The Pumpkin Spice Latte is available from the end of August until the beginning of November; perhaps it wouldn't be as popular if it were available year round. Other coffee competitors may imitate the Pumpkin Spice Latte, but Starbucks' trend-setting and interaction with fans is unmatched.
Flavor of the Month:
Cedar's Pumpkin Spice Hommus: 
Is it worth a try? If you're in the mood to waste food, knock yourself out. Other than that, there's nothing really tasty about pita bread or chips dipped in a sweet, pumpkin-flavored dip.
Chobani Pumpkin Spice Greek Yogurt: 
Surprisingly not too sweet and there are no pumpkin chunks swimming around. But yogurt is an easy base to work with so it isn't too surprising that it worked out pretty well.
Boulder Canyon Pumpkin Pie Kettle Cooked Potato Chips: 
Let's be honest, the sweetest potato chips can get is with a sweet potato flavor.  But Boulder Canyon decided to do the Starbucks-thing and do a not-so-good job.