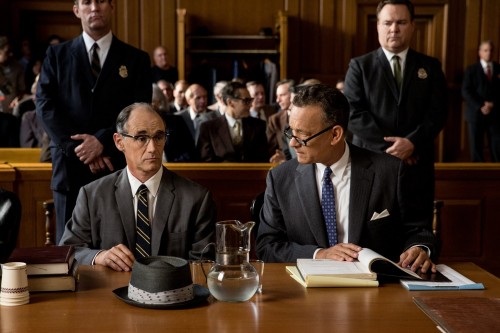 On behalf of his newest film "Bridge of Spies," director Steven Spielberg participated in a nation-wide college conference call, and the DePaulia was able to speak to the three-time Academy Award winning director during a 45-minute Q&A phone call.
Spielberg answered questions on many of the films he's made throughout his lengthy and acclaimed career, ranging from his most recent, "Bridge of Spies" to 1993's "Schindler's List."
A re-occurring theme of character stood out in many of the questions Spielberg answered, as fans try to get a glimpse of what goes on in the creative brain of one of the most acclaimed directors of all time.
"Bridge of Spies" stars Tom Hanks as James Donovan, an American lawyer who is recruited by the CIA to retrieve a pilot detained in the Soviet Union during the Cold War.
The film is written by Matt Charman and Joel and Ethan Coen. "Bridge of Spies" opened nationwide on Oct. 16.
Donovan is presented as a hero throughout the film, yet doesn't fit the stereotypical mold of a film hero — similar to some of Spielberg's other heroes.
"A hero is a person who doesn't know they're a hero," Spielberg said. "I don't set out to glorify a character. If an audience wants to lift a character higher than my point of view as a director that's absolutely fine and there's certain characters like Indiana Jones that I hoped audiences will lift way above, way out of my reach and turn them into their heroes."
Inspired by true events, like many of Spielberg's critically acclaimed pieces, "Bridge of Spies" focuses on James Donovan fighting with enemy officials and using a Russian spy (Mark Rylance) to bribe the Soviets for a captured U.S. pilot, Francis Gary Powers (Austin Stowell).
"When I'm dealing with history, it's not my job to forge heroes," Spielberg said. "It's my job to be accurate to the event even when we sometimes fictionalize some of the drama, but to be accurate with the events and when that happens I don't really think about Donovan or Schindler or Lincoln as my hero. I think of them as people I can learn something from. I'm really happy to hear if any of those characters become, you know, the heroes of others."
The Coen brothers, who are widely known for classics such as "The Big Lebowski" and "No Country for Old Men," accurately depicted the tone of many characters during their re-writing process.
"I wanted to go really deep into the characters and I wanted to also find irony because I think there's great irony in history," Spielberg said. "The people who do the best irony that I know are Joel and Ethan Coen and I asked them if they wanted to work on the script and they did about four or five passes on their rewrite and really, really, deepened the characters."
"They found a lot of irony," Spielberg said. "Of course along with irony comes humor, and every movie needs humor."
This is the fourth film that Spielberg and Hanks have collaborated on. Previous films include "Saving Private Ryan," "The Terminal," and "Catch Me If You Can." Spielberg details their very close relationship saying that he's like a chameleon.
"I just feel lucky that Tom wants to work with me so many times," Spielberg said. "He's clearly and arguably one of our greatest actors of this or any generation. He is a staple of the people working together. Audiences trust him and audiences want to hear how he tells a story and he is a bit of a chameleon, he's able to completely step out of his own personality and into the personality of someone called together by one or two writers or by a piece of history."