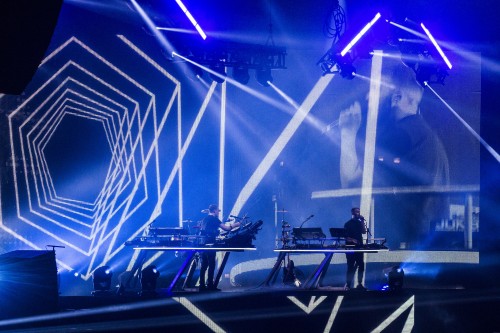 The English electronic dance music brother duo Disclosure brought their Caracal tour to Navy Pier's Festival Hall on Oct. 15.
Brothers Guy Lawrence and Howard Lawrence, from the start of their career, seemed destined for success. Their debut album Settle landing on the number one spot of the UK album charts and was also nominated for Best Dance/Electronica Album at the 2014 Grammy Awards. Their biggest commercial success came with their 2012 hit "Latch" which features vocals from mega artist Sam Smith.
Following up their successful debut album, Disclosure's second album Caracal features vocals from Sam Smith, Lorde, The Weeknd and others. 
Founder of Dirtybird Records Barclay Crenshaw, better known as Claude VonStroke, is best known for his hard hitting bass filled electronic music, and opened the show. In his 10 years of Dirtybird Records, his most recent amount of success have been for his summer parties: Dirtybird BBQs and the Dirtybird Campout. His catered fans are looking for a laid back time in his hip-hop refused label.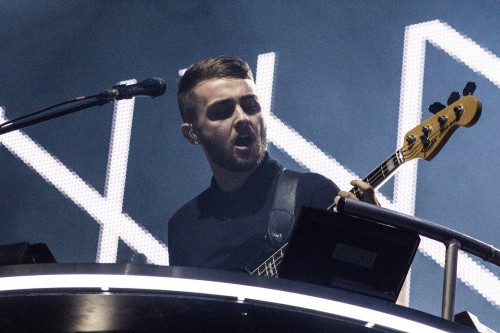 Supporting Disclosure's tour VonStoke also recently released an official remix of their song with Sam Smith "Omen." VonSroke's set was an ultimate intimate house music jam session. His electronic house set would feature hip-hop remixes from Rihanna's "B– Better Have My Money" to Destiny's Child "Lose My Breath." Continuing on to the dance marathon VonStroke's set added to the Chicago house music atmosphere.
"It's great to be back in Chicago," Guy Lawrence of Disclosure said. "At the birthplace of House music!"
Disclosure brought all the house music fans together with their well-balanced set list that included old and new songs. The first half of their set included classic songs from their album "Settle" including "White Noise" and "F for You." The second half of their 90 minute performance showcased songs from their latest album, "Caracal."
The stage was transformed to a wall of protected graphics and light show was behind the duo. It played a huge role in bringing the visual dance party to life. Illuminating the duo both brothers showcased their DJ skills and musical range. Disclosure's signature outline design crafted the image outline of Sam Smith's face to sing his part of their newest single "Omen." 
Guest appearances from artisst featured on "Caracal" were Lion Babe for "Hourglass" and Brendan Reilly for "Moving Mountains." The both were well greeted from the Chicago crowd.
Disclosure ended the night with "Latch," their most popular song to date. Forever tied to the success of the song Disclosure will make hits like it for years to come.